It's no secret that we love Bali for many reasons — and this is one of them. Home to many of the world's best spas, no trip to the Island of the Gods is complete without an indulgent visit (or three) to relax, rejuvenate and take your mind as far away as possible from your daily stressors.
#1 Cliff Hanger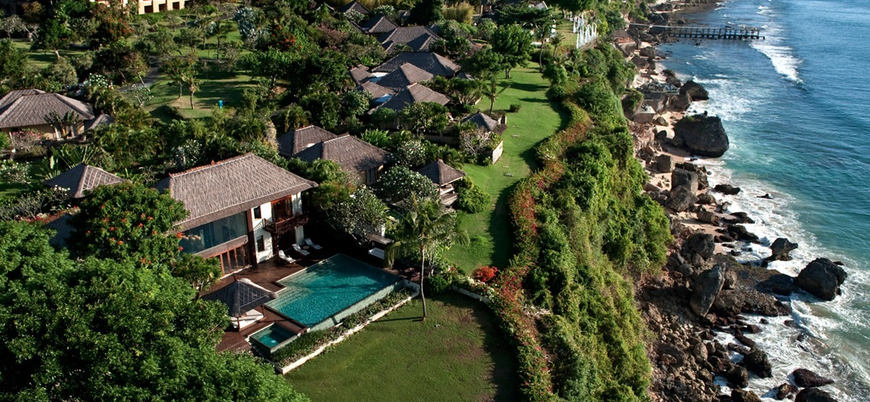 Why: Like it on the rocks? We do too. Perched on 90 hectares over limestone cliffs, this award winning resort features one of the world's largest seawater therapy pools and the luxurious Thermes Marins spa to pamper and massage you into a deep state of bliss. Experiences include underwater massages and aqua exercise classes as well as a variety of Balinese wellness, detox and slimming treatments. Take it up a couple of notches at their Spa on the Rocks — two spa villas on the rocks with stunning ocean views and decadent high-calibre spa-aah treatments.
#2 In Your Element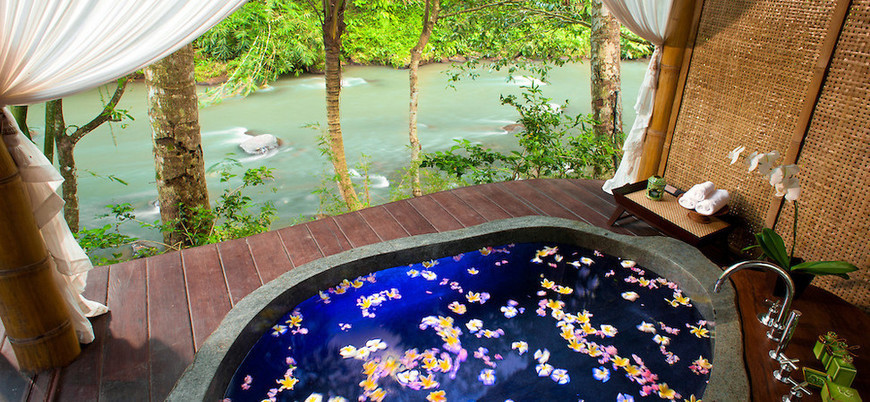 Where: Fivelements Puri Ahimsa, Ubud
Why: For those who want to focus completely on nurturing the mind, body and soul, the multi award-winning Fivelements at Puri Ahimsa is where it's at. Surrounded by lush vegetation alongside the sacred Ayung River, check in to totally immerse yourself in healing and cleansing — the retreat offers highly personalised holistic therapies and programmes including meditation, yoga, colonic hydrotherapy and body detoxification. You'll also be nourishing your body with good, clean food (and get culinary training on how to do it at home too), at their award-winning Sakti Dining Room.
#3 Inside Out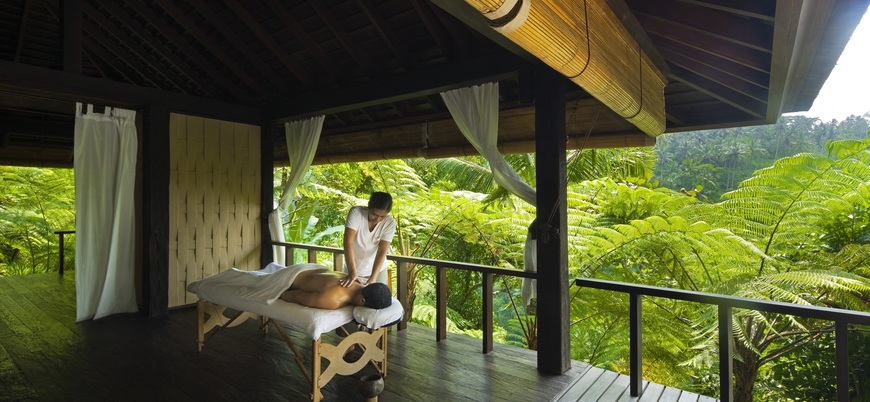 Where: Como Shambhala Estate, Ubud
Why: With its long list off awards and accolades that include Conde Nast Traveller's Best Destination Spa in 2013 and Harper's BAZAAR Spa Award in 2014, it's no wonder that this luxurious health haven is a favourite among the likes of Donna Karan and John Travolta — even Daniel Craig has checked in. With programs encompassing health treatments and relaxation therapies, pilates and yoga (they even have resident experts in yoga and Ayurvedic medicine), healthy cuisine and cultural discovery, choose their 3, 5 and 7-day programs that are tailored to your needs.
#4 Night And Day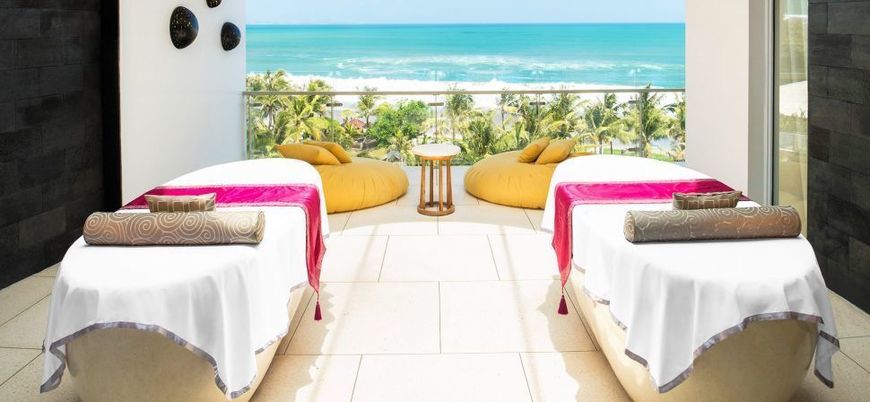 Where: AWAY Spa at W Retreat & Spa Bali, Seminyak
Why: Hip and happening, the stylish hotel is located in central Seminyak and surrounded by some of the island's best shops, restaurants and bars. With all the walking, shopping and partying you'd be doing, it's no surprise if you're feeling a little (or a lot) worse for wear in the wee hours of the night. Head to the spa to remedy that. The only luxury spa that's open 24/7, AWAY Spa at the W will surely zen you out, with therapies ranging from relaxing massages, detoxifying hangover treatments, a body twisting massage that releases stagnant toxins and their unique martial arts-inspired exercise that promote agility. By the time you walk out of there, the difference will feel like night and day.
#5 Simple Pleasures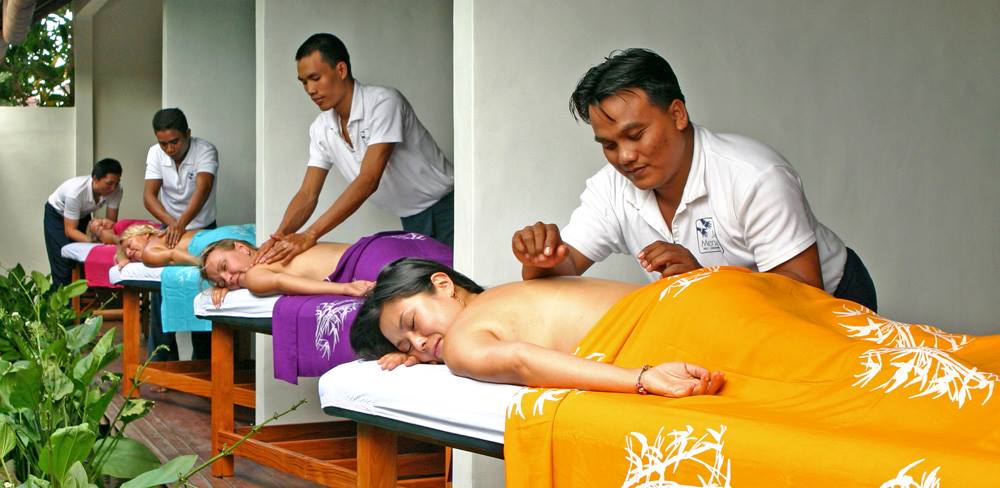 Where: Jari Menari, Seminyak and Nusa Dua
Why: Simple, professional and effective is what Jari Menari has been known and loved for since 2001, with highly trained male masseurs delivering firm, consistent pressure in kneading out the knots (even the ones you didn't know you had). But this famous massage center isn't just about the fantastic rub-downs, they also teach, train and support local men in the vocational skills of massage and provide English and guest services classes. You can even learn their techniques — and drag your significant other along.
#6 Aura Or Nothing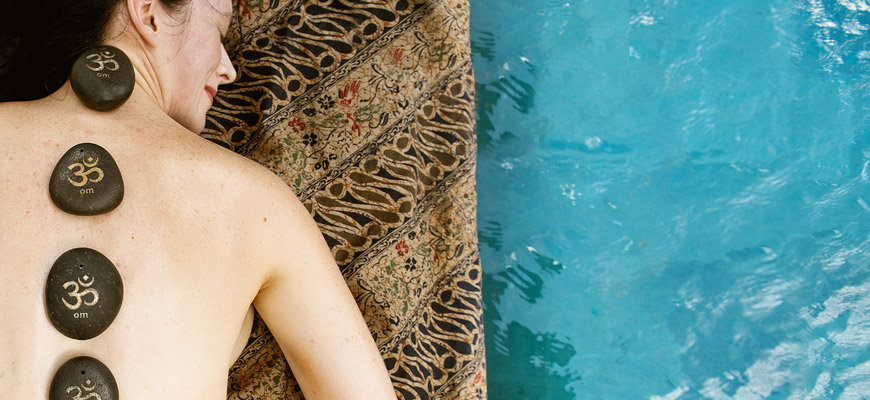 Where: Bodyworks Centre, Ubud
Why: If you think your aches are more than just physical, Bodyworks Center specialises in healing the body on every level — physically, mentally and spiritually. Run by Ketut Arsana who comes from a family of traditional Balinese shaman healers, the center offers extensive healing therapies d including deep tissue and Lymphatic healing massages, energy balancing, reflexology, chakra healing and more. For more intensive pampering and treatments, check into their Ubud Aura Retreat Center, which offers a peaceful, holistic healing environment for the body, mind and spirit.
Ready to bliss out in Bali?