Ah rooftop bars…your goto perch to escape the city below; a great vantage point to get your bearings if you're a tourist in a city; or where you invariably bring first time visitors to show off your skyline if you happen to be a local. Usually filled with a mix of locals and foreigners, you never quite know what you're going to get at these cruise-ship-like bubbles in the sky as things can often go from zero to one hundred depending on the particular crowd. It's a love-hate relationship, but one we invariably revisit time and time again. If you find yourself in J-Town, here's where you want to be:
#1 Cloud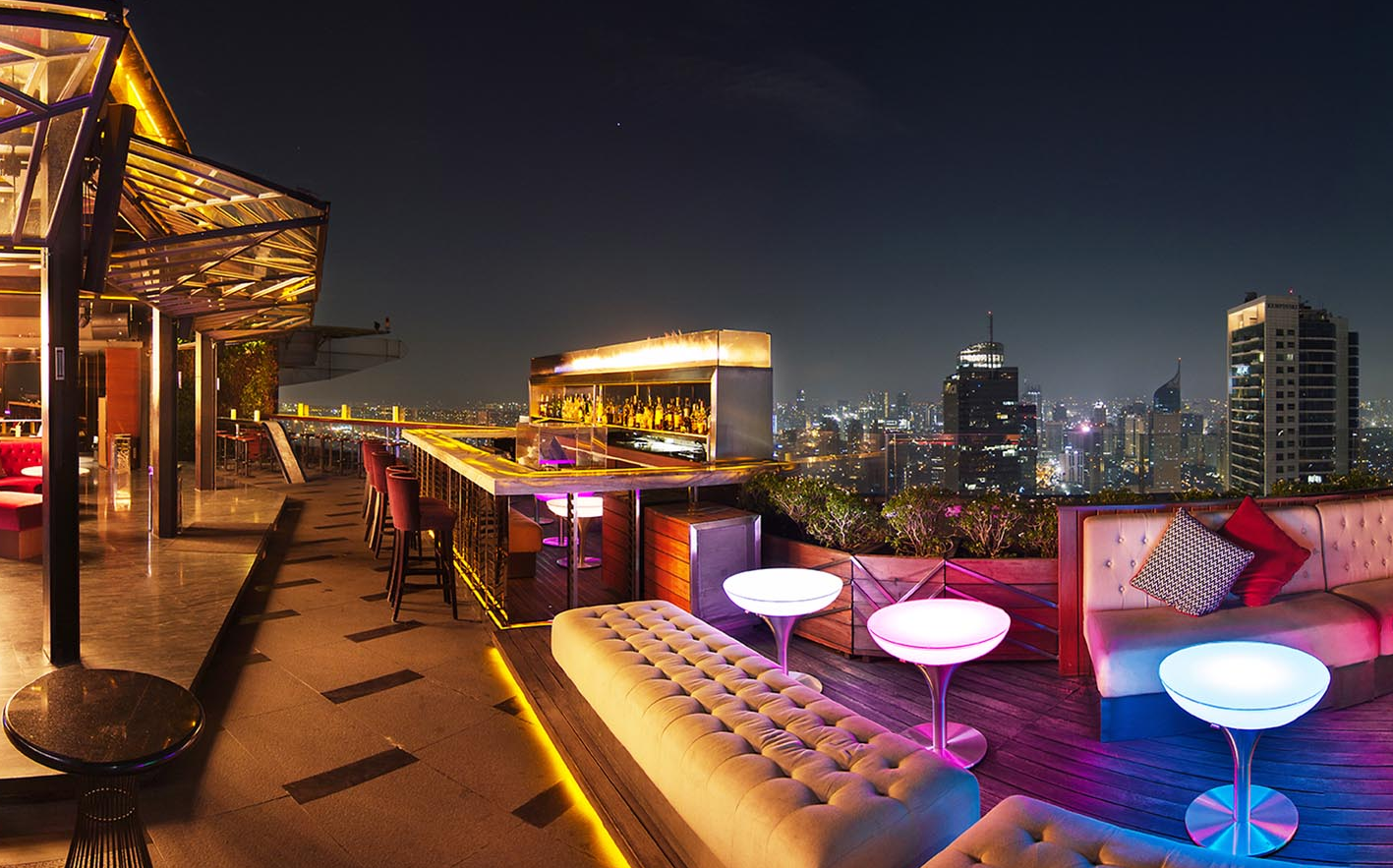 What: One of the only Jakarta rooftop bars that offers 360° views of the Big Durian, Cloud is currently one of the trendiest in the city. While you can opt for dinner here, we'd recommend it for a sunset drink, or make it a weekend post-dinner stop when things get taken up a few notches. If you like your vodka, don't miss downing some in Indonesia's only zero-degree Vodka Room, which makes for a great alcoholic escape from the tropical clime (if only for a shot). 
Where: 49th Floor, The Plaza, Thamrin
#2 SKYE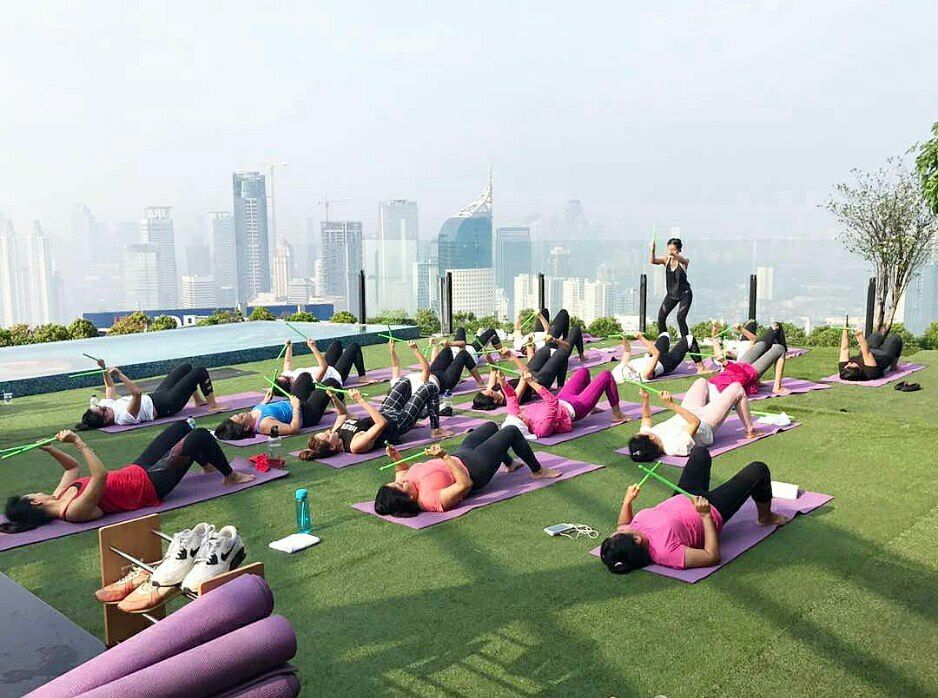 What: SKYE Bar is probably the most well known rooftop restaurant/bar in Jakarta and is a failsafe destination to grab panoramic views of the city. Packed on the weekends, the South American influenced space serves Spanish, Middle Eastern and Asian food that gives way to DJ's and bottle service as the night rolls on. A truly unique treat however, is joining one of their Skye-Fit sessions where yoga, cross-fit or zumba classes come with an apres-sweat meal and drink. Check their socials for monthly schedules.
Where: 56th Floor, BCA Tower, Grand Indonesia
#3 FJ on 7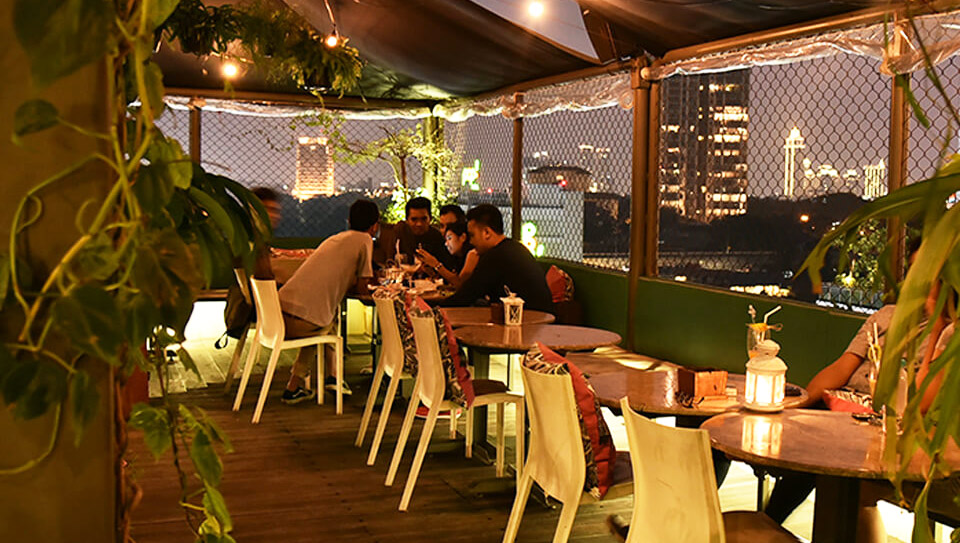 What: You don't get that high at FJ on 7 (the resto-bar occupies the 7th floor of the Colony Building, hence the name), but it's the only elevated perch in the trendy Kemang area of South Jakarta should you feel the need to still be above it all. Overflowing with tropical plants, the laid-back lounge has been a go-to for those seeking a more relaxed rooftop experience, and remains a more local post-work sundowner or breezy perch to grab a drink.
Where: 7th Floor, the Colony Building, Jl. Kemang Raya No.6
#4 BART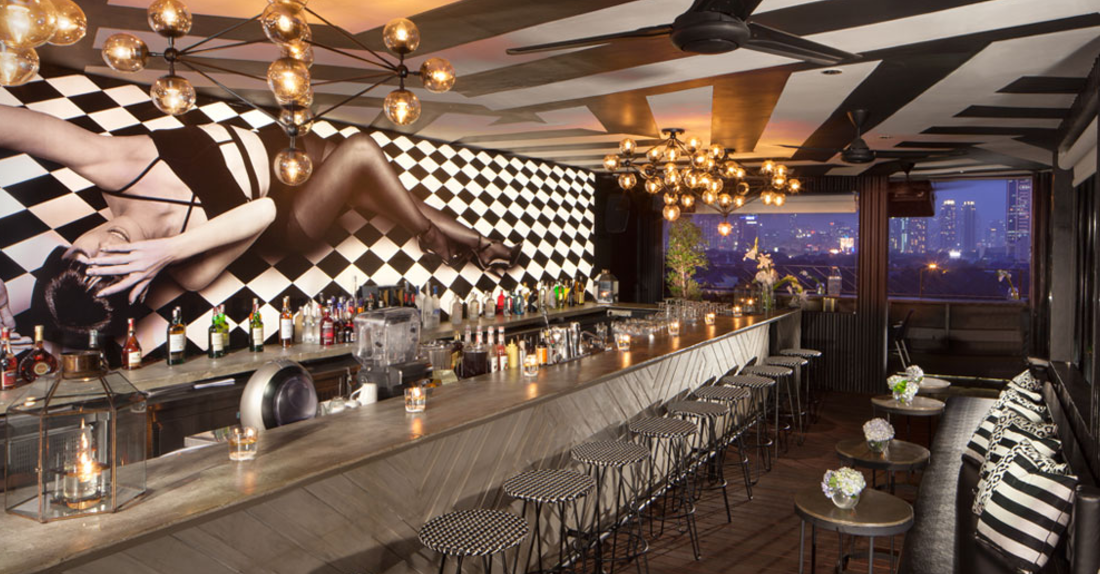 What: As part of the boutique Artotel in Menteng, BART (Bar At the Roof Top) goes for a more artsy vibe than many of the other watering holes found in the central business district. Collaborating with eight Indonesian artists to style the hotel's rooms and public spaces, you can't miss the building which has been covered in graffiti by one of Indonesia's most well known street artists: Darbotz. BART isn't so much vertigo inducing, but it is one of the better designed bars in the city, and still offers up some great views of the Big Durian at night.
Where: 7th Floor, Artotel, Jalan Sunda No.3
#5 Henshin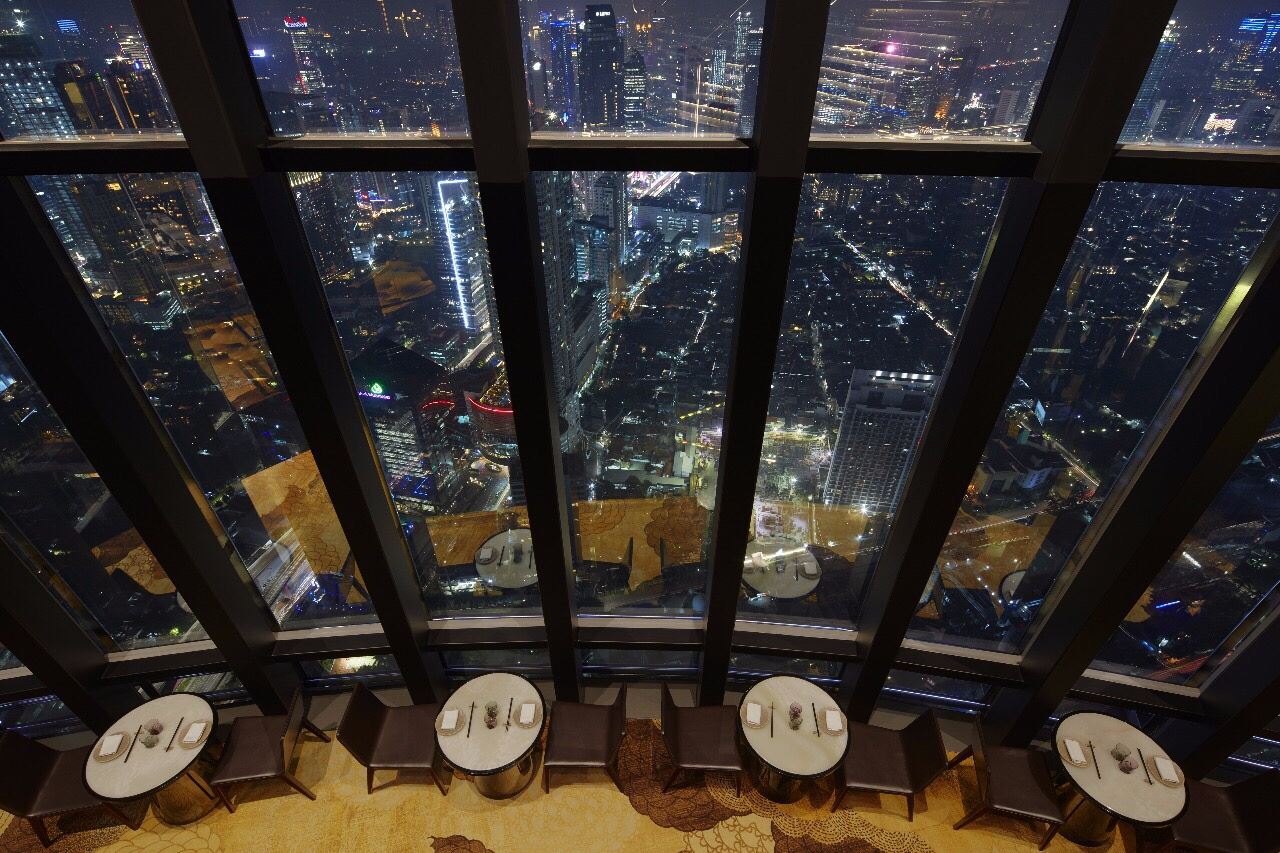 What: The newest rooftop bar and restaurant to hit Jakarta, Henshin takes over the top floors of the new Westin Hotel, which is also currently the tallest tower in Jakarta. Henshin goes pretty full-on in trying to outdo the others though, starting with a private elevator that whisks you from the lobby to the 67th floor. Once there, the outdoor bar is intimate (definitely more a romantic drink spot rather than party lounge) and the restaurant — serving trendy Japanese/Peruvian cuisine — is actually the real reason you should come. What we loved most about the space though? The carpet! Didn't think we'd ever say that.
Where: Levels 67-69, The Westin, Rasuna Said Kav C-22A
#6 Por Que No?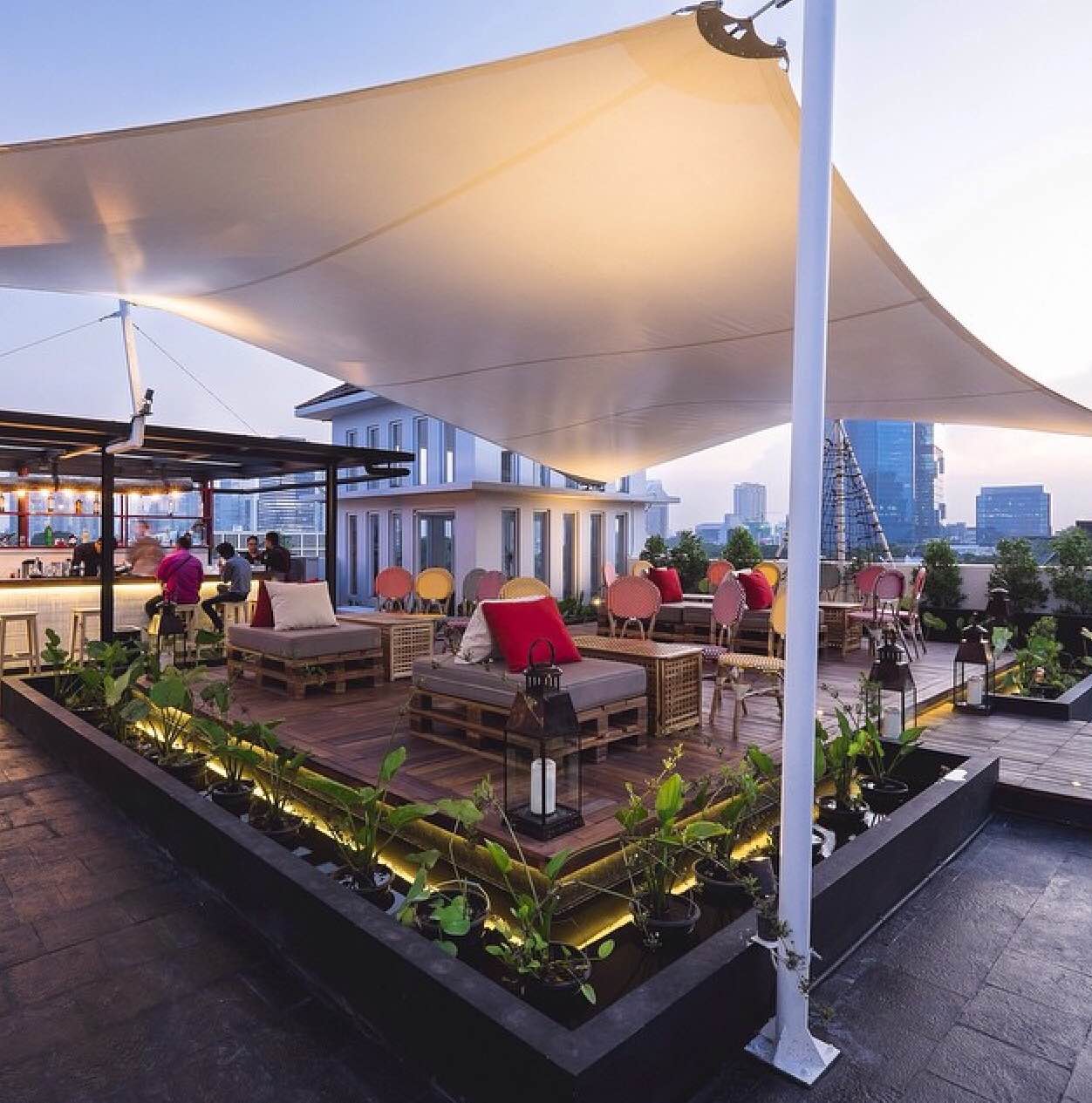 What: The DIY force is strong at Por Que No? and it makes for an unpretentious roof top serving up authentic Spanish tapas by chef Ana Maria Martin Diaz. A perfect patio to quaff some Sangria during the day, come night time, the revelry really begins. Known for throwing some banging parties, Por Que No? marches to the beat of its own drum, and in a city full of restaurants that follow trends obsessively (industrial Speakeasy anyone?) this rooftop sets itself apart in quirky, imaginative ways. Because, well, why not?
Where: 5th Floor, No. 91 De Ritz Building, Jl. Hos Cokroaminoto
#7 Lucy in the Sky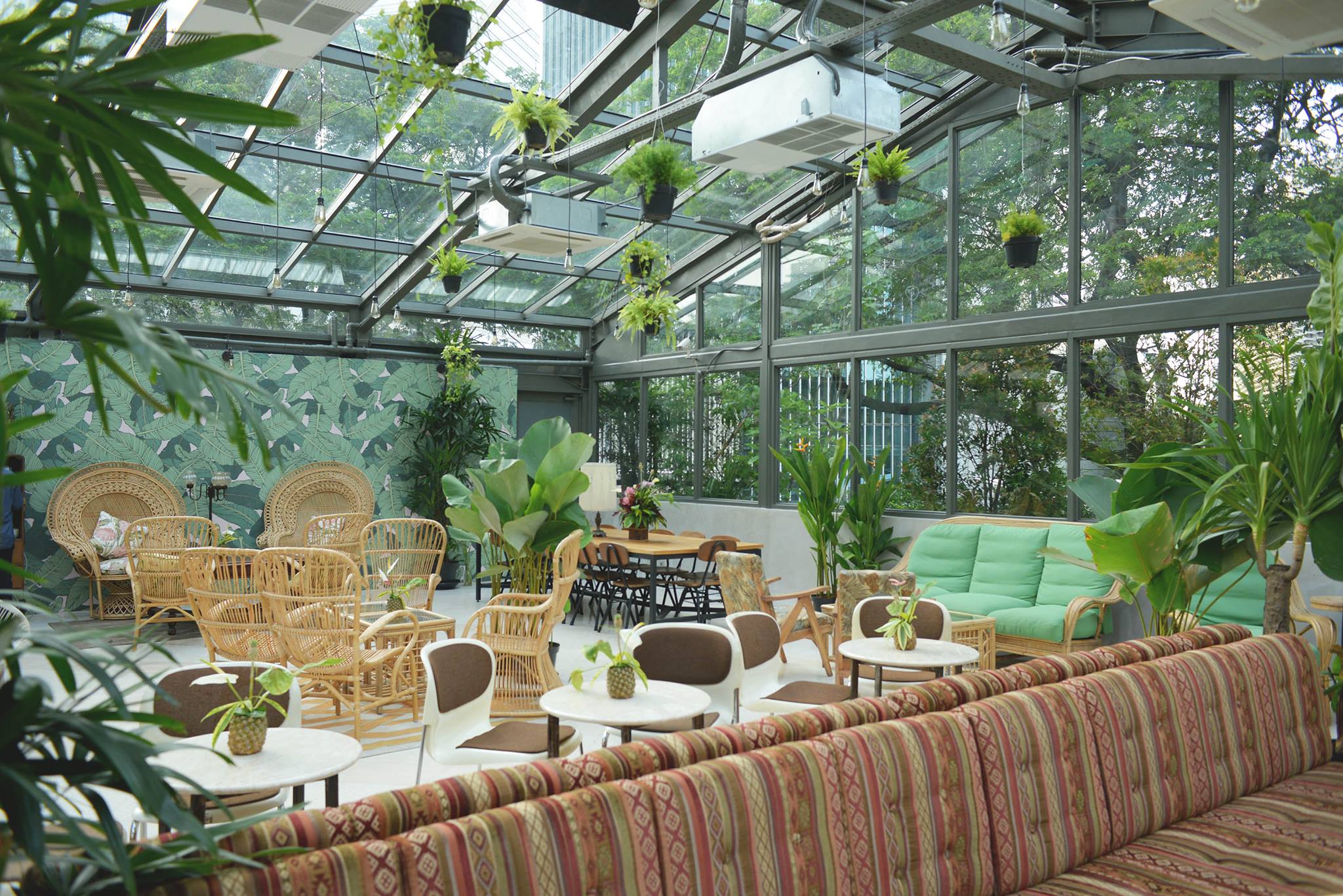 What: Okay, it's not really a rooftop bar, but it is on a roof, and after undergoing a recent renovation, still holds on as a must-visit bar should you be out for a night. With an eclectic mix of local hipsters, corporate suits, pre party-'till-the-next-day groups, and techno music lovers, Lucy in the Sky manages to have something for everyone — and it all goes down like one happy family under an indoor/outdoor glass canopy roof.
Where: SCBD Kav. 52-53 Lot 14.
There's more to Indonesia than 

Bali.
Image Credits: Main, 1, 2, 3, 4, 5, 6, 7