Manila-based It-girl and co-founder of Sunnies Face, Jess Wilson, gives us the 4-1-1 on Niseko.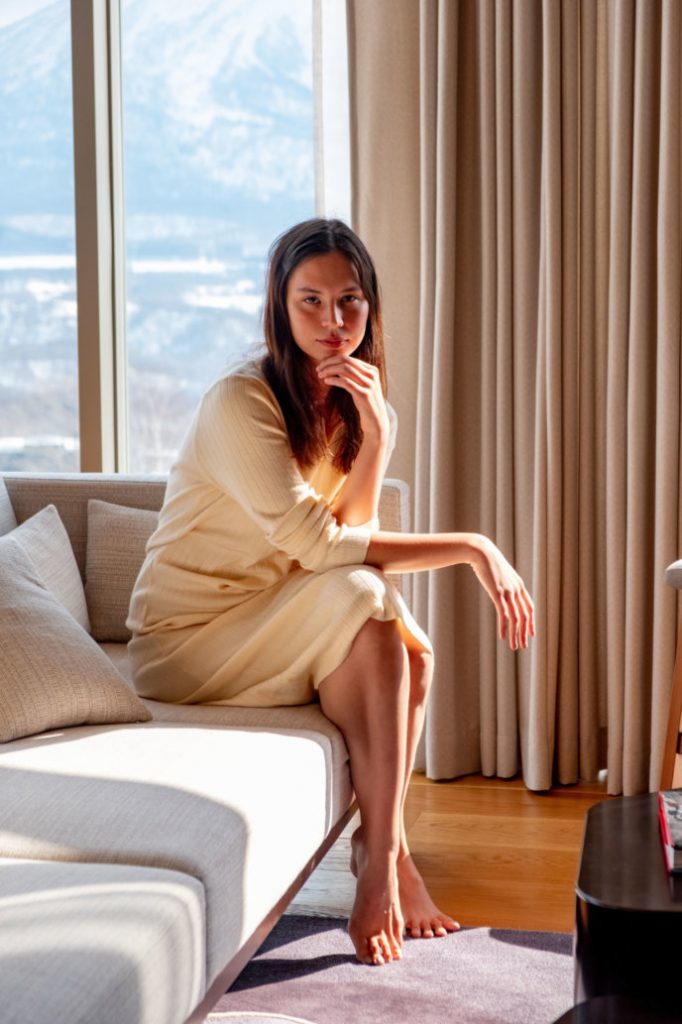 Everyone knows Niseko's constantly on the tip of our tongues but don't just take it from us. Here's why Jess Wilson returns to these #JaPow ski slopes year after year.
#1 Feed me, please!
View this post on Instagram
JW: I love seafood and Hokkaido has some of the freshest seafood in the world. My favourite spots are Ezo Seafood and Izakaya Koharuya. The combination of great ambience and the best food in town (to me) makes for such an amazing experience. Koharuya has good salad options but nothing can keep me away from the chirashi bowl and gyoza. I also really love the lychee shōchū. As for Ezo, I recommend going sashimi everything, toro, uni, king crab, salmon – I'm salivating just thinking about it now!
#2 Did I mention #JaPow?
View this post on Instagram
JW: This last trip was probably my eight-time skiing? I've been lucky enough to visit ski resorts all over the world. France, Switzerland, Germany, South Korea, but Niseko has the best snow. That powder-fine snow makes for a soft crash-landing so learning to ski isn't as terrifying as there are fewer chances of getting seriously hurt. Niseko's also become an annual family holiday so there's always tears and laughter on the slopes!
#3 Put me up!
JW: The Japanese have this innate ability to make things beautiful whether it's food preparations or house designs. Niseko has some of the most beautiful accommodation options I have ever seen. This trip we stayed at Hideaway on Escarpment and Hinzan.
View this post on Instagram
Hinzan are newly refurbished apartments in Middle Hirafu. The units have a sleek modern interior with industrial Japanese influences that have a very luxe yet cosy feel. The best part is how close the slopes and restaurants are.
Hideaway on Escarpment couldn't have been named any better. It really is a hideaway with majestic views of Mount Yotei. There's also an onsen-style bath so it was hard to leave the house though we definitely made use of the shuttle service – that was a lifesaver. Definitely top of my list.
View this post on Instagram
#4 Oh, #ThatOnsenLife 😉
JW: If you want the truth, this is the real reason we keep going back to Niseko. There is nothing better than jumping into the hot spring waters after a long cold day on the slopes. Plus, my skin and hair come out glowing!
#5 Espresso yourself.
View this post on Instagram
JW: Quite a number of cafés in Niseko have that Australian coffee culture influence which I love. Add the best Hokkaido milk and you'll have an idea of how much I look forward to my daily latte. We love to try new spots every day but my favourites are Arabica, Green Cafe and The Shed by the Welcome Centre.
#6 Two words: Ice. Cream.
View this post on Instagram
JW: I'd like to shoutout that Milk Kobo has the best ice cream and cakes. I literally have dessert dreams about the milk flavour. I know it sounds so basic but Hokkaido is known for their milk. It's some of the creamiest I have ever tried.
#7 As if I need a reason to be in Japan!
JW: Everything the Japanese do, they do it well and to perfection. The culture, the food, the people, their way of life – I love everything about Japan. I'm just glad Niseko has all this plus some of the world's best ski slopes too.