With day plans to ski or snowboard on Niseko's powdery snow, it's vital to find a place to rest those tired muscles on a comfortable bed. Better still, soak them in an onsen. If you finally decide on Hirafu Village, you may want to consider Ki Niseko, a ski-in ski-out hotel. Read on for our Ki Niseko review.
Ki Niseko is situated at Upper Hirafu. Here, you can choose to stay in hotel rooms or serviced apartments ranging from 1-bedroom to penthouse of 4 bedrooms, with Mt Yotei or resort view.
JR Train Station Transfer
After a long journey filled with delays and waiting from Noboribetsu, we finally reached Kutchan train station exhausted. Yes, be sure you alight at the right place, it's Kutchan and not Niseko JR station.
However, time was tight because we arrived behind schedule. We reached the station only 2-3 minutes before Ki Niseko's complimentary shuttle service was scheduled to depart Kutchan station.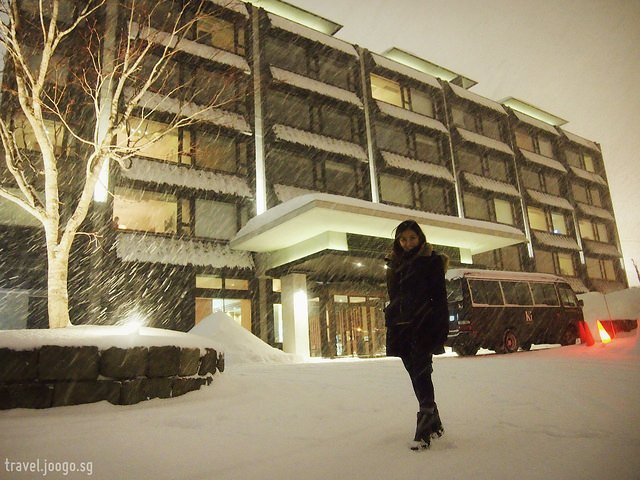 So when we didn't see the bus after 15 minutes past the scheduled time, we got anxious. We were contemplating to hop on the crowded Niseko United Shuttle instead. Because if we missed this bus, we would have to wait another 20 minutes for the next bus, or another 1+ hour for Ki Niseko's shuttle bus.
Thankfully, we managed to get the friendly station staff to call the hotel for us and check if we have missed the free shuttle. Just as they were checking for us, we saw Ki Niseko's shuttle bus (more like a shuttle van) rolling into the train station's carpark.
Thankfully we waited for it! With the Ki Niseko's shuttle van, we could rest comfortably and not squeeze with the many others on the Niseko United Shuttle. The van was spacious enough to ferry 4-6 passengers comfortably. The driver also helped us with the luggage. The best thing was, the shuttle van brought us straight to Ki Niseko's doorsteps. We did not have to sit through Niseko United Shuttle's multiple stops!
Warm Reception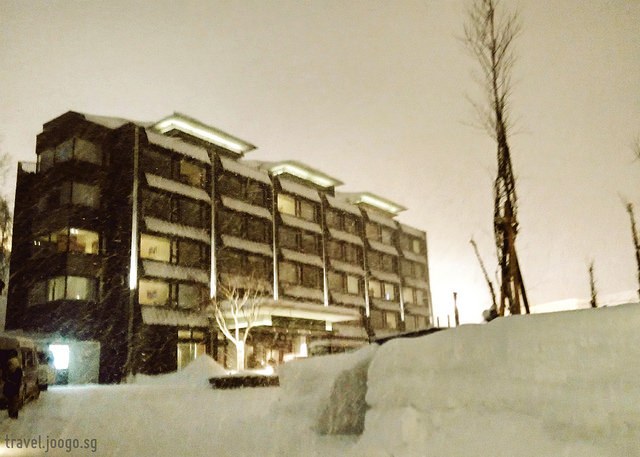 We received a welcoming reception from the doormen and an English speaking Caucasian lady at the front desk. Later I found out that Ki Niseko had a handful of Westerners working in seasonal positions. This was so that they could ski or snowboard in Niseko during their free time. Simply put, a working holiday for them.
Anyway, I wasn't expecting a friendly front desk because they sounded unhelpful in the email correspondences. I had assumed it's because we were not paid customers but winners. But the onsite experience turned out to be pleasantly different. Moreover, after days of travelling in English-scarce Japan, it was a respite to converse well with the staff, and not having to speak in broken Japanese or English.
One other notable thing we noticed was the number of Singaporean guests. We could easily hear the Singaporean accent around Ki Niseko. Even the guests staying in the rooms opposite ours were Singaporeans.
Location, Location, Location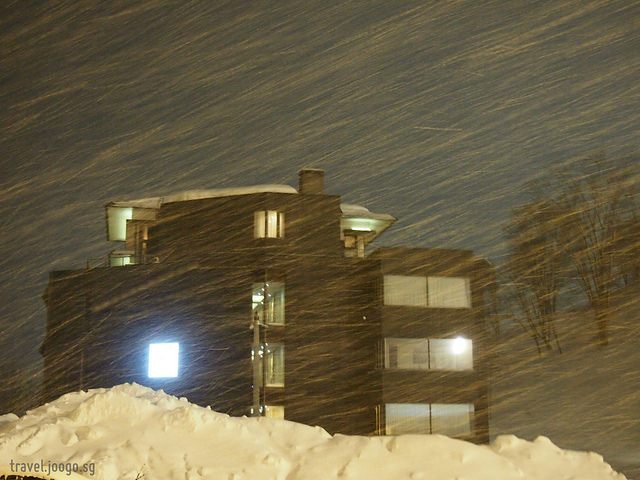 From the hotel's side door, it's a walking distance of about 100m to our ski school, GoSnow, and 200m to the ski wear and equipment rental shop: Grand Hirafu Rentals Gondola Shop. Skiing turned out to be exhausting for first timers like us, and this location helped us a great deal.
After a super tiring ski lesson, we just need to take a few steps before we were back in our room to rest. And during lunch break, we could sneak back to our room and have our bento lunch bought from the convenience store the night before.
Even though we reached Ki Niseko later than expected, we still had time to put down our luggage before making our way to the rental shop before closing time. That's only possible because the rental shop was super nearby .We carried our ski wear, gears and boots back to the hotel so that we could gear up for our ski lesson first thing the next morning. Imagine if our accommodation had been a bus ride away!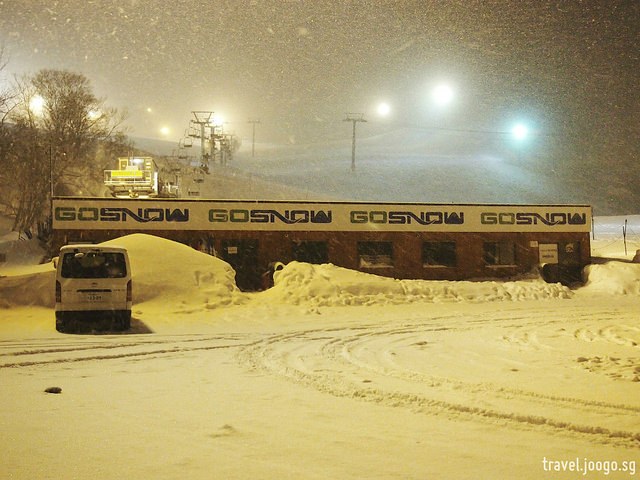 Being first timers, we didn't know the proper way to carry our skis. Hence we fumbled our way back to the hotel through the thick snow, which wasn't easy to walk in. And the walk in and out of the hotel with those gears were made especially difficult because of a mini slope leading into Ki Niseko. The snow had buried the steps of the slope and the staff did not bother to shovel them away.
Wait a minute, mini slope? Yes, this mini slope and the close proximity to Hirafu Gondola and Holiday Pair lifts is the reason why Ki Niseko is marketed as a ski-in and ski-out hotel. That means people could ski straight from the lifts, down the mini slope and into the hotel in just a few minutes. Or you can ski straight from the hotel to the lifts. For experienced skiers and snowboarders who go up and down the ski run, this is good news! You save the time and effort trudging through the snow with the skis and poles hanging over you.
However, the mini slope was too steep for beginners skiers like us, so the ski-in ski-out feature didn't make much of a difference for us. Moreover, if you are first timer, you might not even have the chance to use the lifts. But we did!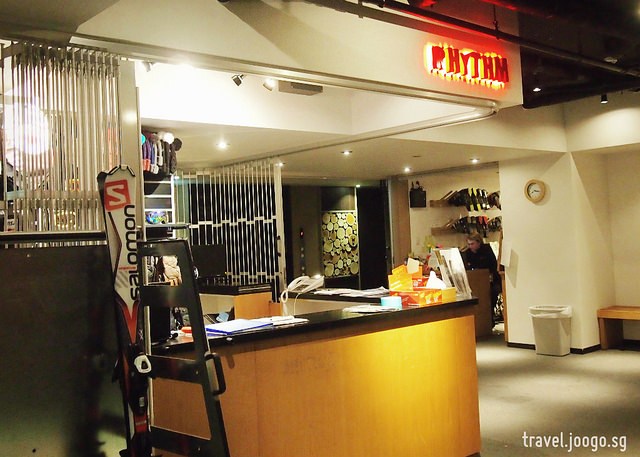 If you want further convenience for the rental, Rhythm Snow Sports has a service counter in Ki Niseko. They will send the rental gears from the main shop to the hotel and you can simply return your gears at the counter. One thing I didn't like was that I couldn't try the boots and clothing for size. And it's relatively more expensive.
One downside of the hotel was that it is not near the main area of restaurants and mini-marts. Yes, Ki Niseko has a complimentary Hirafu Village Shuttle bus to bring us to the main area every 10 minutes. This is different from the Kutchan Town shuttle which fetched us to and from Kutchan station.
But when we wanted to get to the restaurants on the first night, the Hirafu Village Shuttle bus stopped running because of the poor road conditions caused by heavy snow. Thank goodness, the bad weather was not on a day we had to catch a train. In the end, we walked on the thick blanket of snow for about 20 cold minutes to reach the main area.
Serviced Apartment Room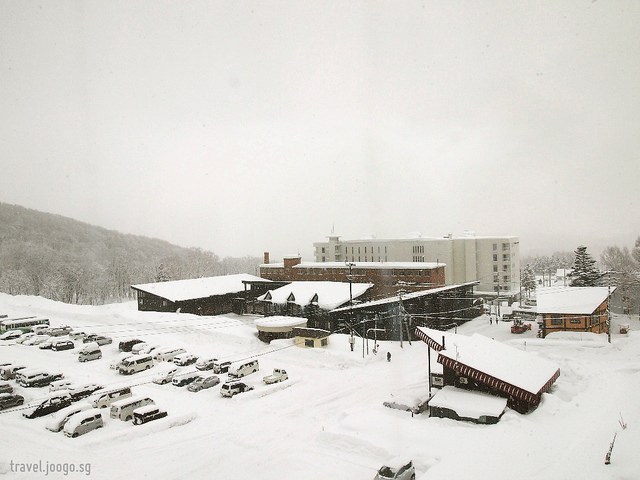 Room View (Mt Yotei View): From our room, we could see Mt Yotei, Mt Annupuri and the land covered in powdery white snow. For a premium, you can get this good view too. Otherwise, you can book the rooms with the resort mountain view, facing the ski run and lifts.
However, we were not in the room most of the time because we were out skiing during the day. By the time we returned at night, it's darkness outside. Even if we did enjoy the view in the morning before we rushed out, and when we sneaked back during lunch, the volcano was often shrouded in clouds, especially on a snowy day. It seemed like foggy conditions obstructing Mt Yotei view are highly likely during winter months.
Also, we drew up the curtains when we sleep because of privacy. The rooms facing Mt Yotei also face the road and hence might get noisy at the lower levels.
Tip: Save that extra money meant for a Mt Yotei view and get yourself a good dinner. However, if money is not an issue for you, it's always nice to wake up to a possible awesome mountainous scenery.
Room View (Resort View): Rooms with a resort view might not be too bad, with a view of bared trees in a blanket of snow, like the photo below. The photo was taken at the hotel's side door, so if you can imagine, the view from the rooms will be to the left of the photo. It wouldn't matter much because like I said, you will probably be out skiing or snowboarding. If you are getting resort view, try to get higher levels.
Tip: Don't get a room on the 2nd floor, which is near to the ski valet. It will be noisy.
Amenities
Ki Niseko has all the usual hotel amenities with a few extra additions: complimentary Wi-Fi, satellite TV with English language channels, humidifiers, and air conditioning.
However, at a hotel that charges a premium, it's surprising that they only provide one bottle of drinking water per guest for the WHOLE STAY. We thought they forgot to restock and hence requested, but were told as such. They should seriously consider replenishing the bottles of water daily.
Serviced apartments are good for people who plan to stay for at least 4-5 days in Niseko. You can buy groceries and cook, saving your wallet from the overpriced restaurants in Niseko.
Serviced apartments are also good for people who are in groups. You can gather at the room and dine together. The apartment was a bit too big for the two of us, but I appreciated having a proper dining table to have our lunch and dinner. Furthermore, the spacious living room was good for us to spread our many layers of ski wear and different ski gears.
There was also a dehumidifier in the bedroom to prevent us from waking up with chapped lips and dry skin.
The bathroom and its bathtub are big by Japan's standards. After days of being in small toilets, it's nice to be able to move freely about in the toilet.
I doubt you will be using much of the bathtub because Ki Niseko has in-house onsens. Oh! The toilet bowl has the standard Japanese washlet that comes with bidet feature.
Facilities
Onsen & Spa: After a cold and tiring day from skiing, I was looking forward to relaxing my body and mind in Ki Niseko's mineral-rich natural onsens. Hot spring water does wonders to aching and tired muscles. I thoroughly enjoyed the onsen experience in Noboribetsu, and couldn't wait to get into an onsen again.
Ki Niseko has 2 private family onsens, 4 public onsens (2 indoor, 2 outdoor). They are available complimentary for hotel guests. Be sure to book early for your preferred 1-hr time slot at the private onsen as it's first-come-first-served. Thankfully for us, we managed to reserve two slots for the private onsen when we checked in, one for each of the 2 nights we stayed there.
It's a great opportunity for hubby and me to soak in the private onsen together. We weren't able to do so in the public onsens at Noboribetsu or Otaru. We had an awesome time soaking and talking! The 1-hour time slot is more than enough because we could not possibly soak in the hot spring water for too long.
But nowhere else beat the onsen experience we had in Noboribetsu – the ambiance, the toiletries, and hot spring mineral water. Nevertheless, we were grateful that we did not have to travel out of the hotel in search for an onsen. Saved us the energy, time and money! And onsen after a day of skiing was simply irresistible.
Ski Valet Service
According to Ki Niseko, they had the first ever private Ski Valet service in Niseko. Heading down to the hotel's second floor, we reached the ski valet area where they kept our boots, skis, and poles. We exchanged our shoes for our ski boots and grabbed our skis and poles. After we put on our boots, we simply walked out of the exit and towards the school.
Tip: Wear your hotel slippers down, so that you can easily slip in and out of them for your ski boots.
This private ski valet is more useful for guests who have their own skis and snowboards. Because guests who are renting and staying in the Grand Hirafu can store their rental gear overnight at the rental shop which is near the slopes.
Regardless, it's still better to have a private ski valet. This meant a lower chance for your gears to be misplaced. Even if it's misplaced, the recovery time will be faster as the staff scour through fewer identification tags tagged on the gears.
Read the original story on Joogo Travel and scroll through their Instagram to keep up with their travels.