Briefly waylaid by tasteless American franchises (not going to name any names, but here's a hint: they closed 61 out of 85 outlets in 2008), good coffee and great food hold somewhat of a snob status by Australians. Whether cool café, cosy hole-in-the-wall or packed to the rafters former industrial factory, each of these gems bring sexy back to the cup of joe (and breakfast) in Sydney, Australia.
432 Kent Street, Sydney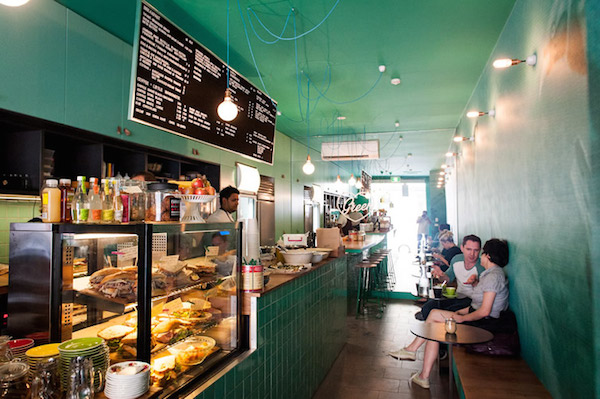 Not exactly what we would call a hole-in-the-wall café, Greenheart Espresso is in the heart of Sydney's CBD and serves great, brunch-worthy nosh. Refreshingly green interiors reflect the goodwill and wholesomeness of the menu, which includes, but is not limited to, chicken soba salads, pistachio & quinoa granola, and artisan bread sandwiches. Daily pizza is also served by the slice in homage to one of the owner's Italian heritage. Greenheart's brews are specially bought from the local roaster, Little Marionette Coffee, while hand-blended teas are from The Rabbit Hole. All in all, a neat little healthy package right smack in the city.
255 Devonshire Street, Surry Hills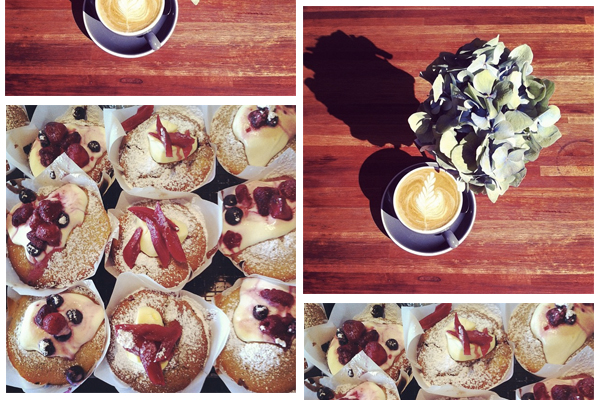 Here's a place where you can have a peaceful cuppa alone without seeming awkward! Aptly named The Book Kitchen, the walls are lined with loads of cookbooks to read whilst you gobble down the most important meal of the day. But don't stop there, just because you're surrounded with pictures of foods-you-can-read-about-but-never-get-round-to-making, doesn't mean you can't have your cake and eat it too. The Book Kitchen's menu is seasonally organic and bio-dynamic, so you'll feel good in more ways than one. From fancy greek yoghurt pannacotta all the way to good ol' soft boiled eggs with vegemite soldiers, we strongly recommend you kick off the covers and march down for the brekkie and a good cuppa Single Origin coffee fresh from the beans that are down the road.
333 South Dowling Street, Darlinghurst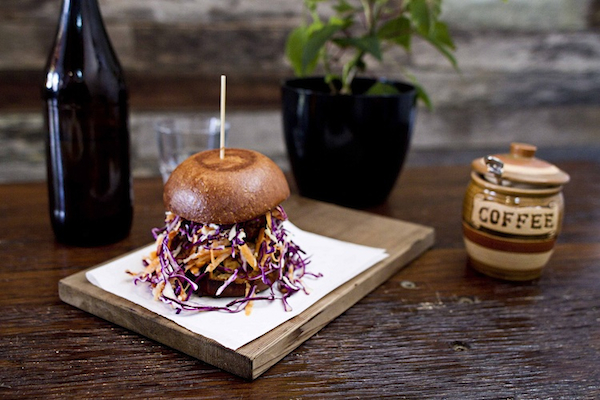 Another gem on Surry Hills (wow, competition there sure is stiff) is Bootsdarling, a comfy cozy café that is as snug as it sounds. Imagine this: a delightful mish-mash of recycled timber, dangling ferns and hipster finds greet you on a rain lashed Sunday morning, where you walk in to the smell of warm bread and eggs on the hob. With the main focus being comfort food, the menu centers around baked eggs, pork hash and varying sorts of omelettes. Most sing praises about the smoked haddock and the Melbourne-sourced beans from Bailey Coffee, but if you're not in the mood for a shot of caffeine, take the house-made hibiscus and lemon myrtle ice tea out for a lazy spin.
Suite B 338-356 Mitchell Road Alexandria, Sydney, Australia 2015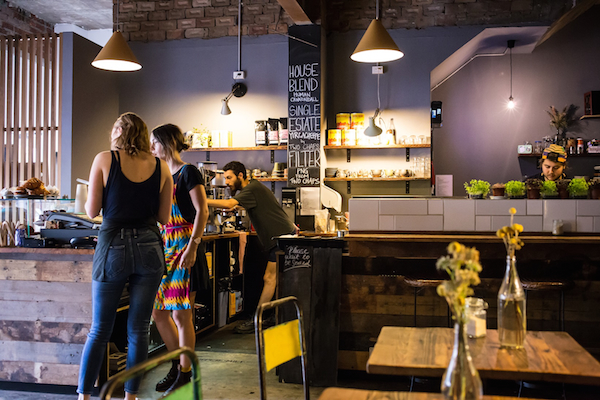 An oldy but goody, seasoned café-hoppers would definitely be in the know about The Copper Mill. Once an old printing press (or as rumours go, an illicit drug ring hideout), now is a factory of the famous Peruvian B'n 'E rolls; a Brickfields roll stuffed with a thick slice of pork belly with a crackling fried egg and sweet potato slices on the side. Mm-mm. However, if you lean toward the lighter side of life, get the cereal; little puffed balls of quinoa are mixed in with honey-coated nuts, chopped dates, dried apricots, coconut, yoghurt and garnishings of fresh pear slices. Pair that with the coffee that is churned out with Golden Cobra's Human Cannonball roast and you'll have breakfast you'd be mad not to love.
7A/2 Huntley Street Alexandria, NSW 02015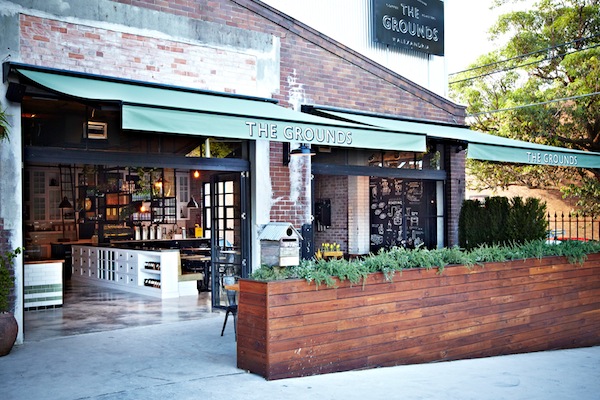 With an unbridled passion for the art and science behind coffee, the beans used at The Grounds are carefully selected for their individual unique characteristics and sourced from all around the world. Much like the coffee version of Willy Wonka's, The Grounds uses an old pie factory to host future developments in coffee research and testing facility (!) alongside their café. Not to be overshadowed by the beans, they also serve great wholesome breads and pastries that are of incredible standard. We recommend you try their slow-roasted pulled-pork sarnie – it lives up to the hype. If that weren't enough, The Grounds also has a mini petting zoo (!!) so you can cuddle up to a goat while you munch on some homebaked bread.
48 South Seyne, Manly 2095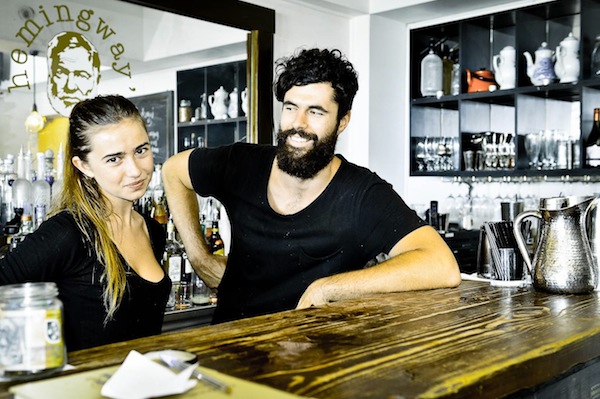 Liquor before noon? In other parts, you may look like a raging alcoholic, but not at Hemingway's. This is a small restaurant-bar instead of a café, but because they serve a mean toasted crumpet and omelettes, we'll let it slide. They are fond of tongue-in-cheek humour here, so expect things like 'chip degustation' and corn on cob – both very comforting, nostalgic foods to have and love on a Sunday arvo! If you're still worried about judgmental frowns on your brunch cocktail, disguise it a little and go for the Hemingway's cup, cleverly housed in a tea cup with a rose bud on top; what it really has though, is Hendrick's gin and rose & apple tea. Wicked granny would approve.
Do you know of any good finds that we missed out? Share with us in the comments below!
Main photo credit: 1
Photo credits: 1, 2, 3, 4, 5, 6