It's the height of vertical living. Just take a look around: everyone is building higher and higher with skyscrapers boasting of more than a hundred floors. So, it's no wonder that rooftops are seeing a heyday of all sorts. Hotels and restaurants compete with one another in offering the swankiest sky bars and infinity edge pools that overlook amazing skyline views. But that's not all. There are some really mind blowing and awe-inspiring rooftops, thanks to our crazy cool neighbours Japan and Dubai. Here are our top picks of the coolest rooftops in the world, whether you just want to swill drinks, people-watch or just experience something amazing.
1. LOUNGE & BAR
Located at the 24th and 25th floor of Bangkok's Hotel Muse, it's hard not to like Speakeasy, a rooftop bar where opulence is the name of the game. Offering modern lounging in an old-world 1920s setting, watering holes of varying styles can be found here, including the Long Bar, Terrace Bar, Blind Pig Cigar Lounge, and The Lawn. Lounging amid lavish decorations and turn of the century grandeur is definitely the way to live it up!
2. POOL & FIREPLACE
Said to be Kim Kardashian's hotel residence of choice pre-Kanye (currently, she, her soon to be hubby and baby North are off living with her momma Kris Jenner), the rooftop at Gansevoort Park Avenue NYC is a hotspot comprised of a rooftop pool, indoor and outdoor fireplaces, a patio and wrap-around terraces. Kick-ass party alert: the hotel is notorious for making headlines due to its loud, noisy weekend parties. Enjoy partying on top of the world: relax or rave – it's up to you!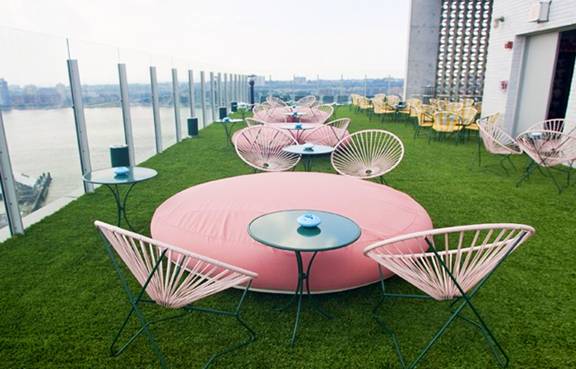 3. DISCOTHEQUE & BAR
Hailed as the Number 1 place for New York Fashion Week nightlife, it doesn't get trendier than Le Bain at The Standard, High Line. For the ultimate party rocking night, Le Bain features world-famous DJs, a state of the art sound system and mesmerising views. Enjoy perching in one of the yellow chairs set atop the astroturf, or perhaps in the summer, take advantage of a plunge pool (in the middle of the dance floor!) and creperie ratchet that up the haute factor of this place.
4. EVENT SPACE
Located above the 12-storey The NoMad, The Rooftop features both indoor and outdoor private event spaces that boast sweeping New York views of the iconic skyscrapers of Manhattan. Open air and lush landscaping provide a peaceful retreat from the hustle and bustle of Broadway. The 1,950 sqft space includes a full kitchen and can accommodate both elegant seated dinners or standing cocktail receptions with a wide variety of set-up options. You may need a VIP pass to get to this space. Oh, the high life!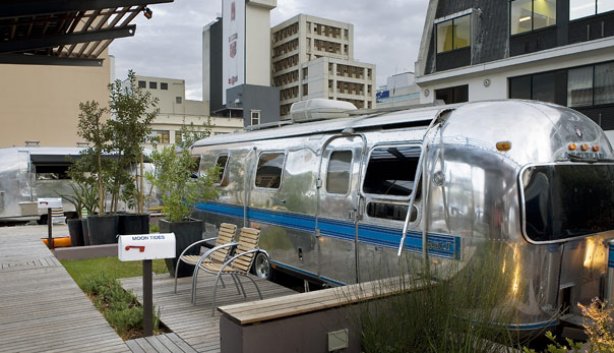 5. TRAILER
Atop Cape Town's swanky Grand Daddy Hotel is a trailer park like no other. The Airstream Penthouse Park is perched on top of the hotel, and is one of the most talked about and happening places in South Africa. Seven imported vintage Airstream Trailers were entrusted over to local artists and designers for the ultimate makeover. The result? A collection of rooftop suites that plays with the imagination and the senses. In case you were wondering, rooms in the hotel start at USD 90. Not bad for a unique experience! Woop, woop! Raise the roof!
6. TENNIS COURT
Let's play ball. Would you ever practice your serve in the world's highest tennis court located on the helipad of Dubai's Burj Al Arab? It's a whooping 211 metres above the ground! We heard that tennis champs Andre Agassi and Roger Federer were invited over for a friendly match here. Must have been pretty intense and fun to watch!
7. SKY GARDEN
Located on the 26th and 50th floors of Sky Gardens at Pinnacle @ Duxton, Singapore, patches of greenery have popped up on their top decks above multi-storey car parks of some residential buildings. Vertical gardens are pretty hip nowadays, and these gardens are (literally) taken to new heights. Said to be the longest continuous sky gardens in the world linking seven buildings together, this just might be our stairway to heaven. Hello, Jack and the Beanstalk.

8. CINEMA
Watching the sky is one thing, but watching your favourite film in a rooftop cinema might just be one of the coolest things in the world. This movie theatre actually exists in Australia, and it plays classic, current and art-house films in the open air on the top of a six-story building. Another cool factor? They serve alcoholic drinks, too! Pass me a beer!

9. ROLLER COASTER
Hey, wild child. You have to give it to the Japanese for creating some of the most bewildering things in the world. First, we hear about the rooftop soccer field. And we say, sure that can happen. But, what about a roller coaster on top of a building? Up, up, here we go! Built on the rooftop of an eight-story outlet store in a busy city area, this scary Half Pipe roller coaster was never opened though. (Boo!) While the building is capable of handling the weight of the roller coaster, the lateral forces presented an unexpected problem and is why the roller coaster never opened. What a bummer. We all got excited there for a bit.

10. CARPARK
This is not your ordinary rooftop car park because when the sun goes down, Lisbon's PARK Calçada do Combro instantly becomes an afternoon and night hotspot. It opened in the summer of 2013 and the concept is pretty simple: wooden tables and small potted trees facing 25 de Abril Bridge are dotted around the space to create a relaxing hangout for great conversations. Also, you have your drinks, burgers and a live DJ spinning in a garden suspended above the city. Pretty much the best feeling in the world. Cheers to that!