Glamping /

ˈɡlampɪŋ/

– a form of camping involving accommodation and facilities more luxurious than those associated with traditional camping.

It's the newest thing, especially with music festivals and people wanting to get a little bit more out of Mother Nature, glamping is the trendiest thing next to Triangl bikinis and punching Justin Bieber at Ibiza. While you may not want to go in the dead of winter, here are 6 great glamping hotels you will want to add to your bucket list.
What: As the name suggests, this pops up at selected locations. Upcoming is the Glastonbury Festival in 2015. You can probably rent off some off their glamping equipment, but it might be cost a little more than you'd bargain for.
Price: £1,799 for a 10' Traditional Yurt to £9,999 for a Tenthouse Suite
You get:
– 24Hr Private security
– A dedicated large guest sitting room (at Glastonbury only)
– Reception and concierge service
– Porter to deliver luggage
– Towel changes
– Power outlets
– Showers and loos from custom hotel stock
What: Hold on to your hats, hipsters. This will blow your mind. Vintage hotel gets you a vintage caravan room in the heart of Europe! Each bedroom is unique and decorated with design from the latest century.
Price: 250EUR
You get:
– Complimentary continental breakfast
– A welcome drink for 2
– 1 original and numbered poster
– A signed gift
What: On the Isle of Wight, it's a country style experience complete with a bathtub. Think shabby chic, English beauty-type decor.
Price: Starts from £200
You get:
– Complimentary English Breakfast
– King-sized bed with luxury cotton linen
– Sofas, bean bags, candlelit lanterns
– Ensuite bathrooms with overhead shower
– Bathtub
– Flushing loo
– All of the other facilities in the hotel (swimming pool, croquet lawn, golf course… you get the idea)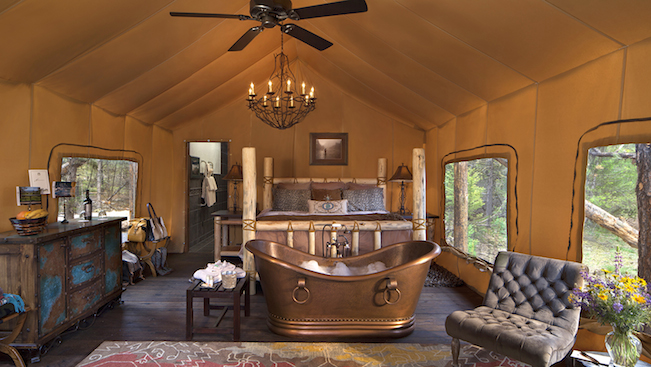 What: "Nature served on a silver platter." It features 5 Montana glamping locations that overlook the creek, river or on the bluff overlooking the rivers. Also has honeymoon suites!
Price: From US$1,075
You get:
– A camping butler
– A camp chef
– Ensuite bathrooms with jetted tub
– Slate shower
– Heated slate floor
– Electricity, cooling fans and heat
– Dining Pavilion
– Daily housekeeping
– Nightly bonfire pit (with s'mores!)
– Laundry service
– Hairdryer
– Phone and Internet service!
– A deck with Adirondack  chairs
What: One of 7 astronomic hotels worldwide, and the only one in the Southern Hemisphere. Perfectly made for stargazers. These are geodesic structures made of a metal frame covered by PVC. The dome can be opened so you can sleep underneath the stars.
Price: From US$125
You get:
– A cool dome that can fit four people
– Ensuite bathroom
– Excellent views of the night sky
– Access to the main dome, that serves breakfast, lunch and dinner.
– Access to an excellent selection of wines
– Your own pool (if you pay enough)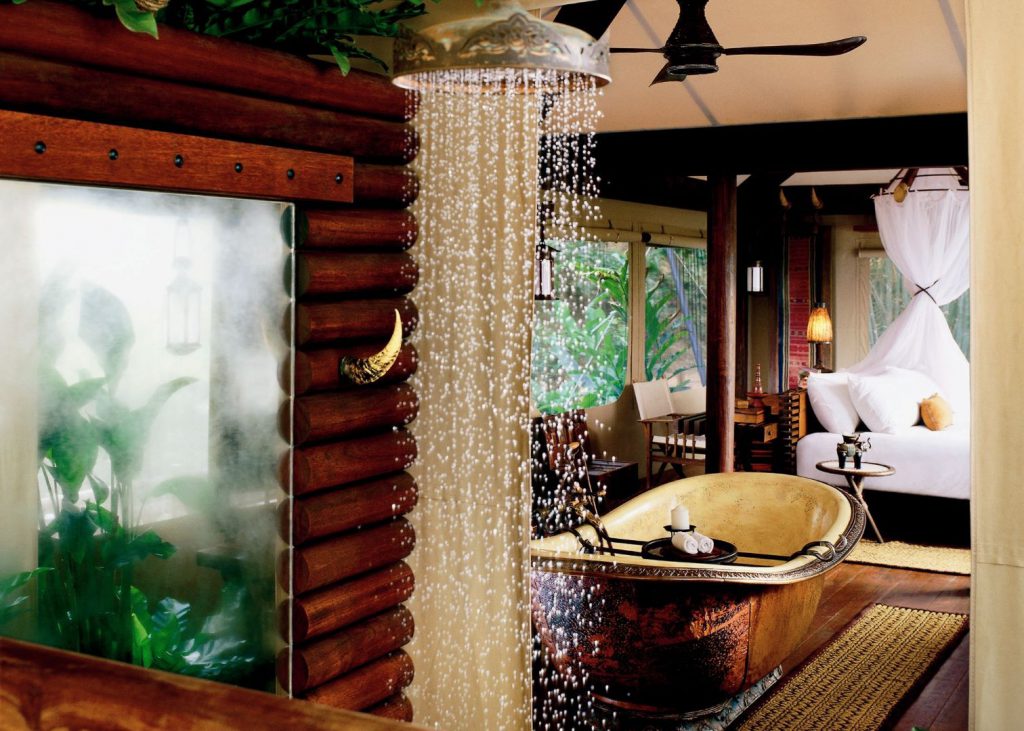 What: It's Four Seasons Luxury… while glamping. Live in nature without the inconveniences of nature. You get to ride the gentle giant elephants as well.
Price: From US$1,729
You get:
– Open-plan sleeping areas
– 2 person hand-hammered copper bathtubs
– Hand showers
– Outdoor showers
– Air-conditioning
– Heating
– Complimentary minibar
– Down Pillows
– Thick terry bathrobes
– WiFi
– Tea/Coffee maker
To glamp or not to glamp? What are your thoughts, nomads?
Main photo: 1.  Photo credits: 1, 2, 3, 4, 5, 6.