When impeccable service, stunning views, and the cosiest of cosy beds just don't cut it for you, might we suggest a little colour therapy courtesy of some very cheerful hotels?
#1 Like a Boss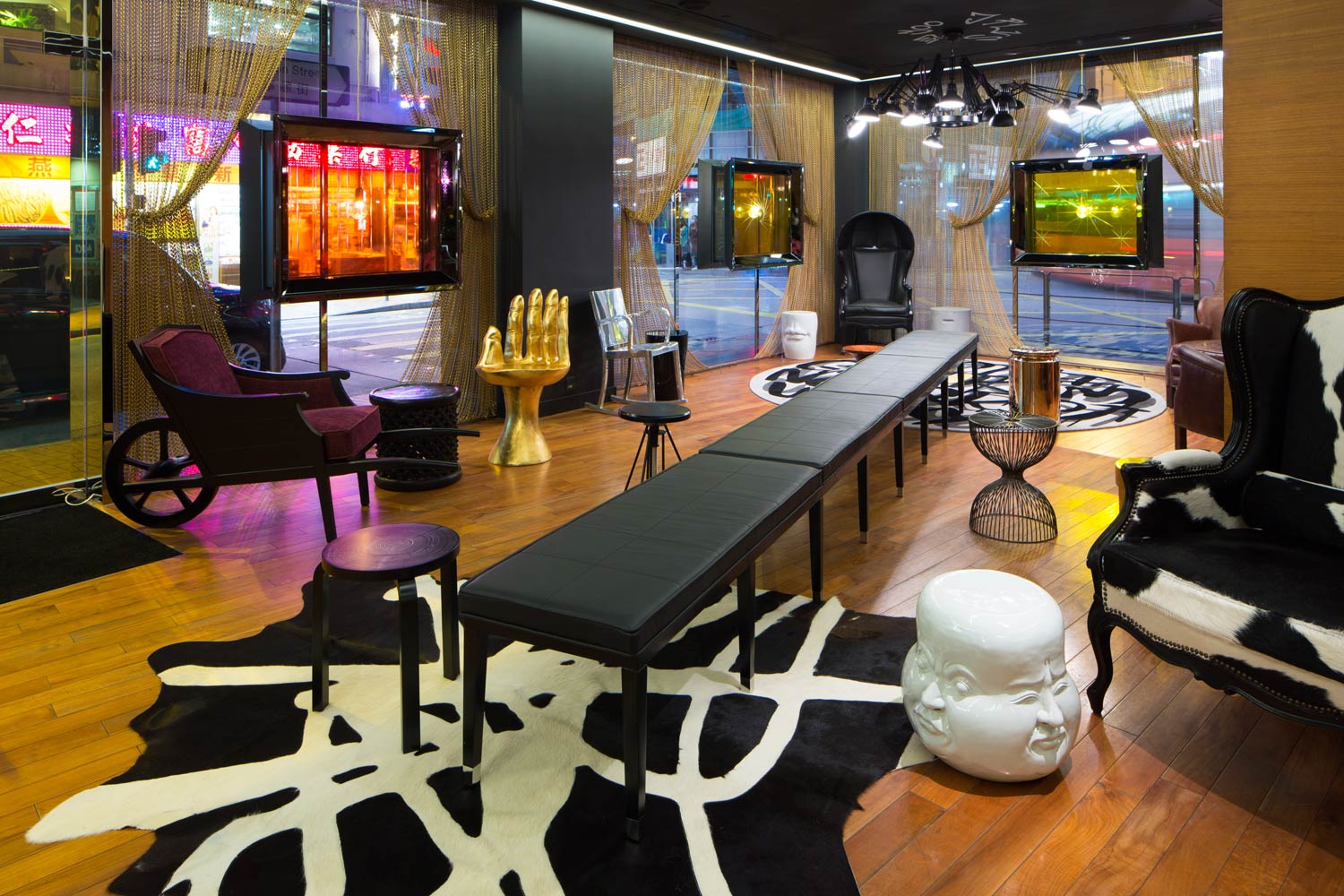 Where: J Plus Hotel by Yoo, Causeway Bay, Hong Kong
Get happy: Yellow, orange, and red-tinted glass panels decorate the hotel, inscribed with Chinese motifs like coins, dragons and bamboo. The motifs signify good fortune, and who could say no that? Mind you, the hotel's recent makeover cost a whopping HKD10 million, so they're clearly on to something gold. J Plus Hotel is located in Hong Kong's trendy Causeway Bay, so you're right in there with all the action – with afternoon cakes and evening wine for all in-house guests.
Bonus: Freebies await in your room, but hey, why ruin the surprise for you?
#2 For a Funky Good Time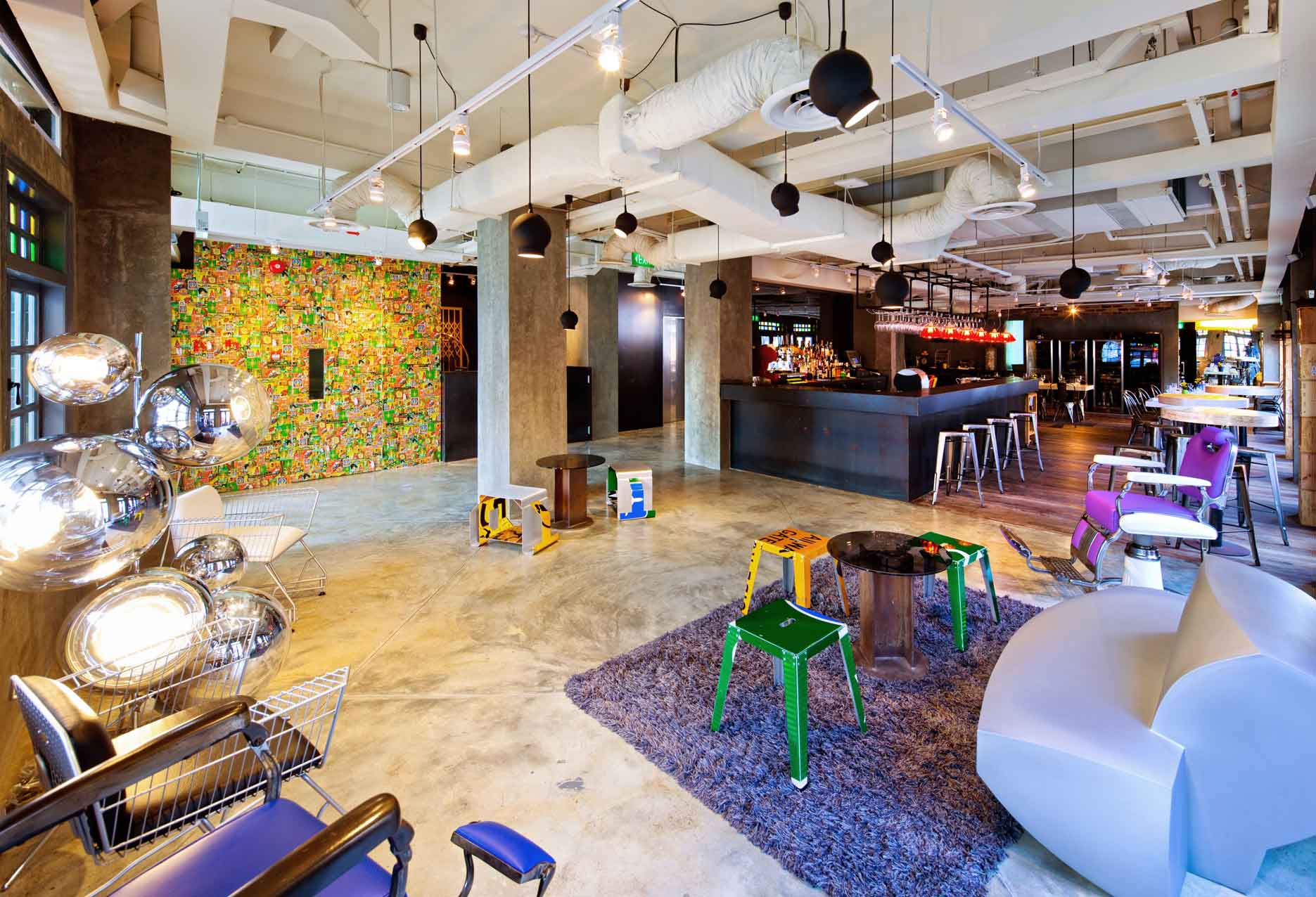 Where: Wanderlust Hotel, Little India, Singapore
Get happy: Each floor proudly displays different themes by four award-winning local design agencies, and you'll want to write them thank you notes for displays like 'Industrial Glam' by Asylum and 'Eccentricity' by :phunk studio. Our job-well-done goes to the Typewriter room on Whimsical floor by fFurious. (note: The Luxe Nomad sent you there!)
Bonus: Sharing is caring! Cocotte serves up some amazing French food and encourages guests to share portions so erm, can someone pass the Poulet Roti our way?
#3 Thou Art Artistic?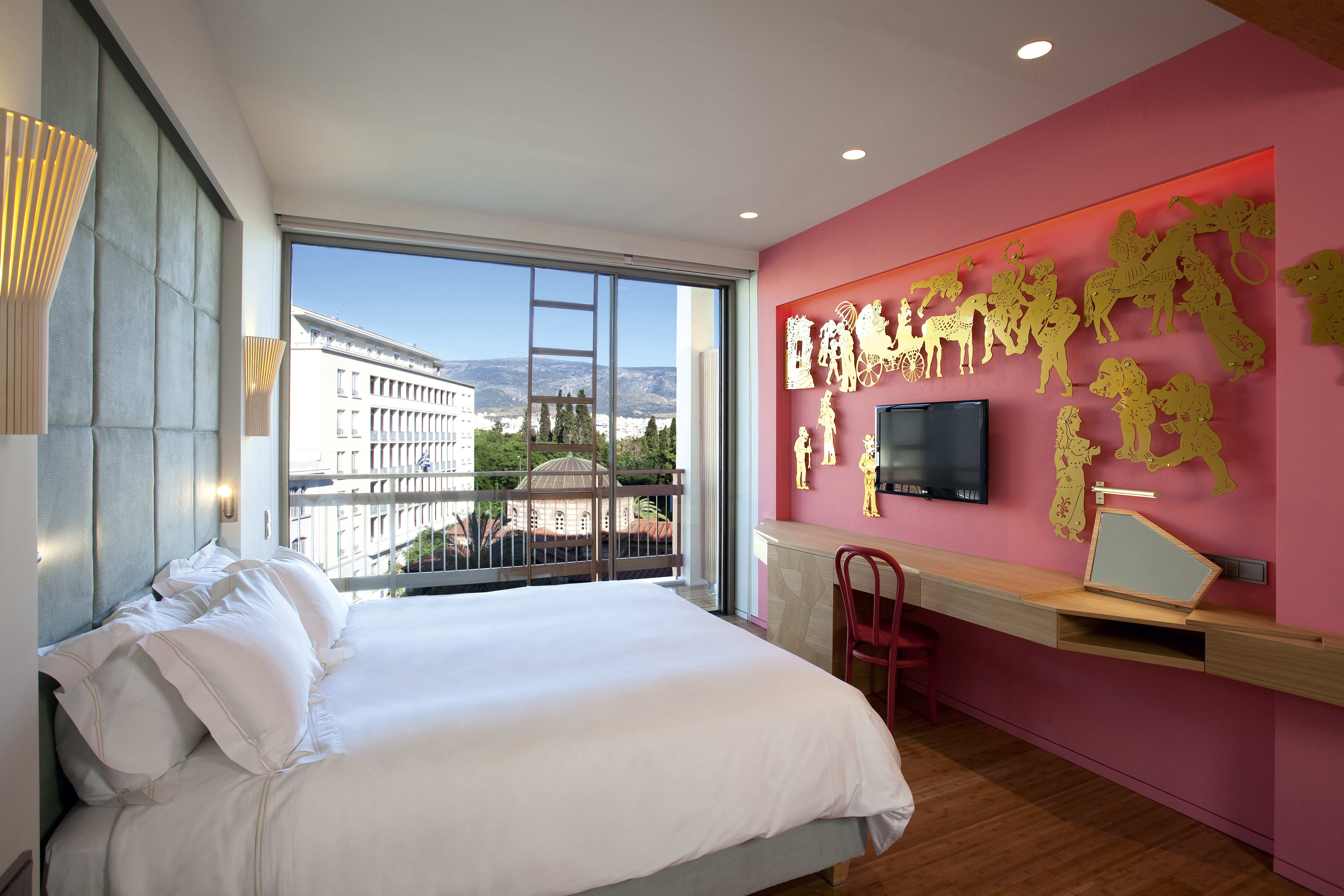 Where: New Hotel, Athens, Greece
Get happy: At New Hotel you could actually stay at a room that wards off bad omens, and stylishly so! Any of of the 79 Athenian-inspired rooms is bound to make you feel akin to a Greek God or Goddess. Art installations are displayed majestically in rooms just as eclectic; like one that pays homage to 'Karagiozes'; a Greek folklore character, and another with postcards of Old Athens plastered pretty on its walls.
Bonus: Get some serious art feels at the iconic Parthenon and Acropolis, located just minutes away from the hotel.
#4 Back to the Future 2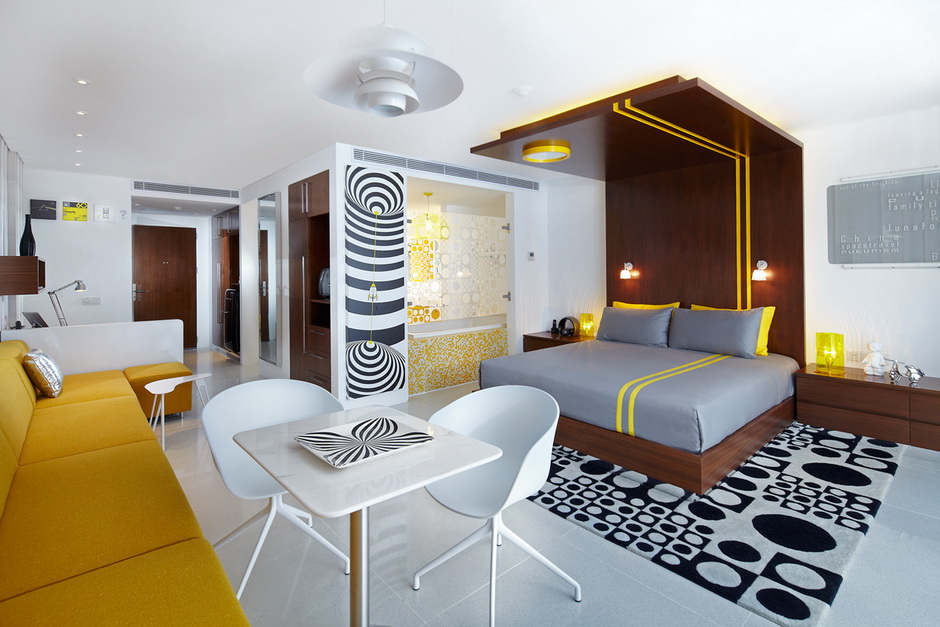 Where: Luna2 studiotel, Seminyak, Bali
Get happy: Think futuristic with a splash of jewel-toned madness – and we mean that as a compliment. The hotel has 14 open-plan cosmic pads decorated by owner Melanie Hall, with four colour accents. Cosmic pads here are named after London's popular addresses; Mayfair, Strand, Piccadilly, and Bond Street. Be sure to check out the Space rooftop bar for a spectacular ocean view.
Bonus: The 16-seat cinema Lunaplex makes the fact that every studio comes with an iPod and iPad just well, meh.
#5 Get Your Sexy on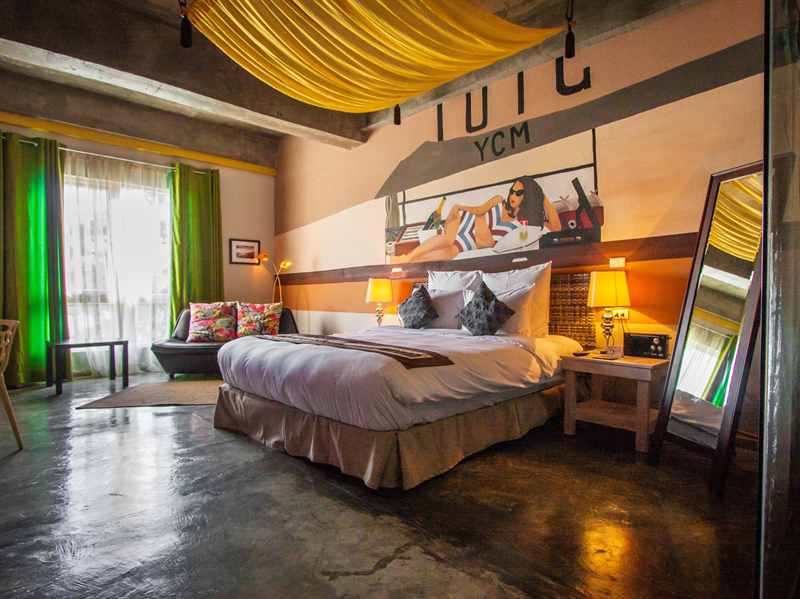 Where: The Henry Hotel, Cebu City, Philippines
Get happy: So here's the deal – every room is a whimsical adventure in itself. The Henry Hotel is one you'd have to see (or stay in) to believe. 38 rooms with names like Big, Large, X-Large and XX-Large (where bathtubs are strategically placed smack in the middle of the room, go figure) have designs that range from retro to dramatic latina-esque. Just for the heck of it, there's a vintage car parked on the second floor – tell us that isn't just the coolest!
Bonus: You'll find Henry in all red, waiting in the lobby, ever ready for a big smooch. That's a lot less creepy than it sounds, honestly.
#6 Classic British Humour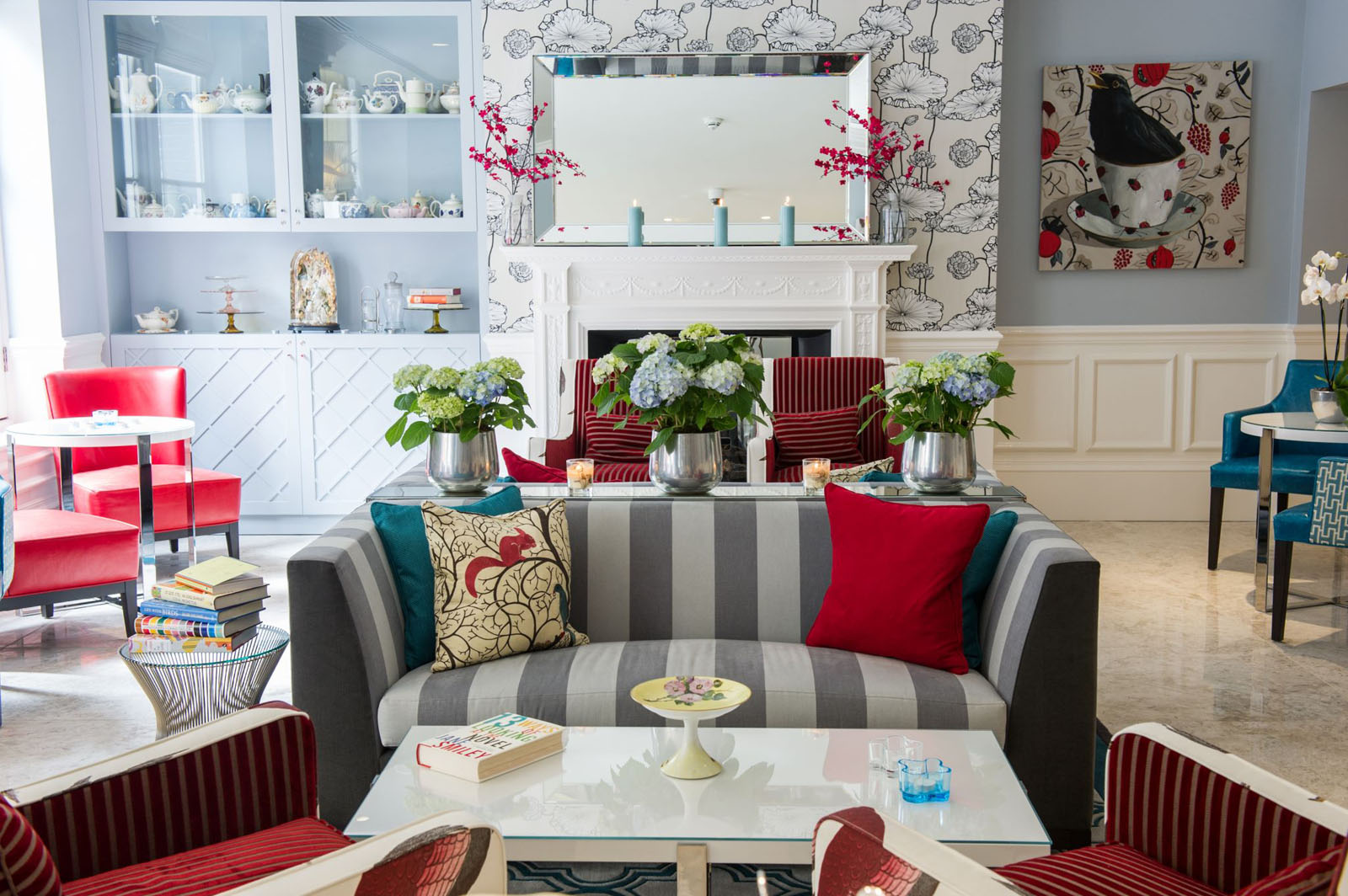 Where: The Ampersand Hotel, London, United Kingdom
Get happy: The vibrancy of London finds its way into The Ampersand, which is housed in a 1888 town-house. The hotel is located the famous museum district, after all. Rooms are a little on the small side (cosy!), but with themes of botany, music, geometry, ornithology and astronomy, it's quickly forgiven. There's plenty of floral-motif, goose feathers on staircases and drinks to go around. We approve!
Bonus: Worth a steal (okay, they're free) : toiletries by the London perfumer Miller Harris.
#7 Art! Art Everywhere!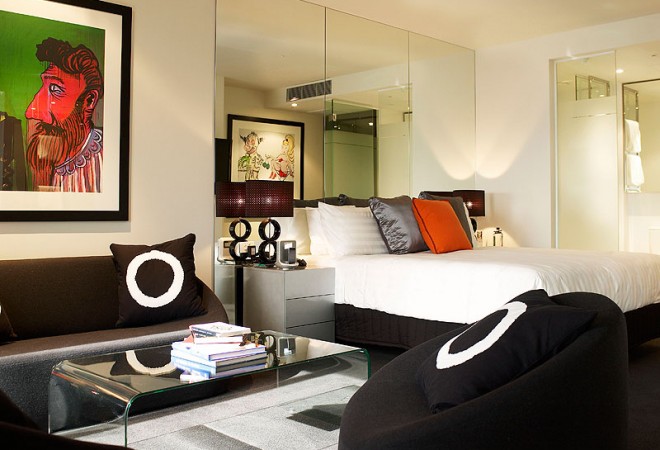 Where: Art Series – The Cullen, Melbourne, Australia
Get happy: Fans of Adam Cullen (famous artist, duh) already know all about this hotel. Each of the 119 rooms, suites and penthouse brings you into his world of bright artwork, set in a light an airy atmosphere. Furnishings like comfy sofas and curvy tables adorn the late artist's signature kooky prints. There's also an audiovisual display of his work in lobby, for the love of all things Adam Cullen. Yes, we're obviously fans.
Bonus: You can buy an Art series signature bed, and when you do, you get a free sleepover courtesy of The Cullen!
Turn that frown upside down!