A homage to Popo; meaning 'grandmother' in Mandarin, and a play on one of their specialities, 'popiah', Po at The Warehouse Hotel is an intimate, well-designed space conceptualised by Willin Lo, one of Singapore's top local chefs and the Lo & Behold group.
No doubt the hottest (if not hippest) Singapore hotels of 2017,  with Po, The Warehouse Hotel shows it has even  more to offer than great design, history and conservation. We stepped into the modern Singaporean bistro and came away suitably impressed.
Read this too: The Cool New Karaoke Bar in Singapore to Visit This Weekend
Dish 1: Classic Popiah with Tiger Prawns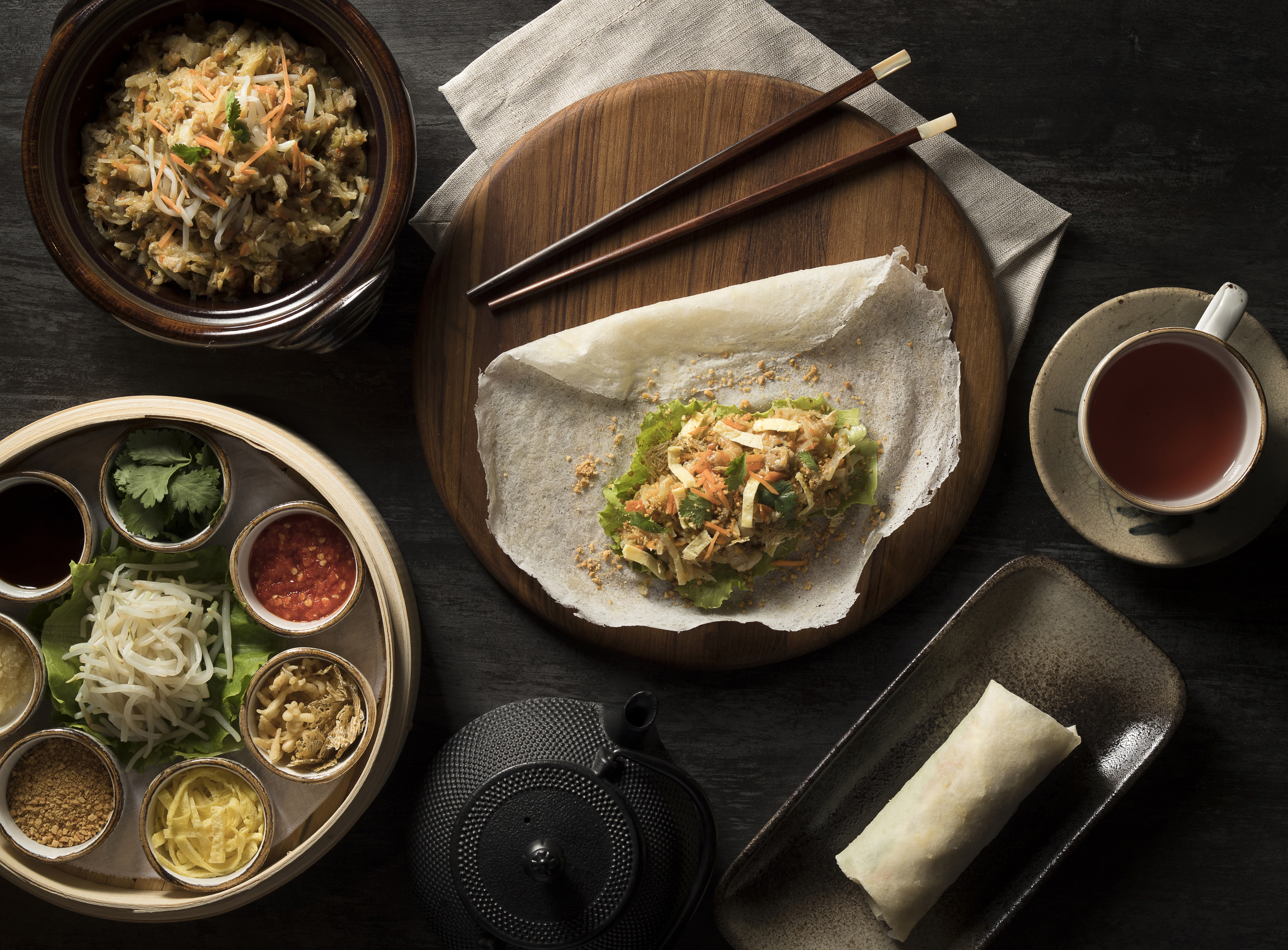 Popiah is to Singaporeans (and Malaysians) what tacos and fajitas are to Mexicans (and Californians), but eaten in a more communal way. Families sit around the table laden with dishes such as shredded stir-fried jicama, bean sprouts, beancurd strips, shredded omelette, crispy shallots and garlic, sweet sauce and chilli sauce. Diners then pile these on to their thin flour wrappers, rolling them into a spring roll to eat.
Here, we got a similar experience, though more refined and accompanied by a delicious sparkling wine to wash each mouthful down.
Dish 2: Charcoal Grilled Kurobuta Pork Satay
Supposedly simple satay made a rather impressive entry by arriving at the table on a charcoal burner. The meat was caramelised on the outside, well-marinated, amazingly juicy and tender. The dish was accompanied by grated pineapple, raw onions and cucumber which helped cut through the richness of the Kurobuta, and a spicy peanut sauce – another win!
Dish 3: Fermented Shrimp Soft Shell Crab
A riff off the famous 'Belacan Chicken', these soft shell crabs were delicious, coated with a light and crispy batter. A kaffir-lime mayo made it finger-lickin' good.
Dish 4: Carabinero Prawns & Konbu Mee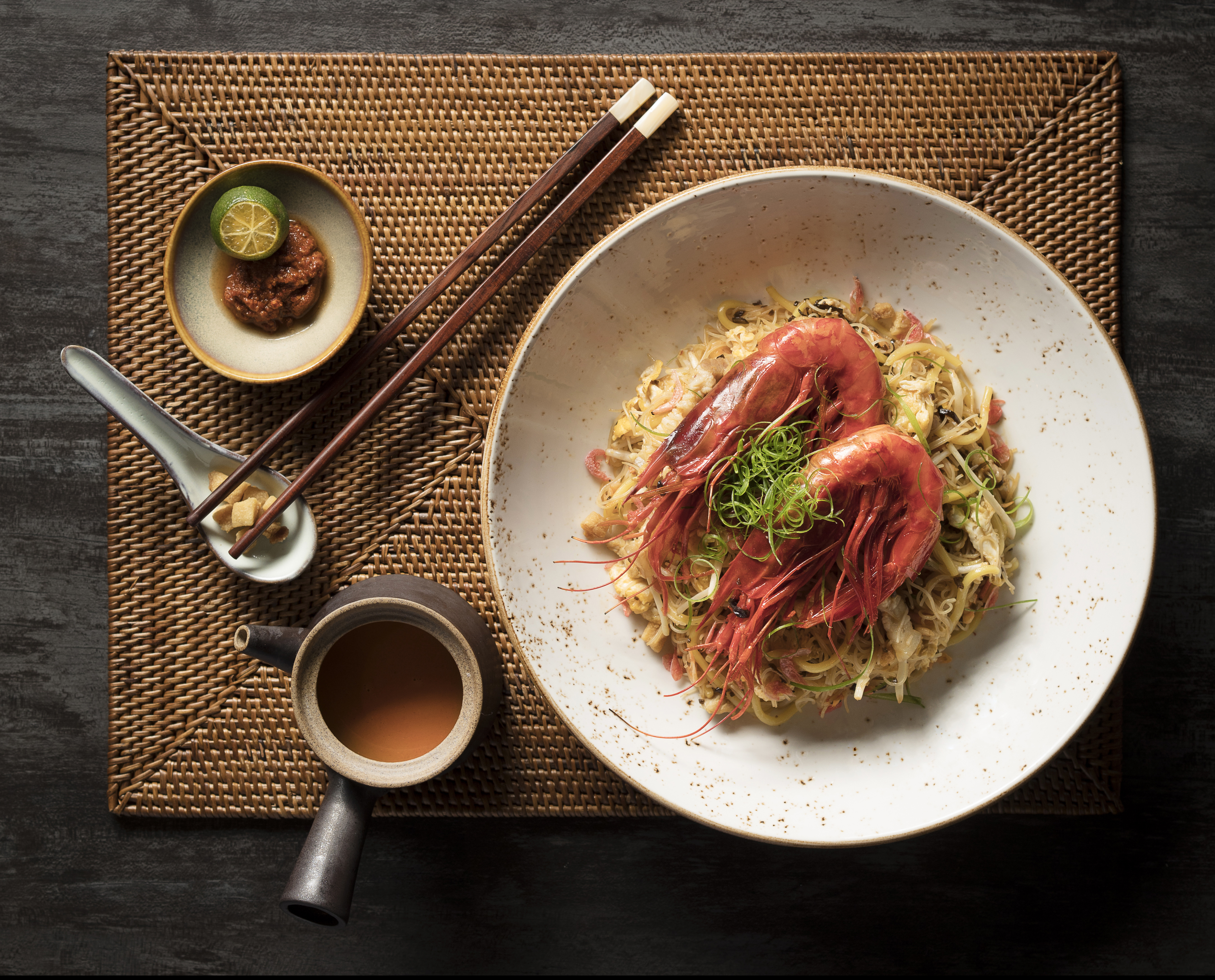 Another stellar spin on a local classic, Hokkien Mee, these noodles were high in umami(and also chock-full of artery-clogging lardons and pork belly). The addition of Spanish wild prawns and tiny sakura shrimp added sumptuous flavour and texture – it's no wonder this dish is drawing people to Po for a sampling.
Dish 5: Seafood Congee
Rice porridge or congee is such simple comfort food but here at Po, you will have yours with a touch of luxury. The congee is served with plump Hokkaido scallops, littleneck clams and dried scallops. We also loved the addition of angelica root, which danced subtly on our palates.
Dish 6 & 7: Ice Cream Popiah & Goreng Pisang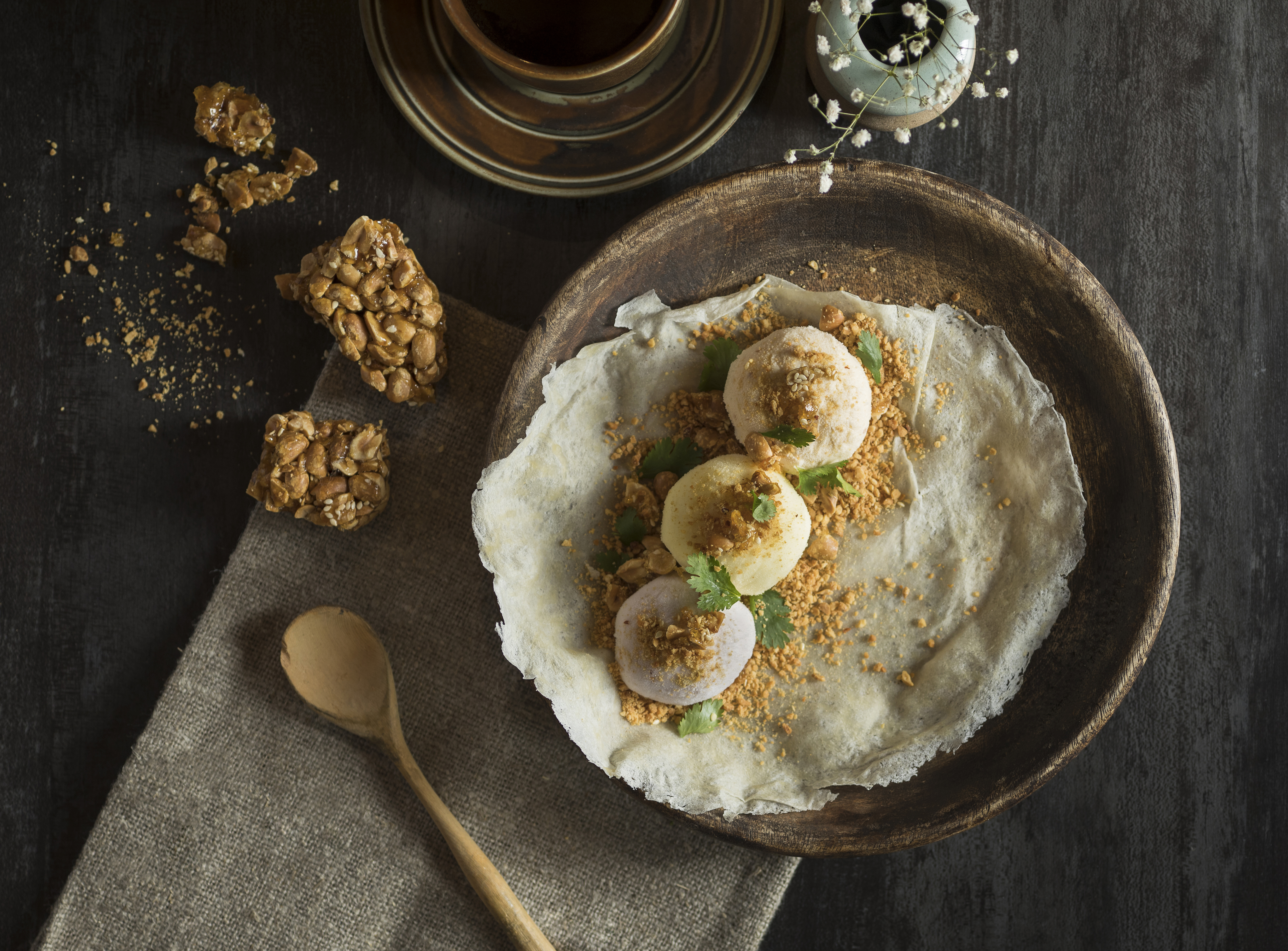 The former featured a trio of ice-creams: pineapple, taro and coconut, with shaven peanut candy for texture in a popiah skin – interesting, but hard to eat. The latter, a ripe banana in a golden batter, deep-fried till golden, coconut gelato, gula melaka – we found this a menage a trois made in heaven.
Po also serves a selection of carefully curated cocktails, tying into three 'eras' in the history of The Warehouse Hotel,  the 19th-century spice trade, the godown in the mid 20th century and the disco in the late 20th century. We had the Singapore Sazerac, BB King and Barbarella and it's safe to say that the night grew hazy as we drank on. 
Whether you're a traveller looking for a Singapore food experience in a sophisticated setting, or a local looking for the next on-trend food experience, Po at The Warehouse Hotel will not disappoint.
Pro tip: Don't miss the breakfasts at Po, there's so much to love about it!
Reservations recommended.
Address: Po at The Warehouse Hotel, 320 Havelock Road, Robertson Quay Singapore 169628
Tel: +65 6828 000