Getting bored of the run-of-the-mill type restaurants you get at fancy hotels? Okay, so Michelin-stars aren't to be scoffed at, but we do enjoy our food with a little smidge of drama. Here's a list of our favourite unconventional dining destinations that will probably tickle your fancy.
#1 Floating Restaurant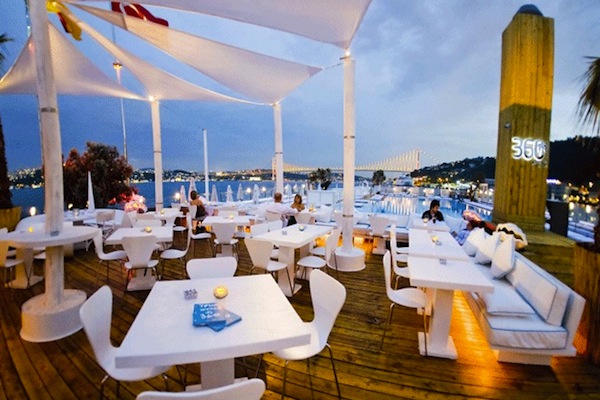 Where: 360istanbul Suada, Turkey
The perfect summertime spot would be Turkey's exclusive 360istanbul Suada. A floating restaurant that exudes St. Tropez vibes with its calming white and turquoise decor. Complete with an impressive view of the azure waters and the Bosphorus Bridge with a hefty price tag to boot – you are going to want to stick around and make the long indulgent meal worth your while.
Must try: Avant-garde Iskender Kebab, Drunken Octopus, Chili Steak with Dark Chocolate, Little Duck Pastries.
Check out: 360istanbul Suada
#2 Dinner In The Sky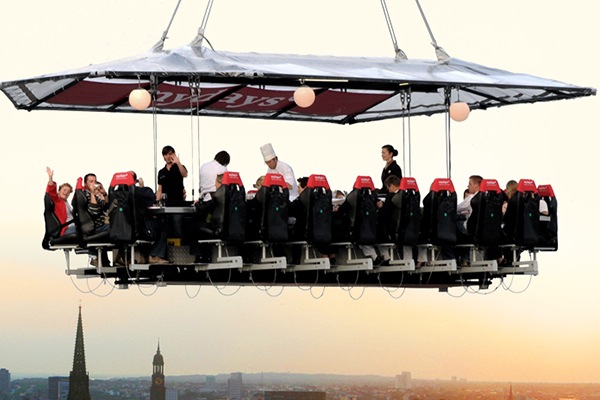 Where: Anywhere!
Wine and dine at the height of 50-metres above ground – this is how you transform an ordinary meal into and extraordinary experience! Literally, a table suspended above the ground, the diner can accommodate 22 guests at once. If you have no qualms letting your life hang by a thread (in this case, cables), indulge in your meal and enjoy the luxury as you are served by a chef, waiter and an entertainer.
Bonus: You can experience dining in the sky just about anywhere you want – (race track, beach, golf course, vineyard). As long as there is a surface of approximately 500 m2 that can be secured. However, authorization by the owner of the venue is required (for obvious reasons).
 Check out: Dinner In The Sky
#3 Underwater Feasting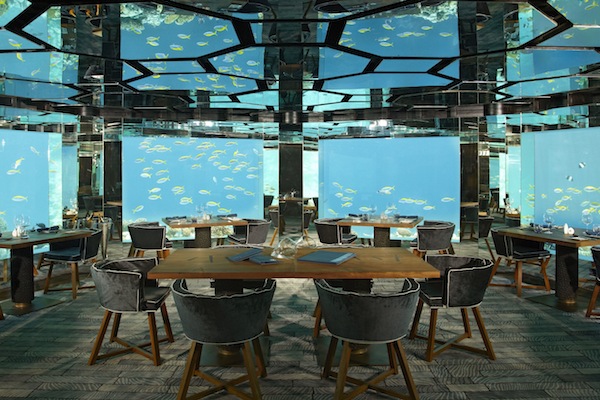 Where: Anantara Kihavah Villas, Maldives
Dinner in the deep-blue? Who'd thought that would ever be possible! Enjoy your delicious seafood platter amidst angel fishes darting through the ocean – as ironic as that may sound, this really is a mind-blowing experience you ought to give a try. If it helps, there'll be wine (up to a selection of 6,500 bottles, to be exact).
Bonus: Aside from offering a gastronomical adventure, the Anantara Kihavah Villas is also the perfect resort for a holiday! For some of the best rates that'll be pretty impossible for you to resist, click here.
Check out: Anantara Kihavah Dining
#4 Treetop Dining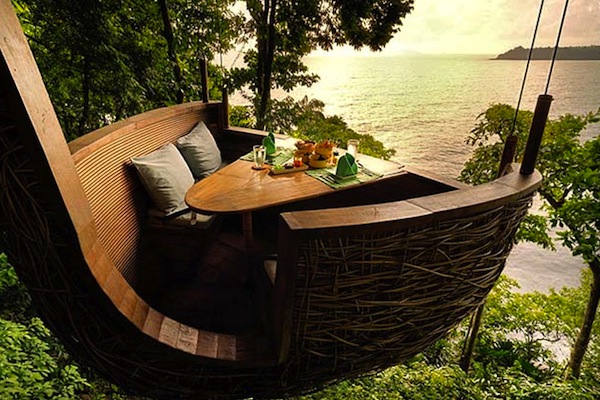 Where: Soneva Kiri, Thailand
We're pretty sure you've always dreamt of living in a treehouse when you were a child. Well, here's an (almost) dream come true for you – dining on a treepod. Step into your very own bamboo pod and have it hoisted above to overlook a gorgeous rainforest and shoreline as you indulge in gastronomical delights and fine wine. Soneva Kiri brings fine dining to new heights (literally).
Bonus: Don't just dine at the Treepod – go ahead and book a room at the Soneva Kiri to indulge in an unrivalled form of luxury! And what makes it better – incredible rates. Click here for some of the best offers in town!
Check out: Soneva Kiri Treepod Dining
#5 Cavemen Banquet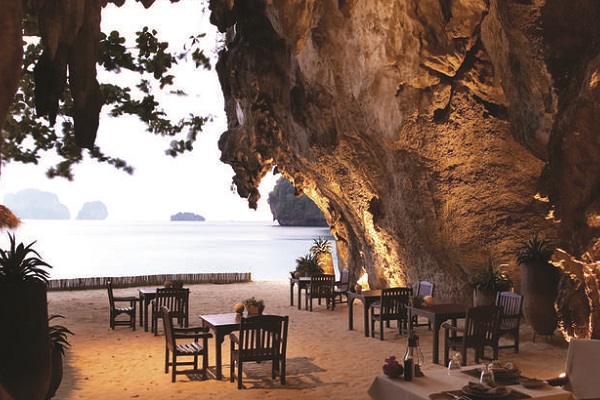 Where: The Grotto, Krabi
Tucked away on the edge of Phranang Beach (at the Rayavadee)  is the The Grotto – a lovely diner built within a vaulted limestone cave with an impressive ocean view, making it one of the world's most unique dining experiences. Enjoy the warm night's breeze, watch the sunset and listen to the calming waves as they crash against the shore – do all of that while you enjoy your scrumptious barbecued meal!
Bonus: Book yourself a stay at the luxurious Rayavadee, and you are in for an unforgettable experience! Click here for some good value offers that'll put a smile on your face.
Check out: The Grotto
#6 Dinner On Ice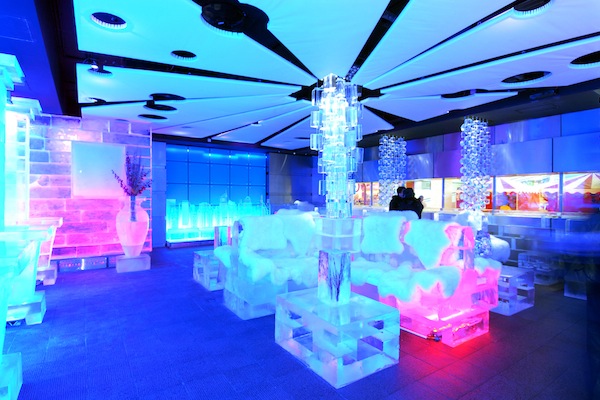 Where: Chill Out, Dubai
Everything in this restaurant is sculpted out of ice, making this diner Dubai's first sub zero lounge. You'll be eating out of ice plates on ice tables while you're seated on ice benches – there is no restaurant cooler (pun highly intended) than this one.
Tip: At a freezing minus 6-degrees, you might want to stay away from the short skirts, as you won't want to freeze your pretty derriere off. But if you need to know, thermal gear is provided.
Check out: Chill Out At Dubai
#7 Dine In The Dark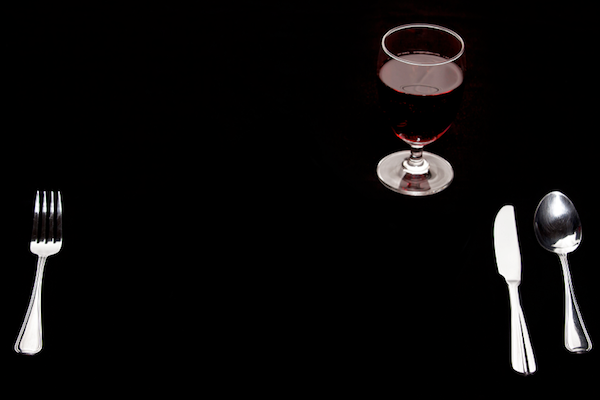 Where: Dans Le Noir, London
A restaurant like no other, Dans Le Noir offers patrons the chance to dine in total darkness – which would obviously present you with a new sensory experience. So, why should you give this diner a try? Well, the idea of awakening your senses and re-educating your palette through the surprise menu doesn't seem like such a bad idea.
Tip: Keep your hands to yourself. Pitch-black darkness ain't no excuse for doing anything naughty with your date (if you know what we're saying).
Check out: Dans Le Noir
Did we miss out on any other unconventional dining destinations, nomads?
Main photo credit: 1.