Can't remember where or when you've seen the name 'Ungasan'? Our bet is you'll find it nestled among the saved photos on your Instagram. If there is one place in Bali you need to see to believe, then The Ungasan Clifftop Resort is it. And even then, you'll need to pinch yourself. Those famous Uluwatu sunsets, clifftop views and magical blue sea – they're all real. And it's all just for you, when you stay in an enormous five-bedroom villa.
Read also: 11 tips on travelling to Bali with children
[metaslider id=42572]
That villa life
The jaw-dropping villas at The Ungasan Clifftop Resort, sitting on towering limestone cliffs facing the Indian ocean, are on an entirely new level. That's no light praise, given Bali's high standards for luxury travel.
There are five 5-bedroom villas and ten 1-bedroom villas, each with their own unique look. But they all have one kicker in common: a nice big swimming pool where if you angle your camera just right (kneel down, lens tilted upwards), the blue of the sky meets the warm, sparkling waters.
Masterfully designed, the five-bedroom villas are perfect for globe-trotting families to stay together and still enjoy privacy in individual villas. The resort also has a putting green, tennis court, gym and a beautiful Balinese spa that's all the more reason to spoil yourself for the day.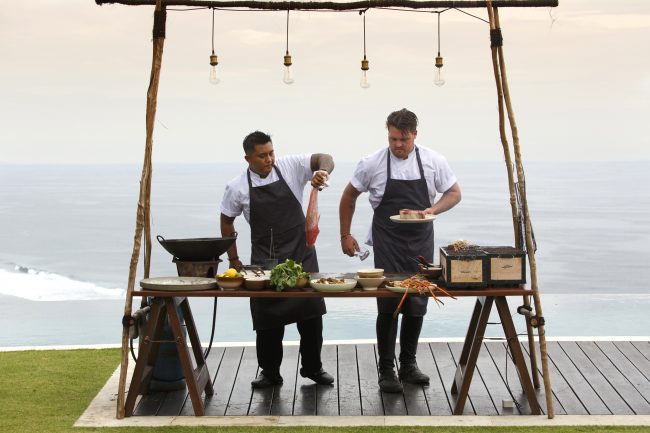 Exceptional dining 
The Ungasan Clifftop Resort has teamed up with acclaimed Aussie chef James Viles, owner of the two-hatted restaurant Biota Dining in Bowral, NSW. The new and delicious culinary offerings include the Morning Harvest breakfast, delivered fresh and hot from the kitchen straight to your villa. Chef James can also set up an incredible BBQ dinner at sunset with a view you won't find anywhere else on the island.
[metaslider id=42610]
Sundays Beach Club
A walk down some steps and a mini-tram ride down the cliffs lead you to the spectacular Sundays Beach Club. The restaurant/bar is excellent for bites like local tuna rice paper and cocktails, as you sit inside for some shade and fresh air, or on beanbags strewn across the soft sands. Relaxation is the order of the day at Sundays, with massages and reflexology treatments offered at the spa bale, but should you wish to make the most of it, the beach club provides lagoon-ready paddleboards and kayaks to explore the lagoon.The sky positively glows at sunset, but that could be the mojitos talking. A bonfire lights up in the evenings, keeping you warm and tempted for seconds of toasted marshmallows.
The Ungasan Clifftop Resort is offering 30% off all Five-Bedroom Villa bookings before 30 April 2018. But it doesn't stop there – for stays of four nights or more, guests will receive their In-Villa Dining BIOTA BBQ, and a bonus USD 1,000 Resort Credit. Discovery your luxury at www.theungasan.com