We're L'Occitane girls from the get go, but  we won't say no to the likes of Molton Brown, Le Labo, or even the latest from Oscar de la Renta.
Thats right, we're talking hotel toiletries, and whether you like Aesop to Armani, Hermes to Ferragamo, the war of the toiletries have officially shown how big their stake is when it comes to consumers choosing their hotels. The once nameless, generic bottles of stuff are now being taken over by their flashy, branded counterparts.
The devil's in the details, so they say, and hotels are now finding it necessary to up their branding by having a label on their shampoos or lose out in the comparison war.
Brands have also realised the benefit of packing their brand into travel-sized bottles to dramatically increase their sampling base! Don't believe us? Well, you might believe The Hyatt then. The hotel brand released this video last year encouraging patrons to steal their toiletries – a clever way of showing off that they stock the good stuff (well played, Hyatt, well played).
Honestly though, where does one find the good stuff? We love the Four Season group for L'Occitane, but here are 5 of our top tips on where's best to exercise those kleptomaniac tendencies.
1. The Lugarno, Florence, Italy
This is a room that just does not spell 'normal toiletries'.
When you're in Italy, it's almost impossible not to over-indulge. The sultry atmosphere and the laidback culture soaks through your pores, making you want so much more. For your stay, we say the Lugarno, not only because of the ultra fancy interiors but also because they offer Salvatore Ferragamo toiletries, and a free entry to the Ferragamo museum to boot (the fashion brand DOES own the Lugarno hotel collection after all). If you're looking for somewhere chi-chi and upscale, this is it.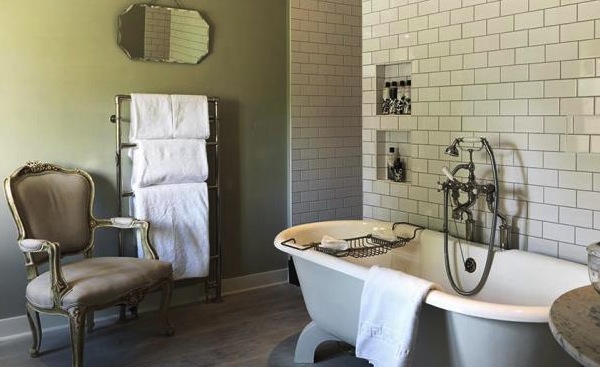 2. Babington House, Somerset, England
Too stylish to look like a cowshed. We love the spa too!
Nevermind the teensy bottles of stuff, the Babington apparently has a WALL of full-sized Cowshed toiletries for you to use and empty into your bathtub (but first you have to be a member of the exclusive Soho House). Glass jars of powder bubble bath, bottles bath oil, shower gel, shampoo and conditioner crowd the shelves in your room. Although you're allowed to use as much as you like, bringing them home is strictly no-no. However, if you're looking to ease that klepto itch… we won't judge if you pack some empty bottles.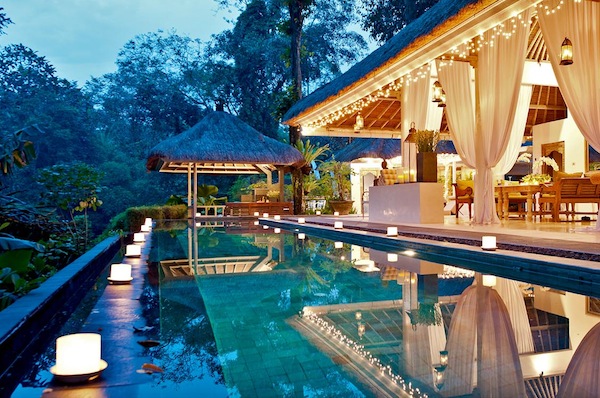 3. Villa Sungai, Bali, Indonesia
This is a picture of a super-sized bath! Just kidding.
They pride themselves in the finest, from TWG teas to Nespresso coffee systems, so why not bathroom amenities? One of the few villas that stock Acqua Di Parma in their washrooms, Villa Sungai is definitely one for the upper crust. Together with their Bose and Tivoli audio systems, they also put effort into providing you with salon-grade hairdryers and GHD straighteners … so your hairdo won't puff up under all that tropical humidity.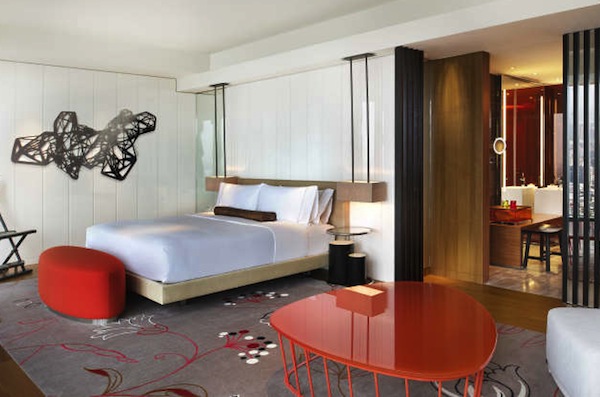 4. W Hotel Taipei, Taiwan
Bath time never looked so good…
Why waste wonderful toiletries? We spied a whole selection of Bliss Spa® amenities at W Hotel Taipei, but it seems to be a running trend with the W group worldwide. You'll even find Bliss spas in certain W hotels, so we weren't that surprised. Combine their yummy toiletry selection with their signature W bed, state-of-the-art entertainment, the fabulous Munchie Box at arrival, signature concierge Whatever/Whenever® service as well as the best cocktails at the hippest joint in town in WOOBAR, and you're in for a whale of a time.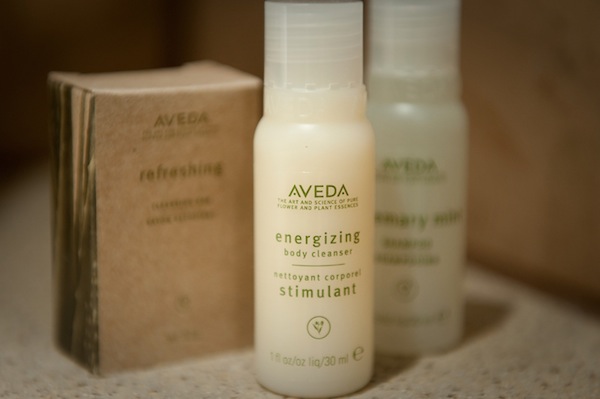 5. Bauhaus Hotel, Aberdeen, Scotland
So cool, you might just turn into an eco-loving hipster.
Sometimes, the toiletries pick the hotel. Evidently, in order for a hotel to purchase toiletries from Aveda, they need to complete a 3-page application of environmental analysis on their hotel. Things like "Do you recycle towels?" and a bunch of other questions come into play. Aveda also has other pricing and room number restrictions, so if you're in a hotel that stocks it, it speaks volumes about said establishment. One great example is the famous Bauhaus Hotel, one that we ourselves approve of, too.
So what about you? Are you guilty of nicking daily amenities and do you choose your hotel based on what they stock?