Surfing in Bali? So necessary. And if you know your surf, you know all about the epic surf breaks in Canggu. Introducing Pantai Indah Villas, a 2 to 4-bedroom estate perfect for families or surfers (or both), located just 50 meters from the beach in Pererenan.
Pererenan is a charming Balinese village dressed with rice terraces, rivers and temples. With its waves, the village encompasses the best of both adventure and culture. Pantai Indah Villas is just as beautiful, designed by renowned architect Ross Franklin, who has done a brilliant job in designing a villa that invites clean views of the ocean without the clutter.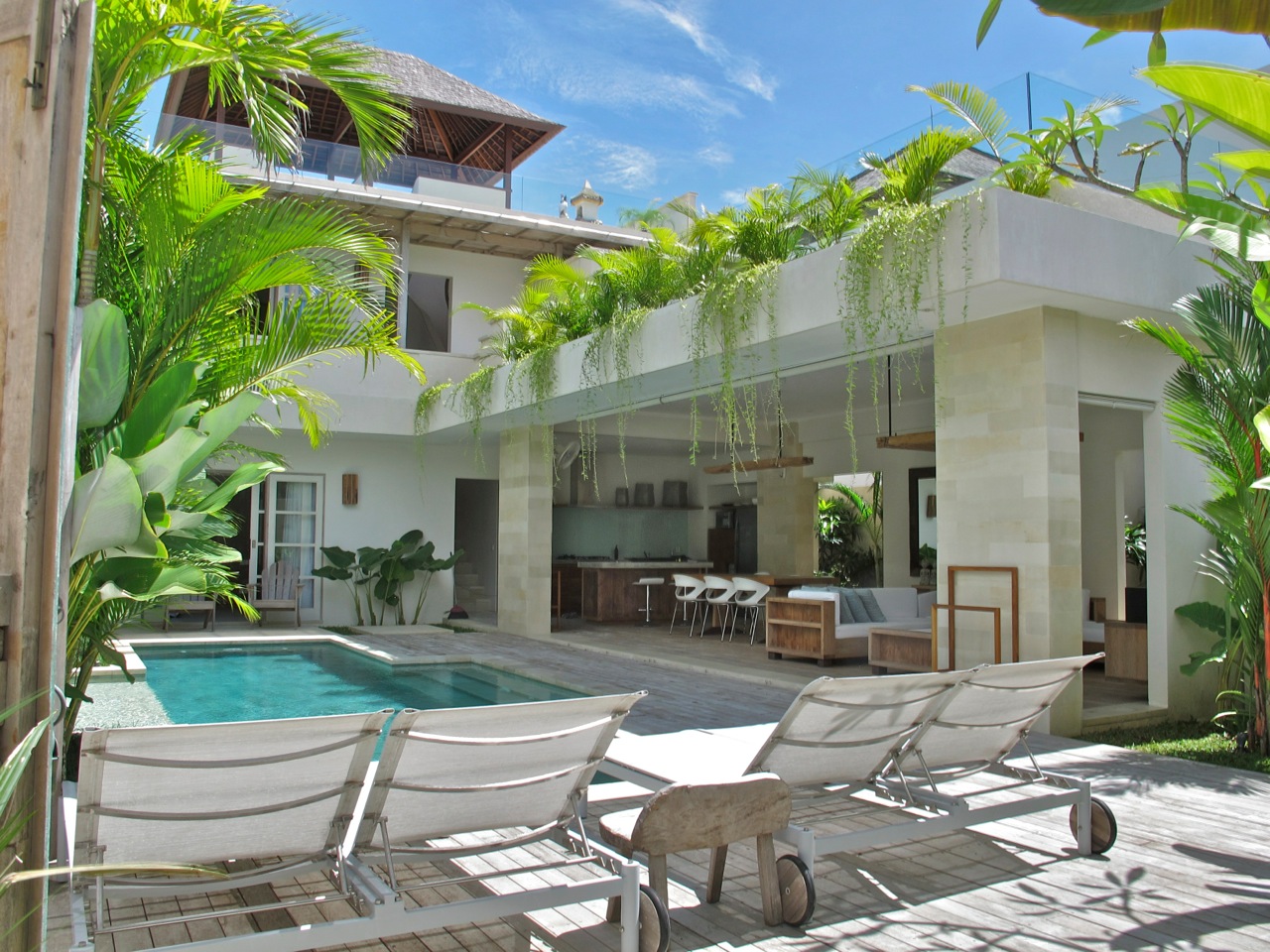 Owners Mike and Natalie fell in love with the island of Bali on their honeymoon. After dreaming about owning their own villa, they spent three years searching for what would make the perfect location, design and materials for a chic beach abode. That's how Pantai Indah Villas came about — In the Indonesian language, "pantai indah" translates "to beautiful beach".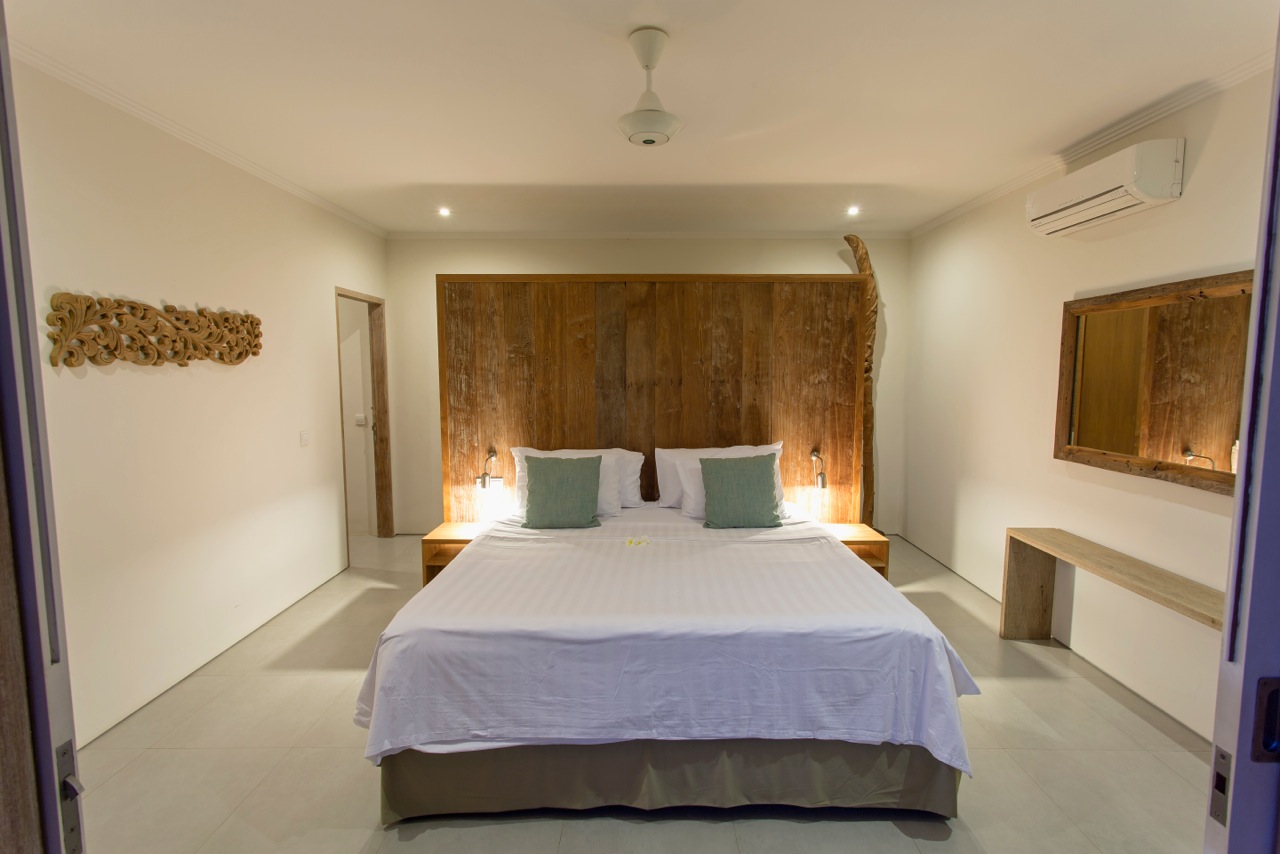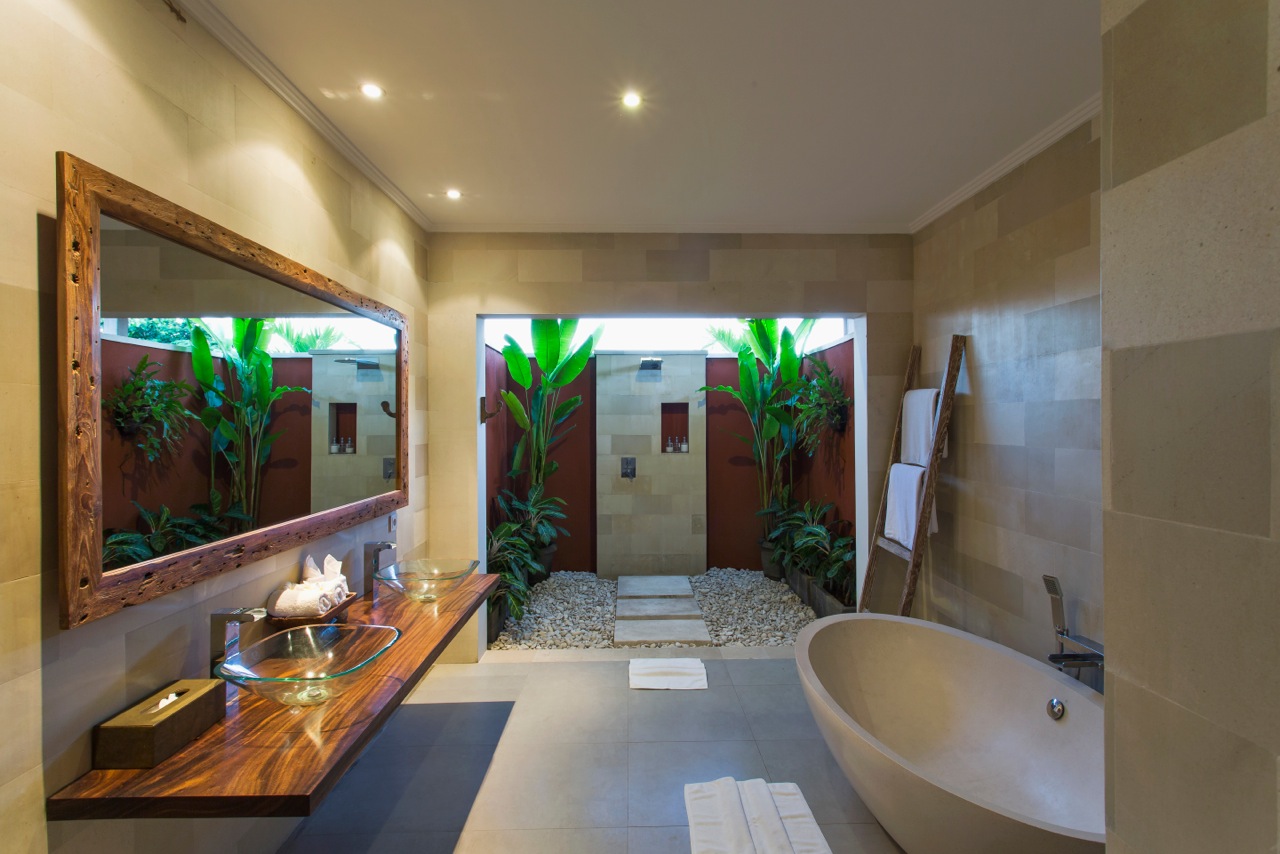 The rooms: There are two 2-bedroom villas designed identically, that can open up to form a large 4-bedroom villa. Each of the villas are furbished with a large pool, king-sized beds, indoor bathrooms and outdoor rain showers, sunset lounge and rooftop garden.
The design encompasses teak planks that are used for the beds and wardrobe. If you pick the bedroom upstairs, you'll have direct access to the terrace and rooftop garden. But if you prefer, the bedroom downstairs leads straight to the pool.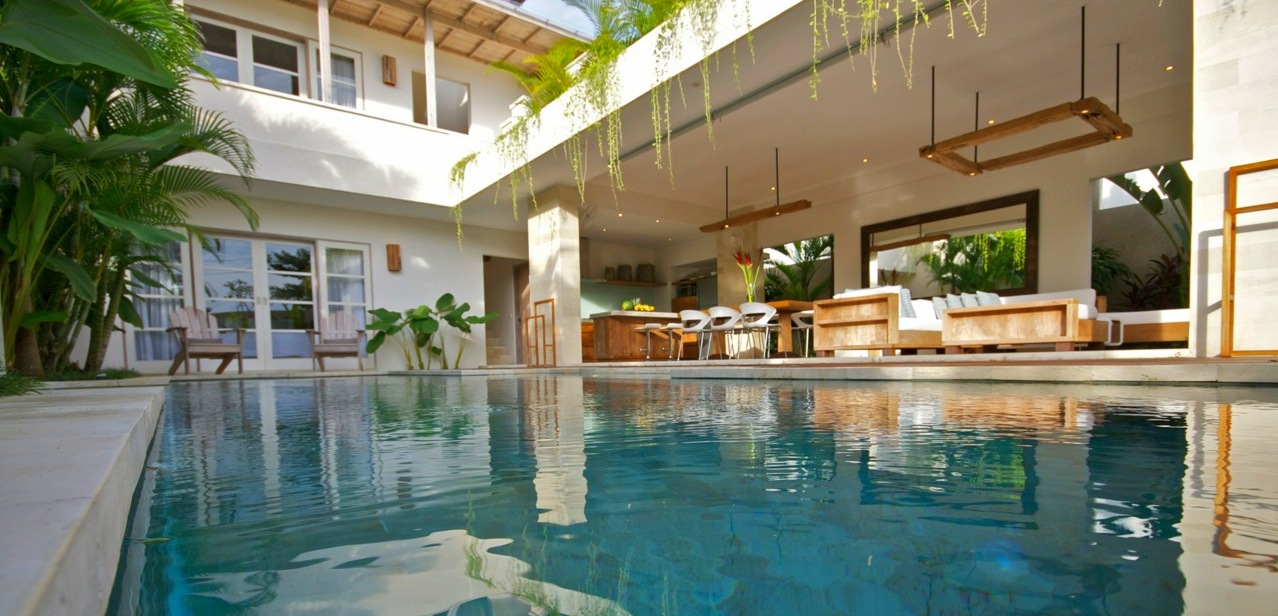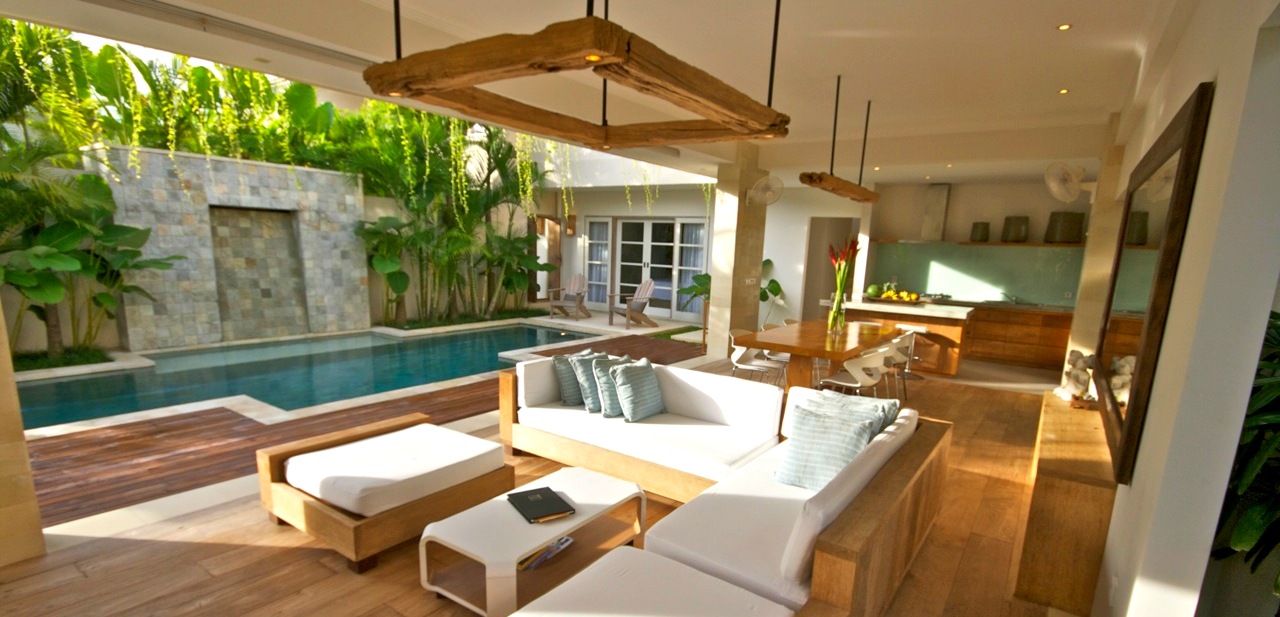 What to do:
Appreciate the sights. Not that you could ever tire of ocean views, but the villa is also in the right location to view the volcanoes, sunrise and sunsets from the third floor bale. There's also a rooftop garden above the living area that is ideal for practicing yoga, sun bathing, or as a place for kids to run around.
Get adventurous. The beaches in Canggu are known for their ideal surf waves as well as for kitesurfing and stand-up paddle boarding (SUP).
Cool off. The custom designed pool is just steps down from the living room. It's the perfect place for having breakfast and hanging out with the rest of your group, especially when it's the centerpiece of a 4-bedroom booked villa.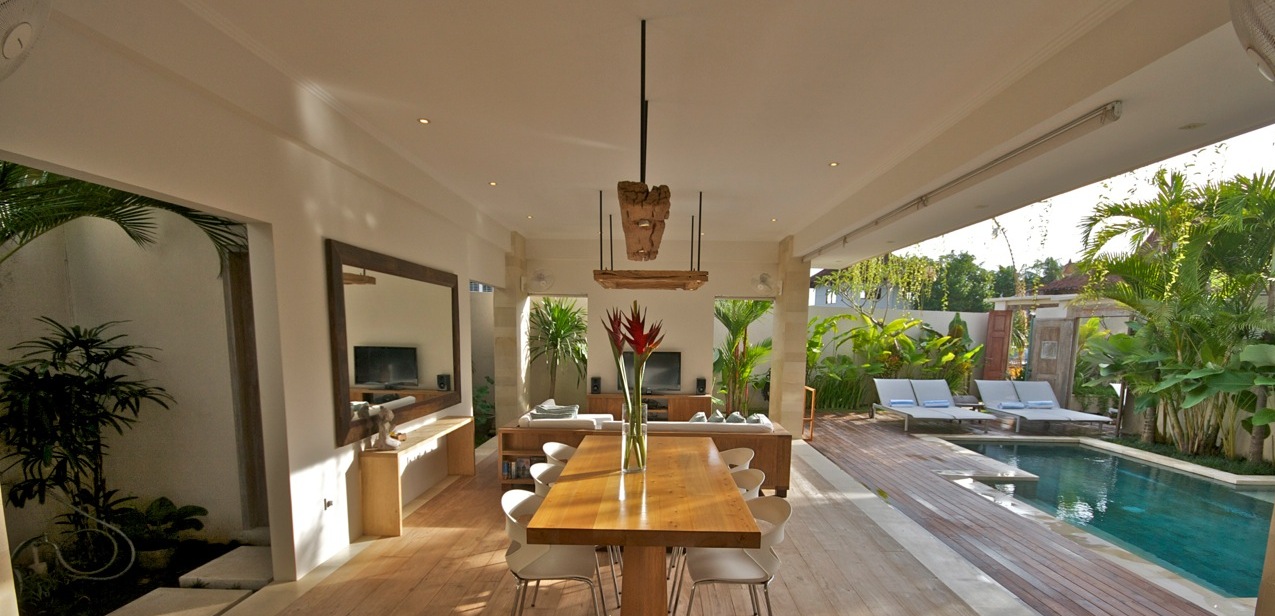 Extras: Pantai Indah Villas are child and baby-friendly. On request, they can provide baby-sitting service and amenities like baby cots, baby monitors, high chairs, pool toys, books, games and DVD's. All you have to do is ask!
Nomad rating: 5/5
Most memorable: Being able to surf as soon as the sun comes up — works better than coffee in the morning.
We'd recommend it for: Families with young children, who want an easy-going holiday (and a babysitter).