"The secret to living the life of your dreams is to start living the life of your dreams today,
in every little way you possibly can." – Mike Dooley
Read also: This Year in Travel: The Most Memorable News of 2016
#1 A rogue airport employee sent hundreds of bags elsewhere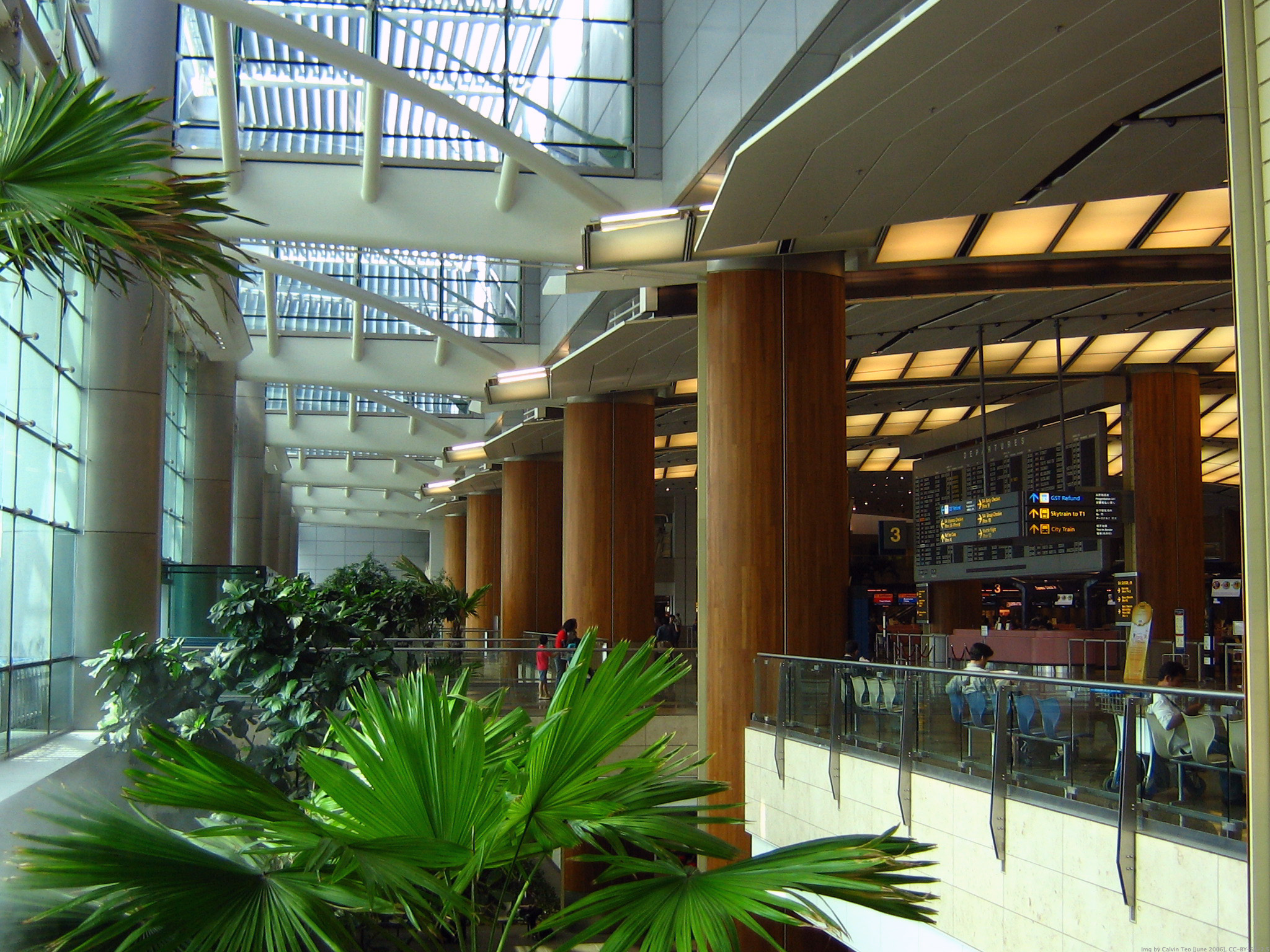 Who: A 63-year-old employee named Tay Boon Keh.
Where: Changi Airport, Singapore.
What: For reasons unknown, Tay swapped the luggage tags for hundreds of bags, causing them to be flown to wrong destinations all over the world. The strange shenanigans began in November 2016 and went on every day for about three months until he was caught. Tay has since been charged with 286 counts of mischief and if convicted, could face one year in prison as well as a fine for each charge.
#2 Hotel and dash: this man was caught climbing out of his room
Who: An unnamed hotel guest.
Where: A Hotel in Panzhou, Guizhou in China.
What: This was a plan doomed to fail from the beginning. In an attempt to avoid paying his hotel bill, the man climbed out of his 19th-floor room with the intention of getting to the next building on… telephone wires. To no one's surprise, it wasn't a task easily accomplished and the man was safely rescued by officers — and arrested immediately.
#2 That famous monkey selfie caused a lawsuit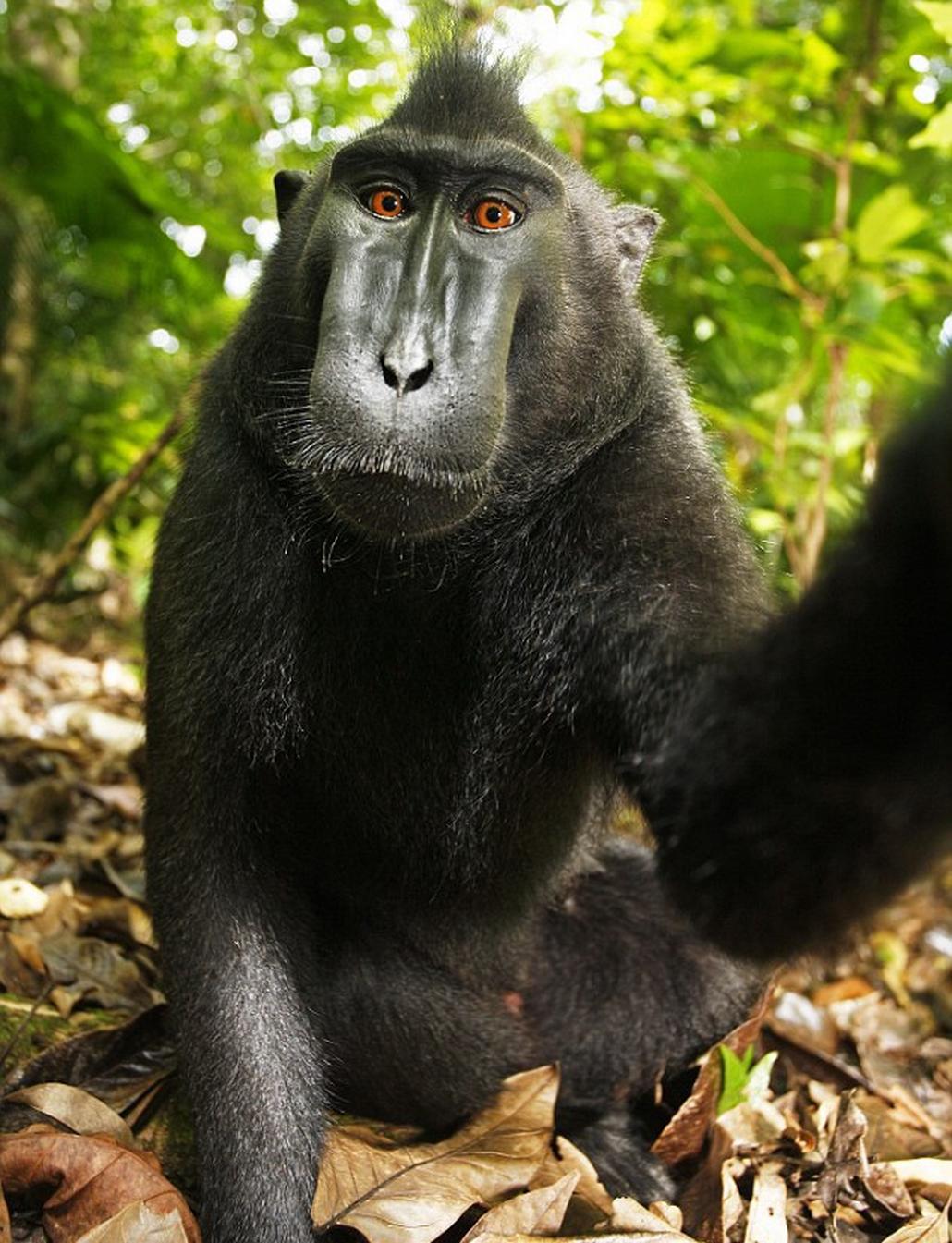 Who: People for the Ethical Treatment of Animals (PETA), a British wildlife photographer named David Slater, and Naruto the Celebes crested macaque.
Where: Naruto lives on the island of Sulawesi in Indonesia.
What: It's been about two years since PETA filed a lawsuit against Slater, on behalf of the monkey. The case questioned the copyright of a few photographs taken by Naruto using Slater's camera. And now, it looks like both parties (and monkey?) have reached a settlement: 25% of future revenue gained from Slater's 'monkey selfies' will be donated to charities helping crested macaques. So that happened…
#4 A son photoshopped his mother into travel snaps 

Who: Photographer Chub Nokkaew.
Where: From Bangkok, Thailand.
What: From our favourite bit of news this week, Nokkaew embarked on a visual project for his mother who he says has never been able to travel the world herself during her younger years. While his mother is too unwell to travel right now, Nokkaew said she was emotional after being shown pictures of her in different cities he had travelled to, including Paris, Venice, and Cape Town. See more from the album here!
#5 'Despacito' was one of the best things to happen for tourism
Who: Luis Fonsi, Daddy Yankee, and Justin Bieber.
Where: Puerto Rico.
What: It seems like people really do want to see how they do it down in Puerto Rico. Last year, Puerto Rico was hit hard by the Zika virus. Who would have thought that a Justin Bieber remix would be Puerto Rico's tourism saving grace? Hotels.com reported that searches for travel to the island have gone up 45 percent within the first two months of the remix's release. Confirming that, page views for Puerto Rico on TripAdvisor went up too, as did searches on Expedia.
Who: Josh Avsec and Michelle Arendas.
Where: Maui, Hawaii, USA.
What: The duo rose to internet fame after Josh posted screenshots on Twitter of their 3-year-long Tinder exchange without ever meeting each other. They finally met on Good Morning America and expectations for a modern fairytale were set high. Cameras followed Josh and Michelle on their Tinder-sponsored "first date" (because privacy is overrated), at their chosen destination, Maui. Without assuming too much, it doesn't look like a happily ever after to us, but what do you think?
#7 Someone stole a toe from a hotel bar
In the news: human toe stolen from Dawson City bar. https://t.co/oEac4OHxxx Remember when a man swallowed the toe? pic.twitter.com/2pg86UN4pu

— CBC Docs (@cbcdocs) June 20, 2017
Where: Downtown Hotel in Dawson City, Yukon, Canada.
What: The question here should be why. The hotel is famous for their Sourtoe Cocktail, which as you've probably guessed, has a human toe floating inside. A man came in for a taste and then left with it too. Police are offering a reward for anyone who can bring the toe back. "We are furious," the hotel's Toe Captain, Terry Lee, said in a statement. "Toes are very hard to come by." Fortunately (or not), Lee says the hotel does have a few backup toes.
#8 Fyre Festival went horribly wrong
Who: The rapper to the soundtrack of your college days, Ja Rule,  who co-founded Fyre Festival with tech-famous Billy McFarland, who's just 25-years-old, by the way.
Where: Norman's Cay, in the Exumas district of the Bahamas.
What: They say it was doomed from the start, especially when much of the festival's budget was pumped into influencer (called "Frye-Starters") marketing. This included a promo ad that starred models like Bella Hadid who were all flown to the Exumas and paid six figures. But to the horror of the party-loving millennial guests, the festival was nothing more than white tents, poorly set-up toilets, cancelled acts like Blink 182 and Major Lazor, as well as cheese and bread "gourmet food". Ja Rule says they'll be back next year, better than ever, despite current lawsuits against the company. Good luck, man.
#9 Housekeeping got really creative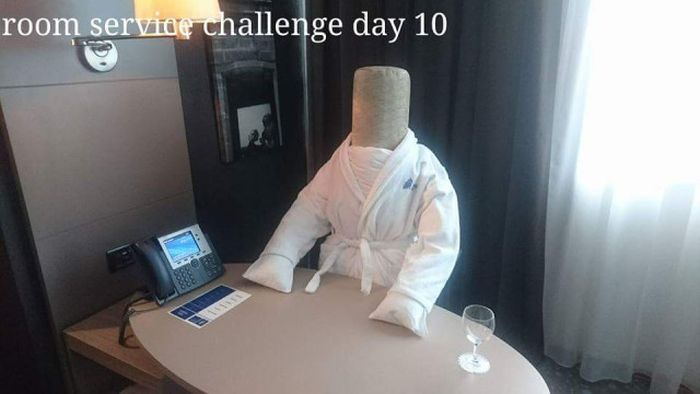 Who: A hotel guest and a cleaner.
Where: A hotel guest in Baku, Azerbaijan.
What: Once you get over room service, taking a long bath and lounging around in your robe, there's not much left to do. One guest got creative with his time and would leave housekeeping hilarious objects made from duvets, pillows and other items around the room. Housekeeping would come to find a different creation each day and respond with thank you notes expressing amusement. On the final day of his stay, the guest created a heart shape using blankets, with chocolates in the middle. The smallest of kind acts can have the biggest impacts on people, don't you think?
#10 An AirAsia flight attendant danced to 'Toxic'
Who: A flight attendant from Kuala Lumpur, Malaysia, named Assraf Nasir.
Where: On an Air Asia X flight.
What: Cabin crew life! It's not always easy, but it's one heck of a gig when you have the whole plane to yourself and you get to live out your Britney dreams. CEO Tony Fernandes reposted the video when it first took off, and then it went viral in a way no one expected with headlines across the world. Nailing every move with finesse, Nasir tells us he was a cheerleader and performing arts teacher before he became a flight attendant. "The video was an impromptu thing that my colleagues and I did during a transit after we were done with the cabin cleaning. I was dancing around and my colleague recorded it on my phone. We did it in less than 15 minutes so it was a big surprise to me that so many people liked the video!"
#11 These hawks booked out a flight
Who: A Saudi prince and his feathered squad.
Where: Economy class on a commercial flight.
What: Unless you've completely lucked out, chances are, someone on your flight will make you wish you were never going on vacation. Often it's the seat kicker behind you. We'd take the seat-kicker and the child that won't stop turning around to stare at you if it meant we got to hop on a flight with a whole team of falcons. Middle Eastern airlines are accustomed to having birds on board, where falconry (training birds of prey to hunt, takes a lot of patience) is rather popular. Falcons are the national bird of the UAE and are actually eligible for their own passports — now, there's your fun fact(s) for the day.
#12 Lithuania's travel campaign used stock pictures of other places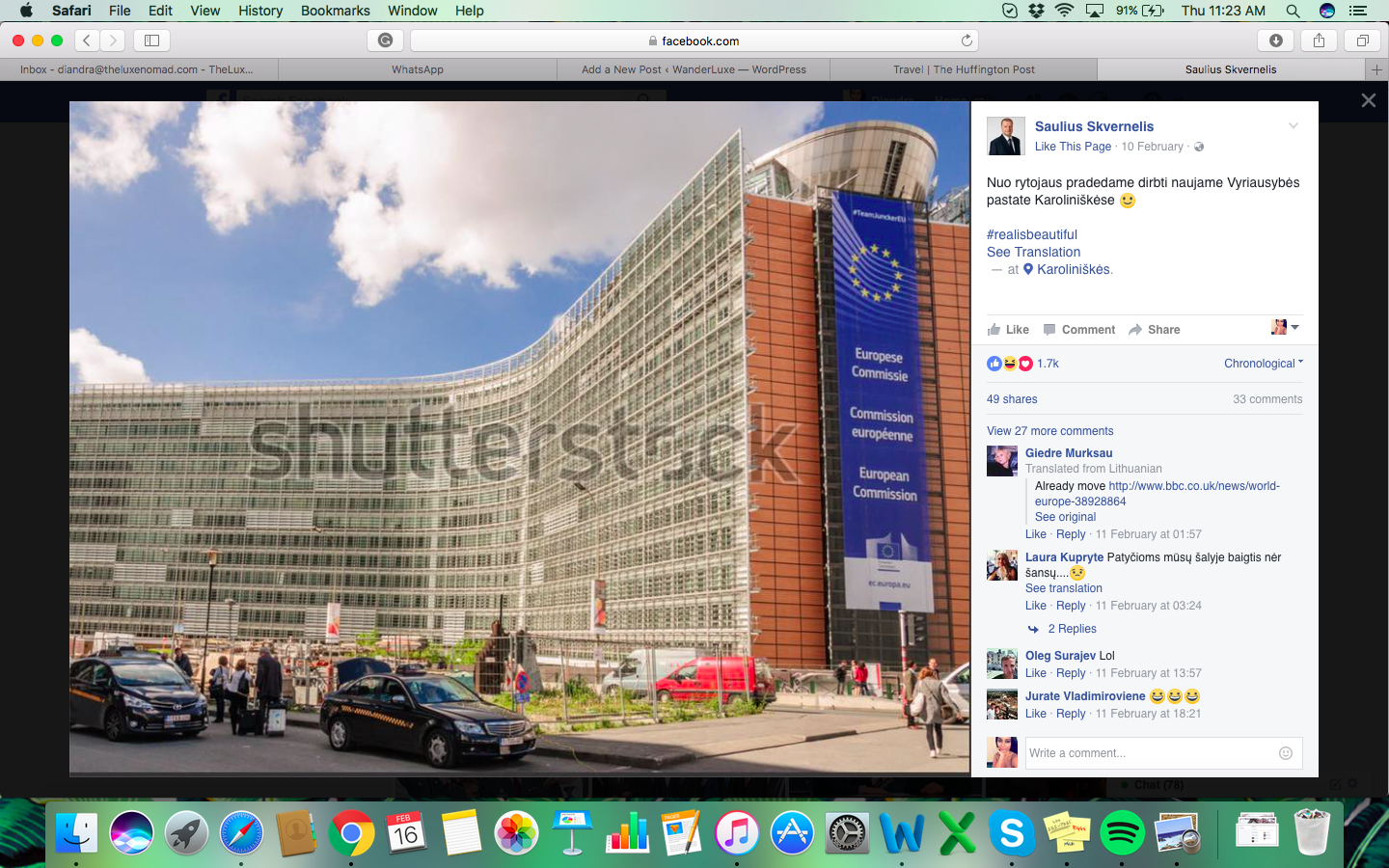 Who: The tourism board on social media.
Where: Lithuania.
What: It's ironic that Lithuania's 'Real is Beautiful' campaign has been using images of other countries, to the point where its own Prime Minister poked fun at it on his Facebook page (image above). The now-deleted ads included stock images of a snowy Finland and a landscape shot of Slovakia. Since then, the CEO of the tourism board, Jurgita Kazlauskiene, stepped down so that "people who work here don't become objects of ongoing attacks". But that hasn't stopped others from uploading their own edits of 'Real is Beautiful', with obvious tourist attractions like London's Big Ben and the ruins of Athens in Greece, accompanied by captions like "Great day sightseeing in Lithuania today".
#13 We got to see the evolution of flight attendant uniforms
Who: Condé Nast Travel.
Where: In their take on the popular "100 years of beauty" web series.
What: Can't get enough of those videos? We feel ya. The Luxe Nomad was really excited that a travel evolution-themed video was created so we have to share it with you! The time-lapse shows the evolution of flight attendant uniforms, modelled by Sonja Wajih and Brooke Fleming. Watching this quick clip will induce serious nostalgia for the golden age of travel…
#14 Ryan Gosling freaked people out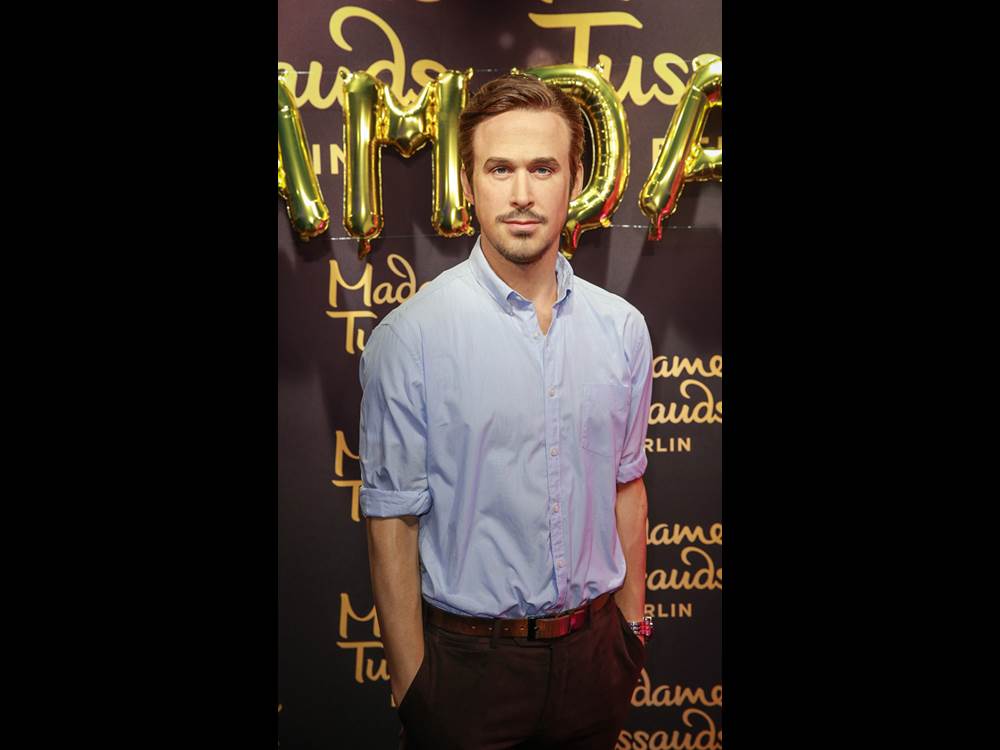 Who: A wax version of the La La Land star.
Where: Madame Tussauds in Berlin, Germany.
What: Hey girl, there's something seriously creepy about the museum's new wax figure, and it might instil fear in you. Safe to say, wax-Ryan Gosling did not live up to fans' expectations, even if it does resemble a love child of Ryan Gosling and Ryan Reynolds. What's cool (depending on your personal definition of "cool") is that you can also feel Gosling's heartbeat, a feature created as part of the museum's 'Dream Dates' series. If you can bring yourself to get close enough to omg-what-you-done-to-Ryan-Gosling to feel his heartbeat, that is.
 #15 Someone pranked the Hollywood sign
Who: An artist and videographer named Zach Fernandez says he and his ex-wife are behind the prank.
Where: The Hollywood Sign on Mount Lee in Los Angeles, California.
What: No one was tripping this past weekend when the famous Hollywood Sign appeared to spell out "Hollyweed" instead. Some people think the stunt may have been a cheeky celebration for California's legalisation of recreational marijuana use. Fernandez, who has since claimed responsibility for the stunt, was reported to have altered the sign using giant tarpaulins at night, pasting over sections of the alphabets. He tells Buzzfeed News he wanted to give people something to smile and laugh out loud about, and that it did.
Image credit: Main