Ever wondered what people do on a South African safari? Here's peek into our photo diary.
Read also: Go Wild: The Most Luxurious African Safaris
5.00am: Rise & Shine!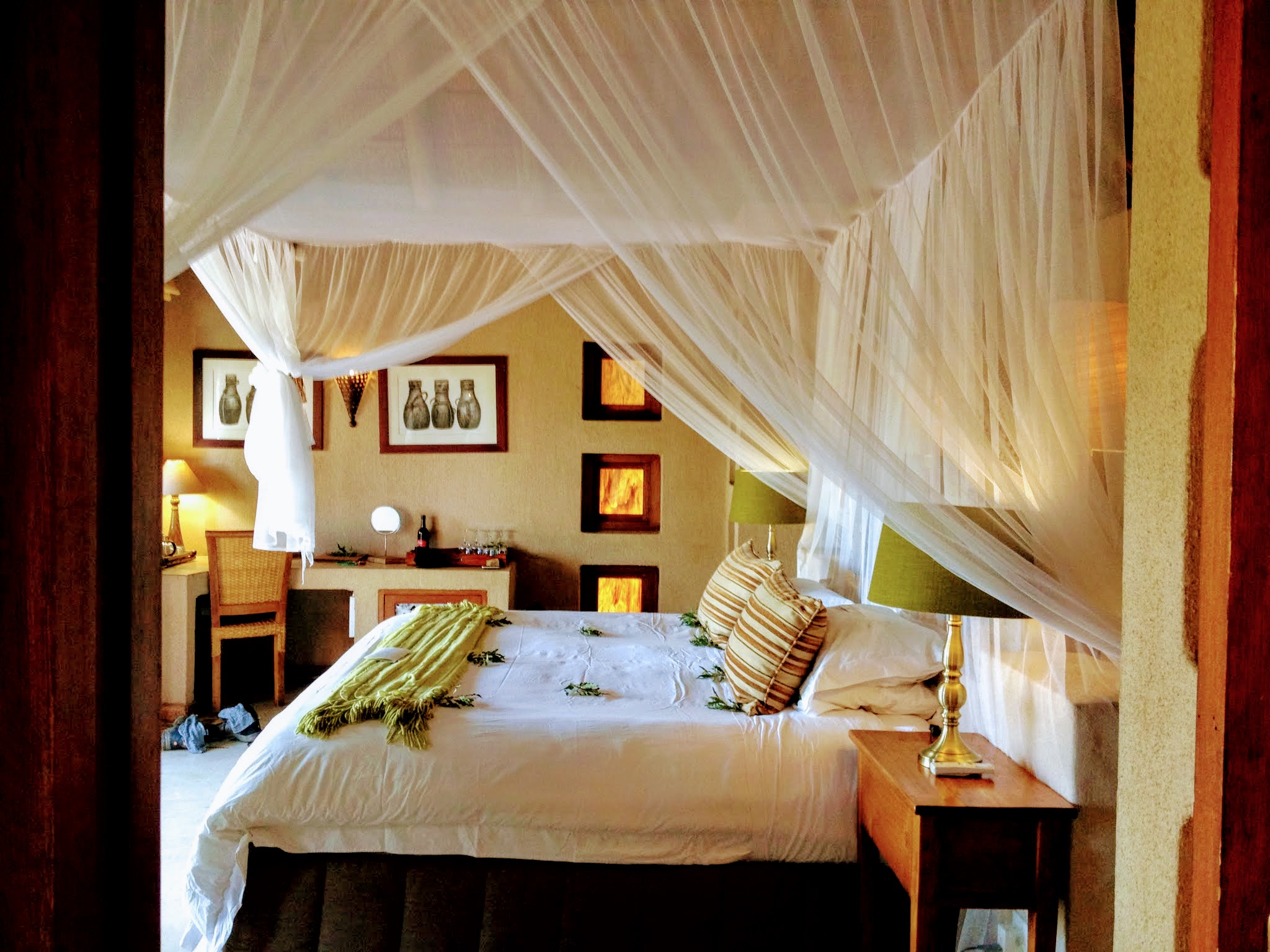 Yup! First safari drive starts at 6am, so we wake at 5. Some choose to go to the main restaurant for coffee and morning snacks, others just hit snooze. Our guard comes to get us at 5.45 as the lodge area is open (to the wildlife) so no guests are permitted to walk alone in the dark.
6.15am: First Spotting!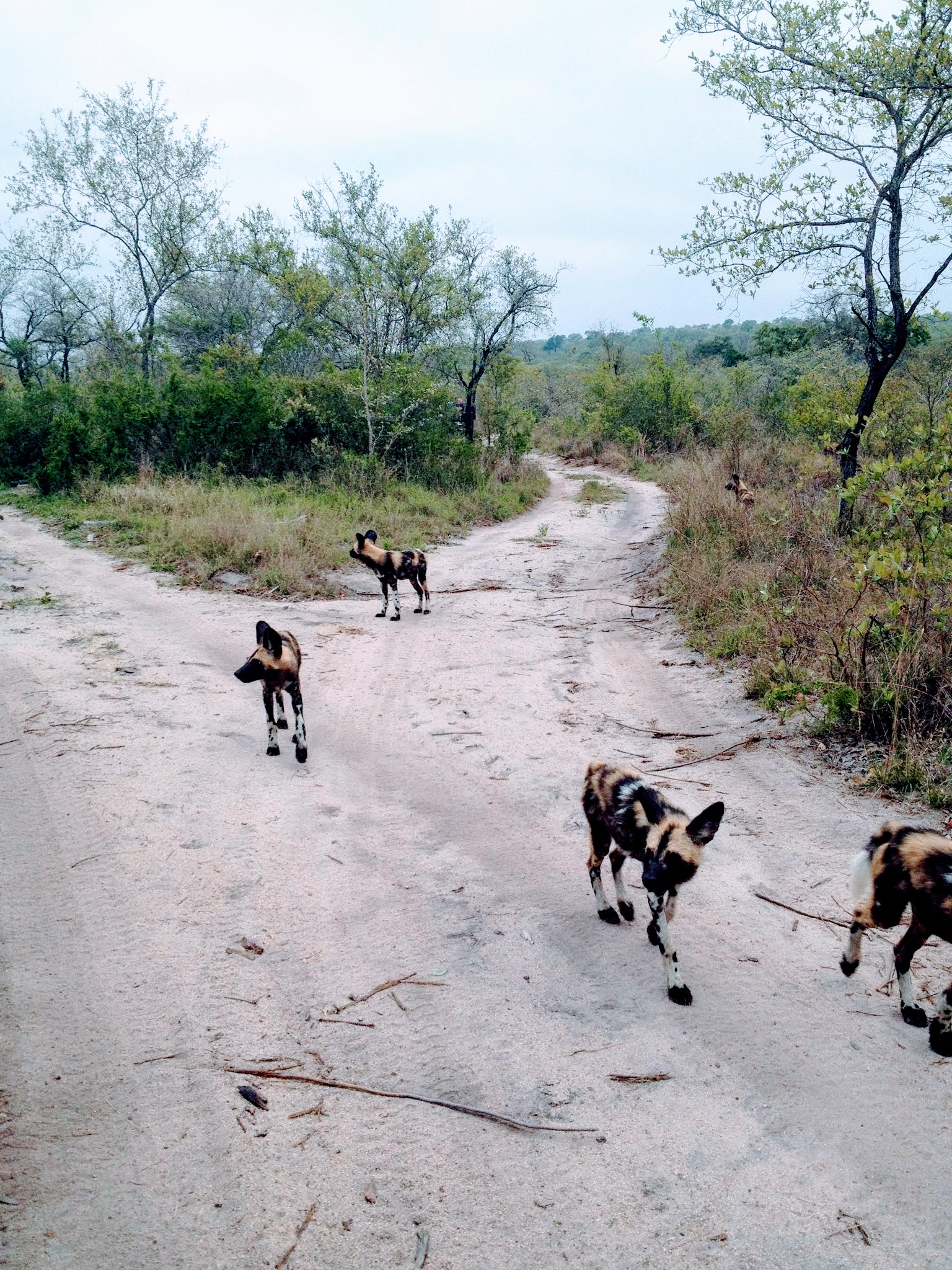 These are wild dogs, also known as the African Painted Dog. Our ranger Liam tells us they are endangered and quite rare to see, so we should see this as a sign that we are going to have a good day on our South African safari!
7.00am: Sunrise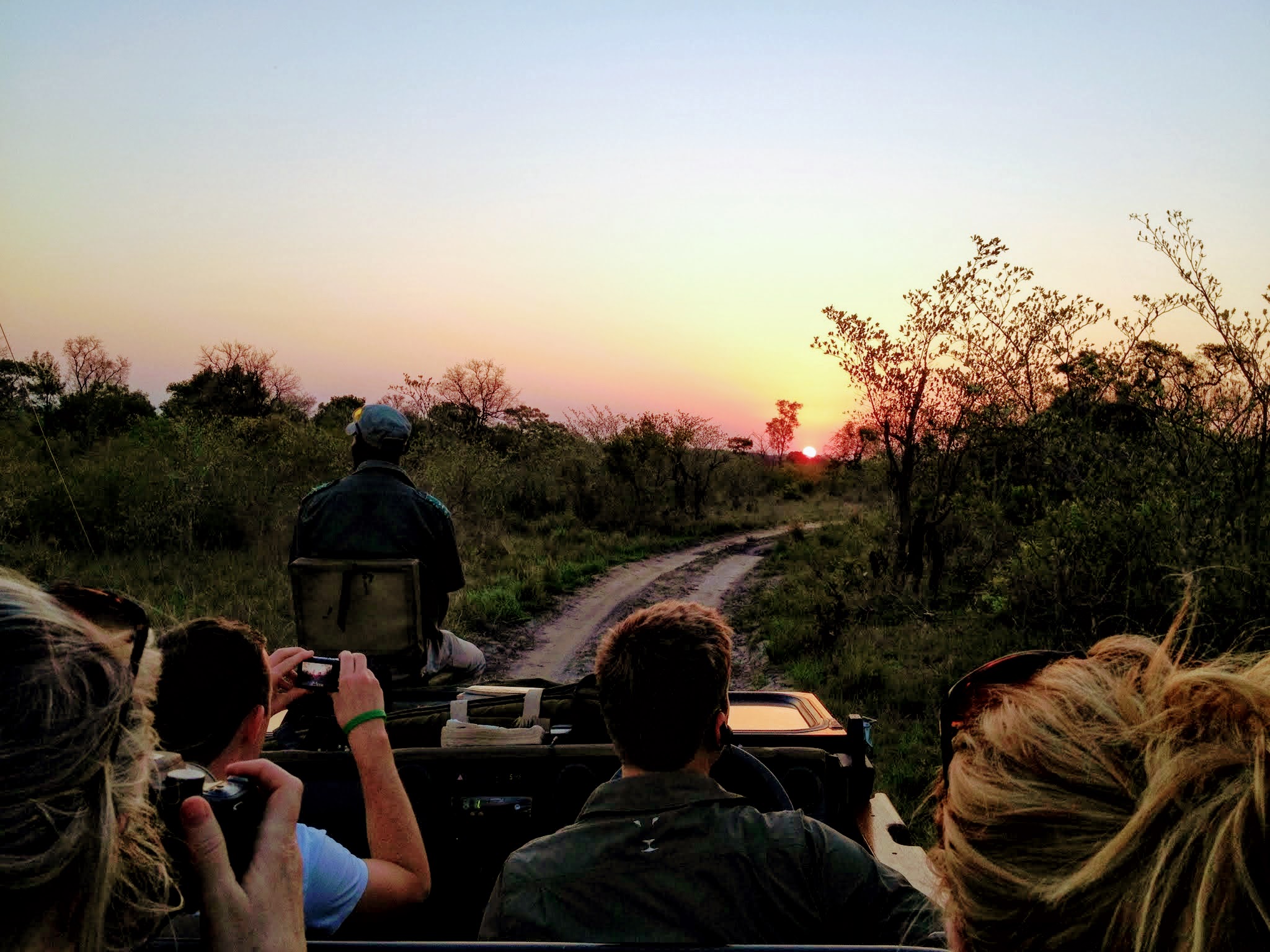 We drive around for a bit, our tracker points out the fresh footprints of rhinos, leopards and lions, but as for the actual animals? No dice. The sun begins to rise and distracts us with its magnificence. We stop for our morning coffee and 'rusk', as the call the breakfast biscuits here. One of the highlights for me is always this morning stop (aside from the wildlife!), the cool dewy air, the hot coffee in between my palms, and the bush coming alive around me.
7.15am: A Kill!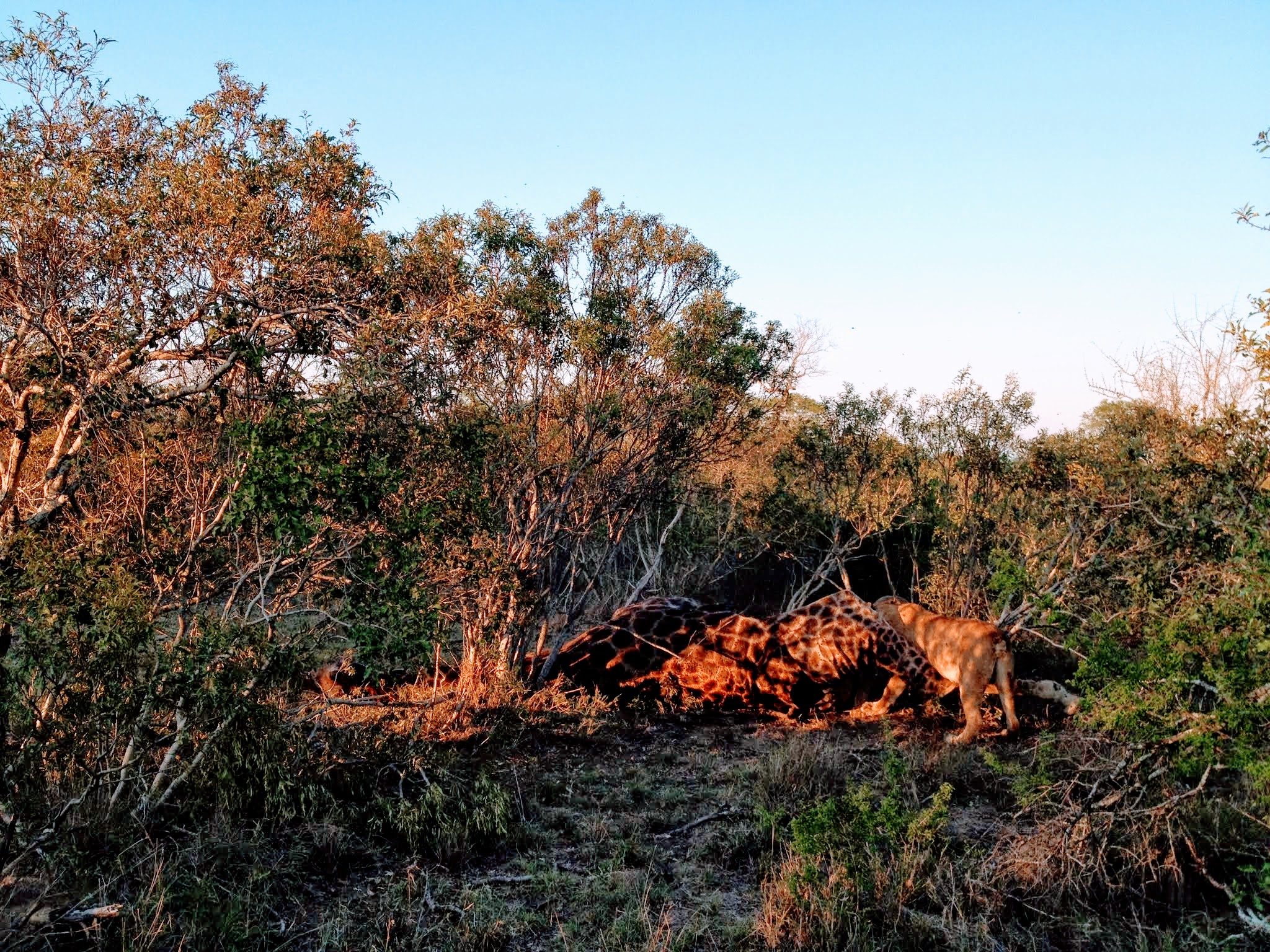 If we were feeling like this was a slow start, well, no longer! Came upon this young lion feeding on a giraffe. Not pleasant, but some how magnetising. This is nature!
7.30am: 
Mama & Baby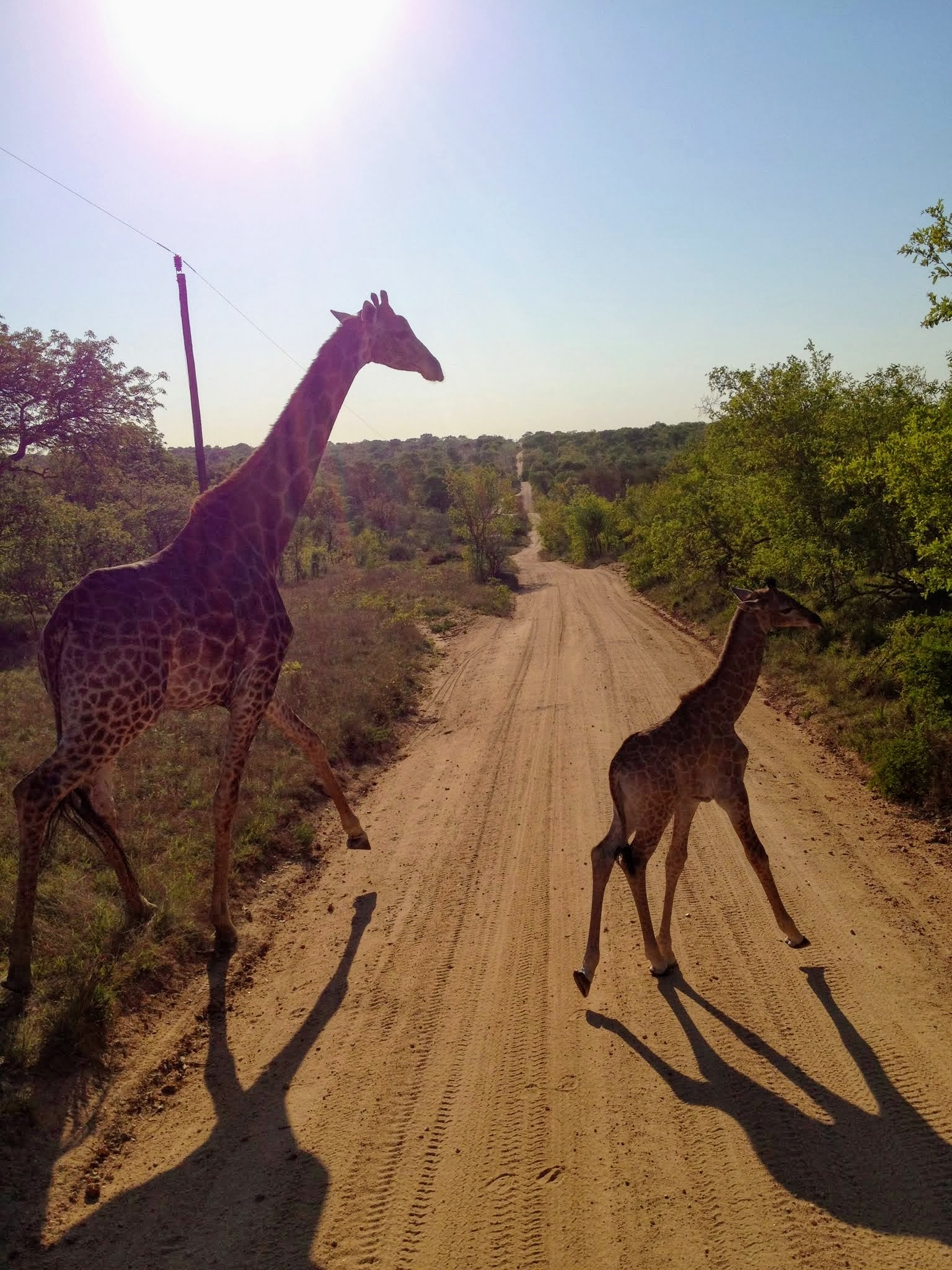 Still reeling from the previous scene, we are heartened to come across this mother giraffe and her young calf crossing the path. The ranger tells us he came across them just last week, when the calf had just been born, bloodied from its mother's body and struggling to learn how to stand.
8.30am: 
The Big Bang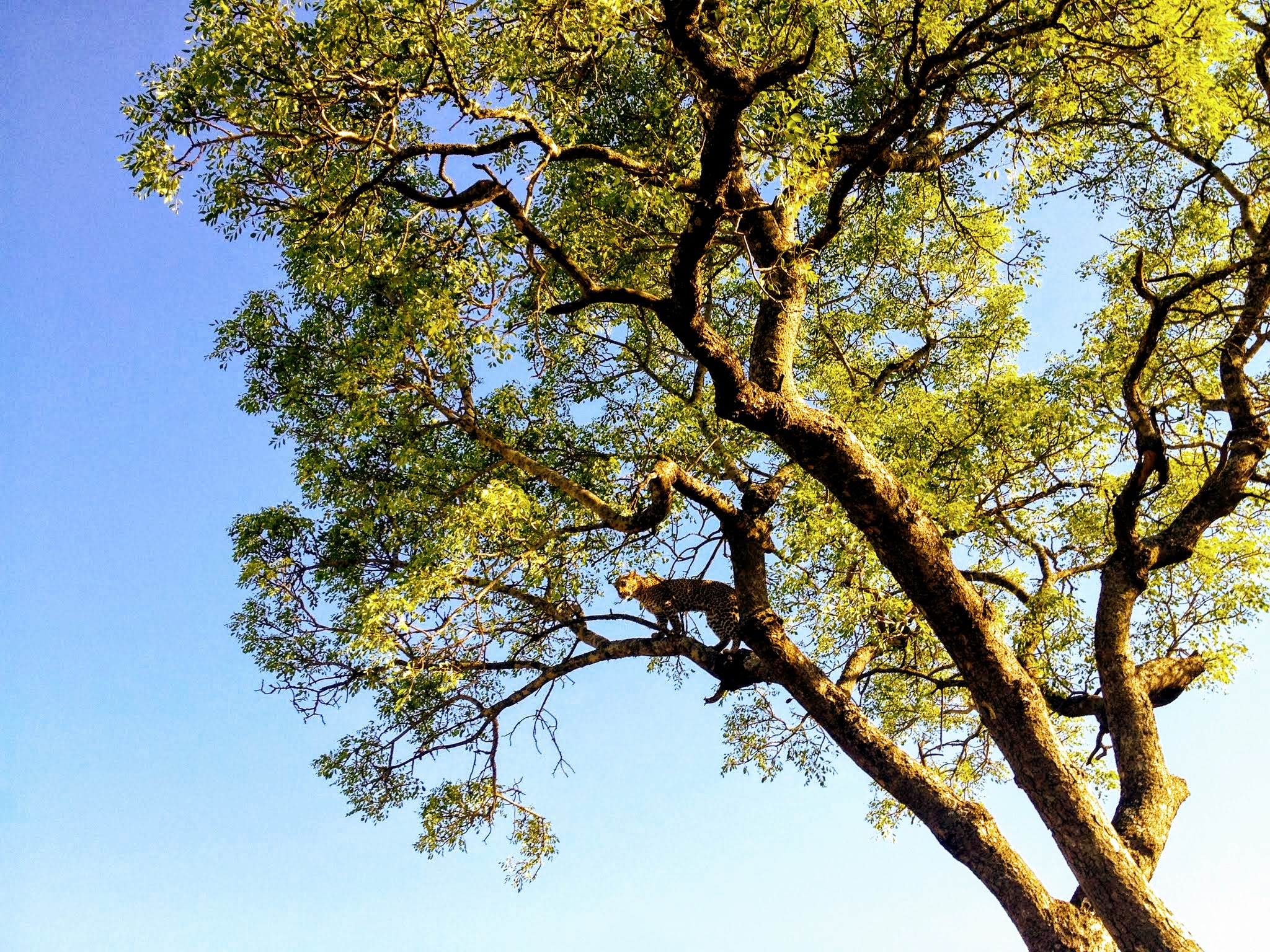 The past 60 minutes have been exhilarating! We spotted some antelope looking curious at the edge the veld and decided to go in closer to see what they were fixated on. Further on we discovered a pride of lions prowling around at the bottom of a tree, and high in the tree, a leopard peering down at them! Next to the tree was a watering hole within which a hippo and crocodile peeked out from. Amazing! It was like the gods had told the animals to put on their very best show for us.
9.30am: Breakfast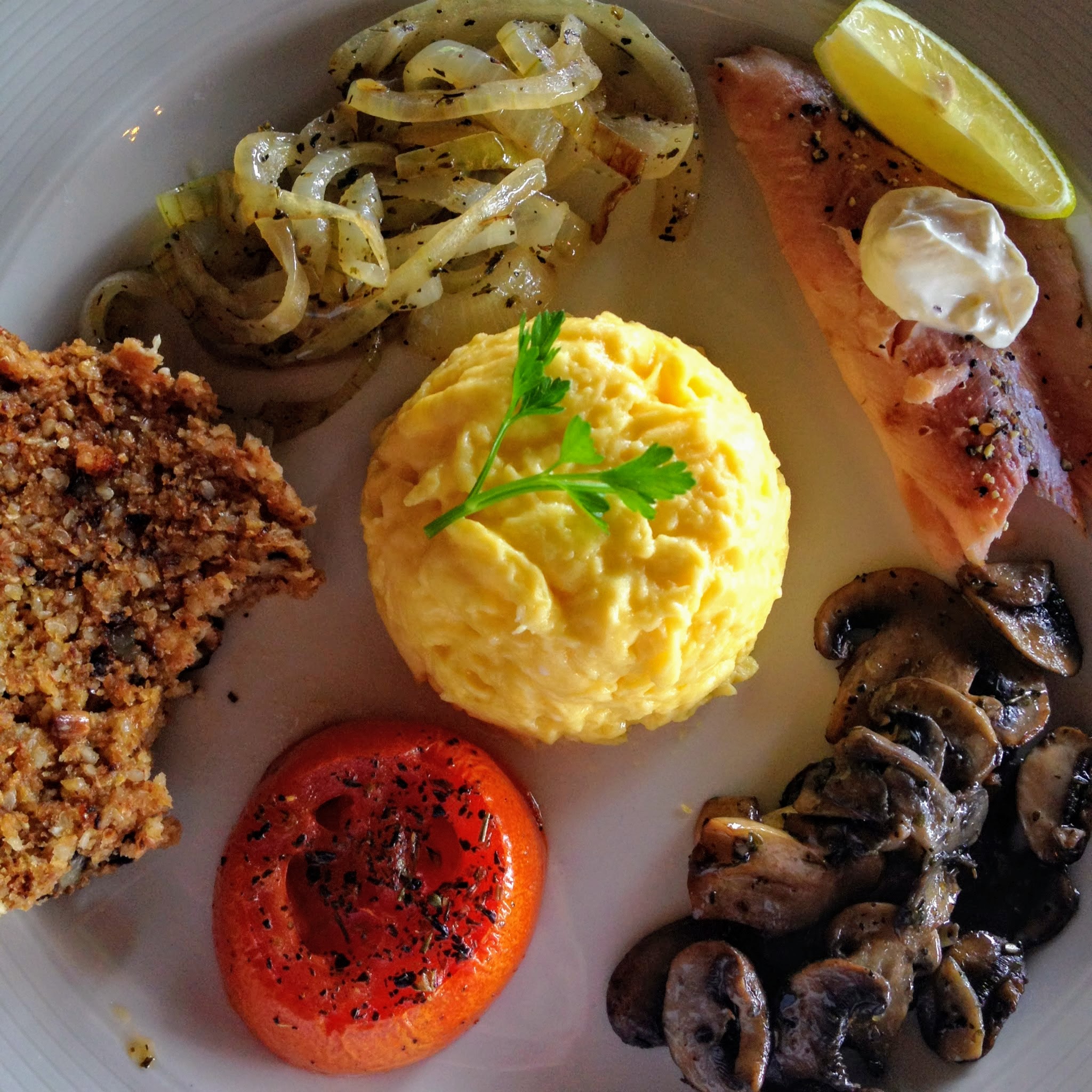 Back at the lodge now and we all troop into the restaurant for our real breakfast — everyone high on the morning's sightings. I have scrambled eggs with mushrooms, tomatoes and smoked trout.
11.00am: Spa (it is a Holiday After All)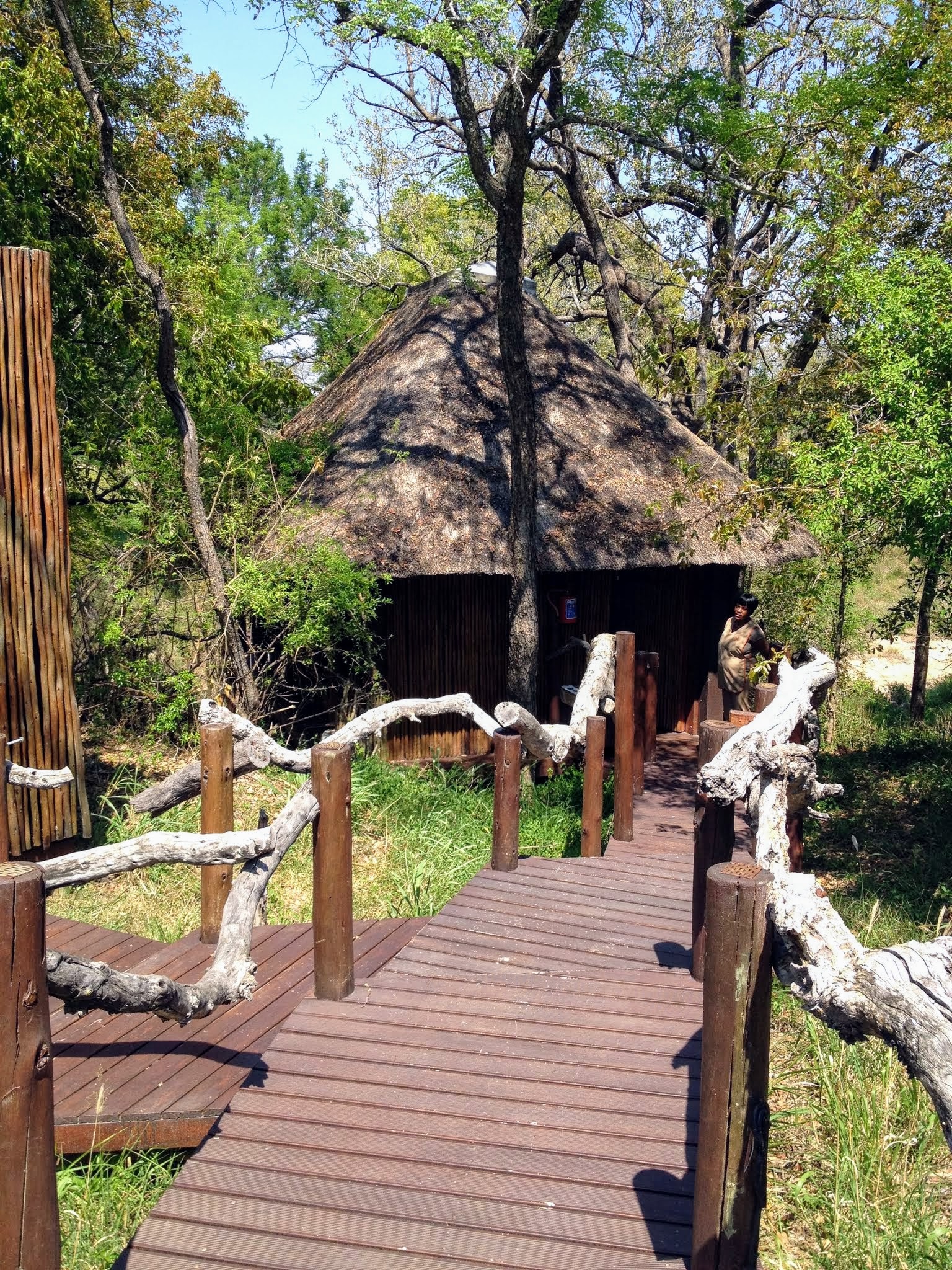 When you wake up at 5am, 11am is afternoon time, and afternoon time in safari land is the perfect time for a soothing spa treatment. Aaaaaaah!
1.30pm: Elephant Herd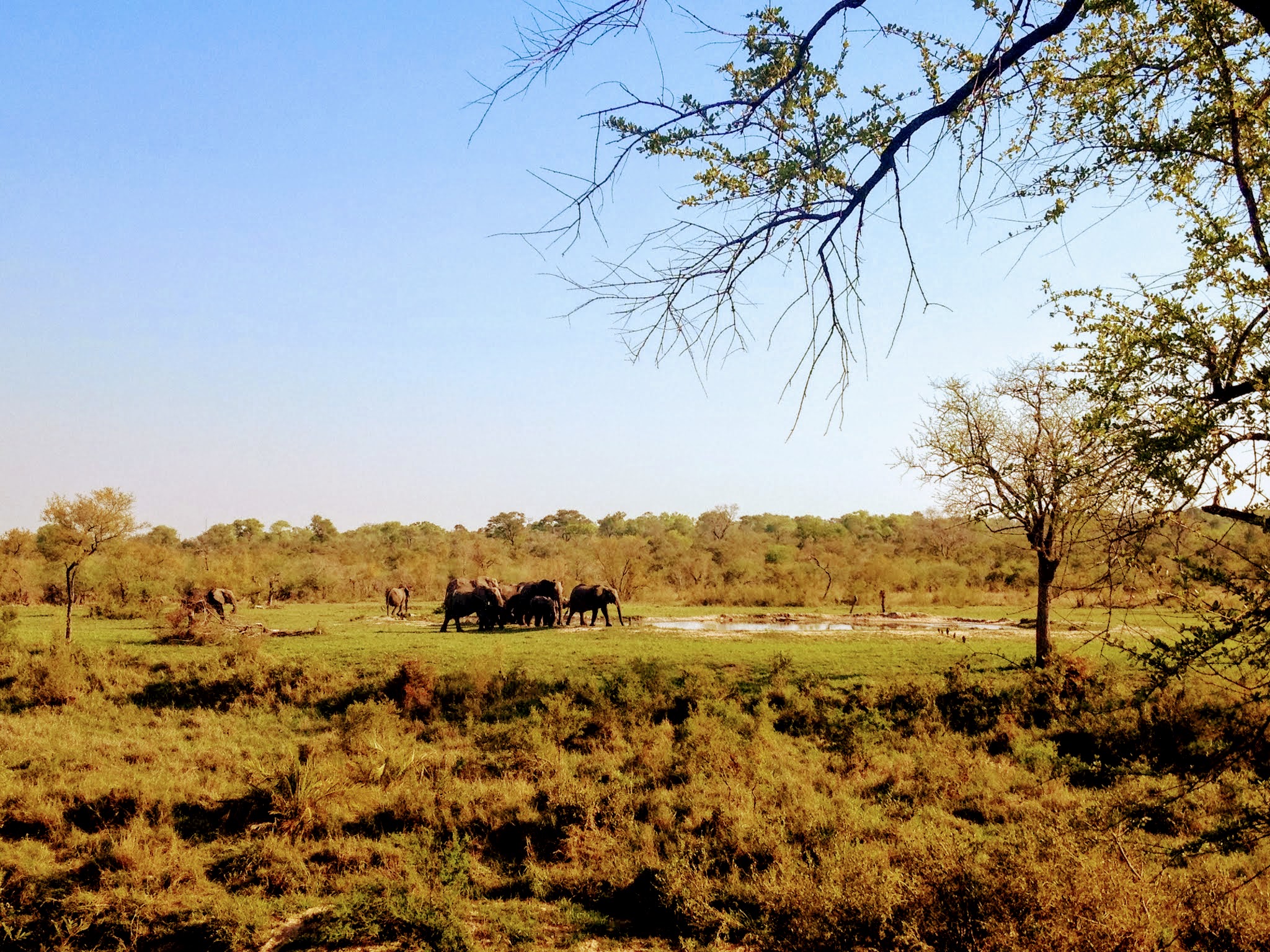 Back at my villa getting changed for lunch when I looked out of the window and saw this across the river. Must be an AGM.
3.00pm: Time for a Dip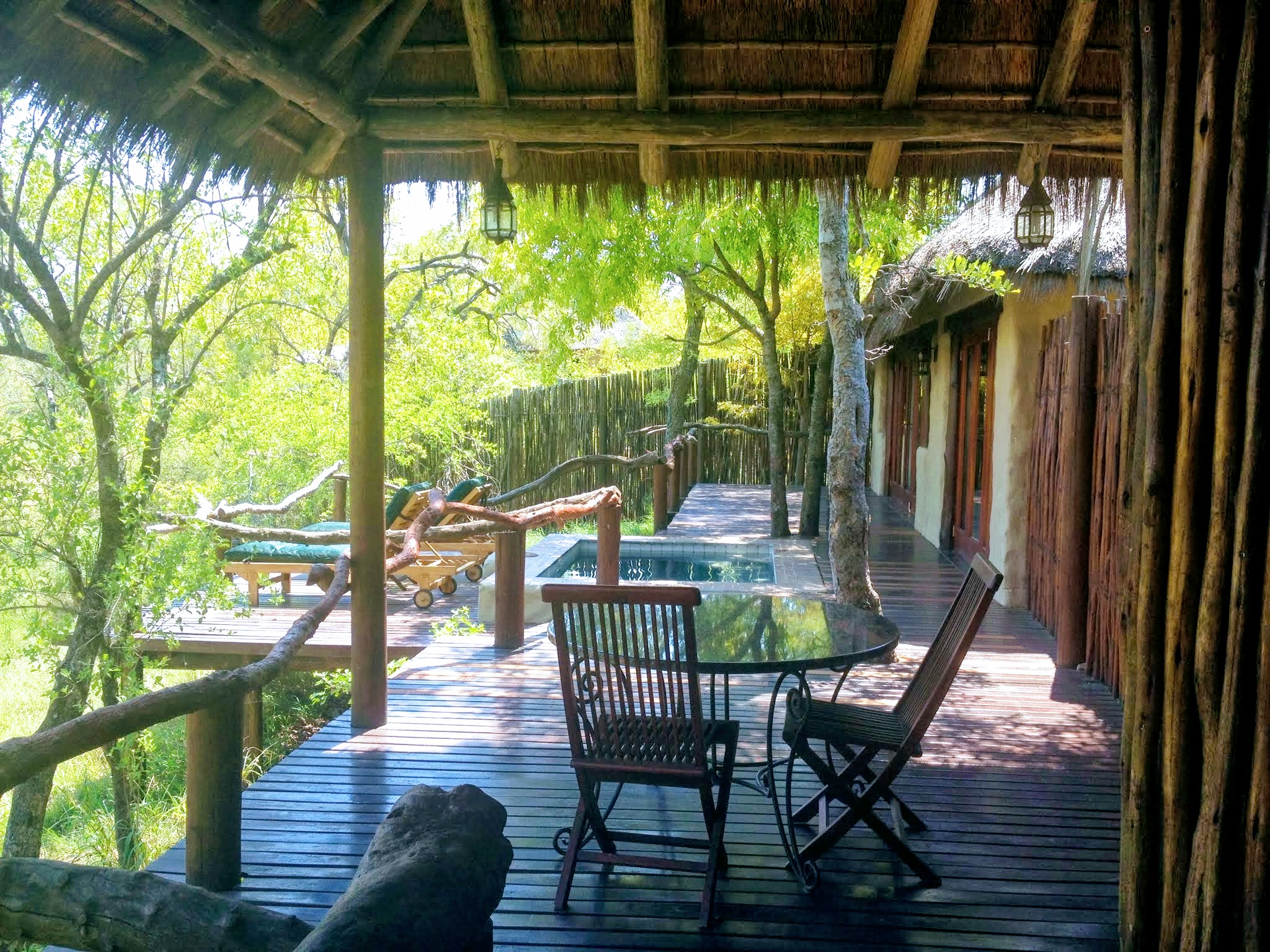 Had a most delicious lunch of pasta with roasted vegetables and prawns and now ready to take a dip in my personal plunge pool.
4.00pm: Sunset Game Drive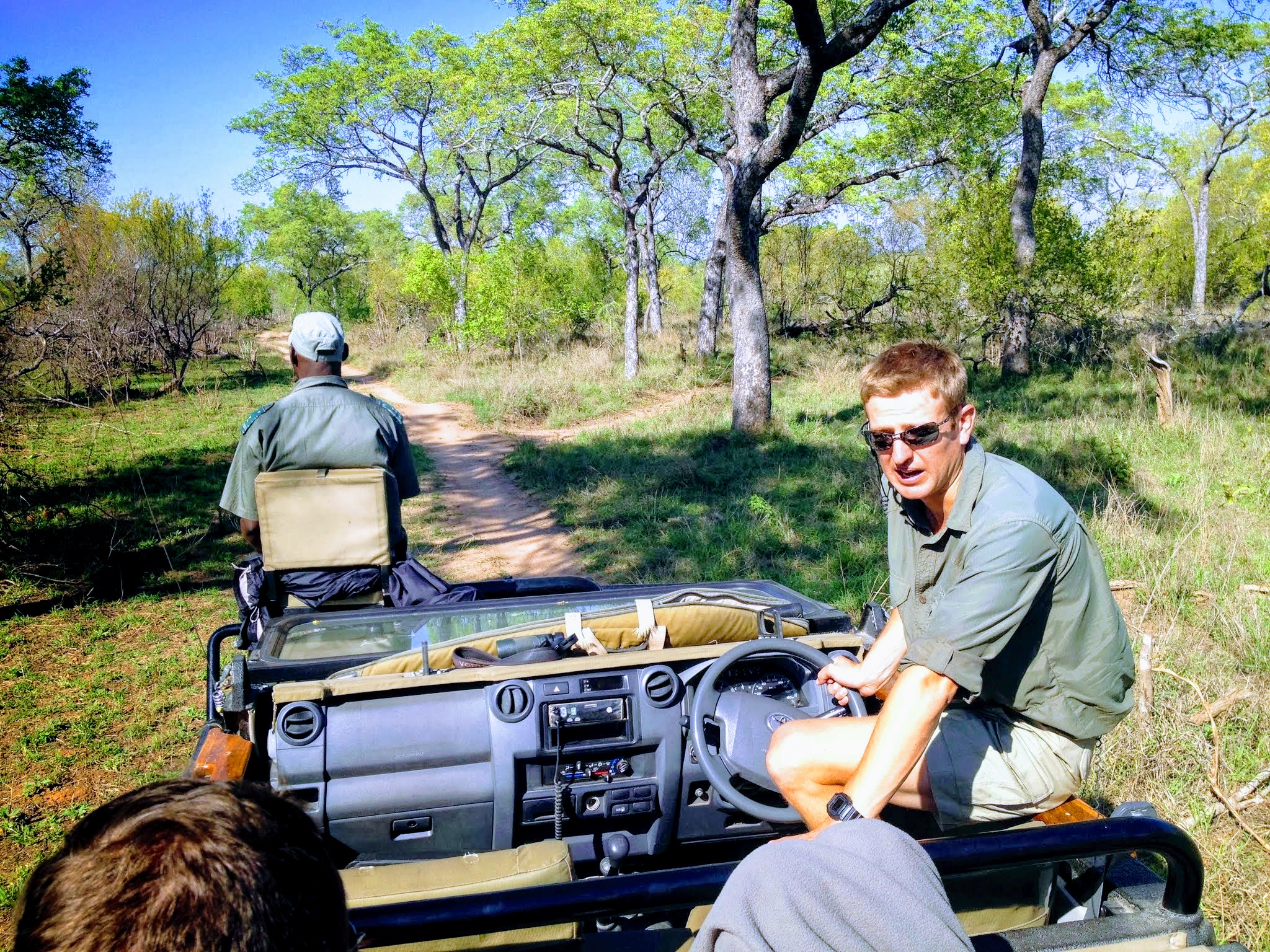 It really feels like hours in between is just passing time to get to the next game drive, and we are excited to hop into our 4WD for the sunset session. Our ranger talks us through what we might see, as the tracker keeps his eyes (and ears) trained for movement.
4.30pm:

 Hi, Ellie!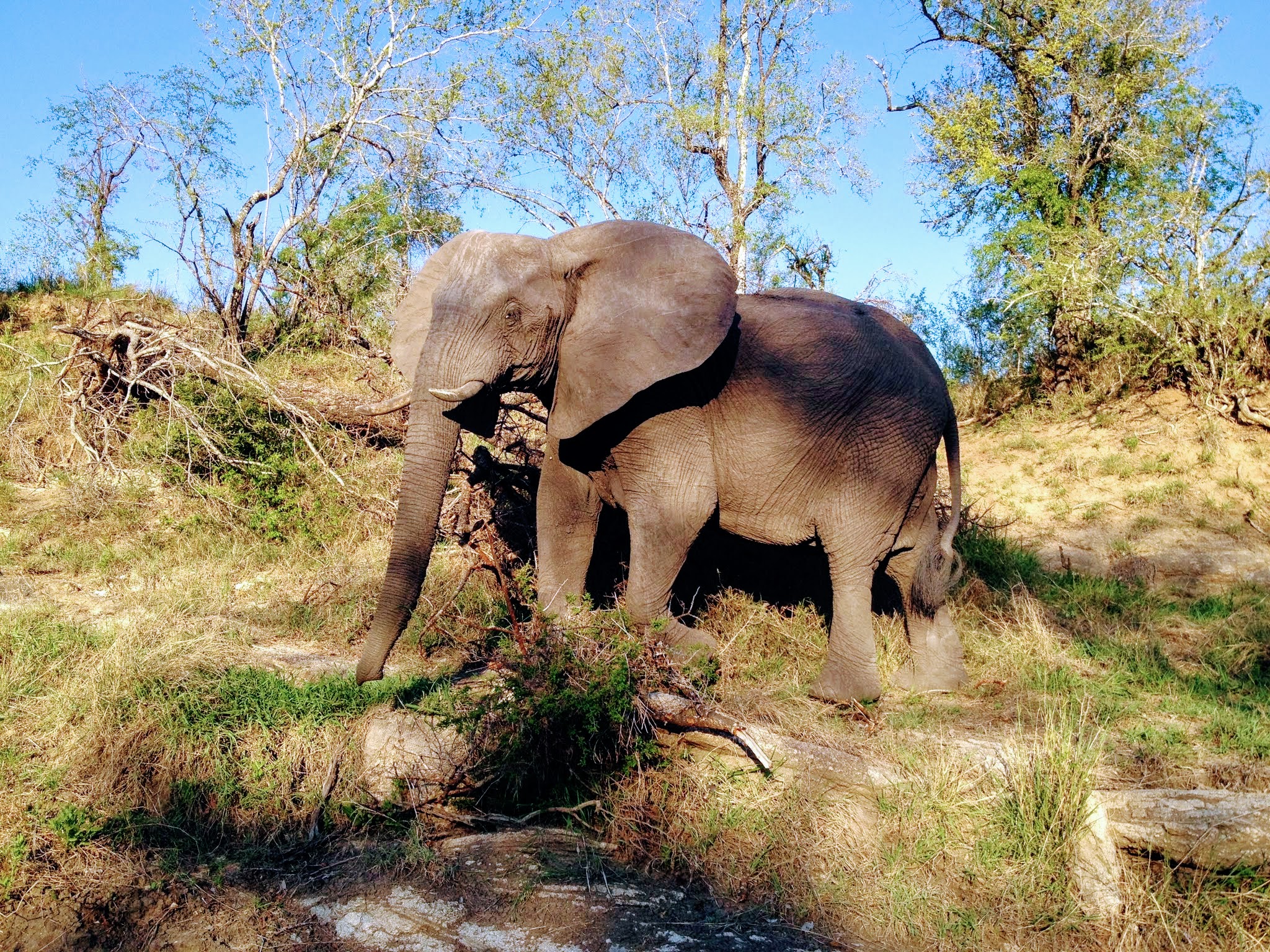 Told our ranger about the herd I saw earlier and we went looking for them! There were easily 30 elephants, here's a young male who came to check us out.
5.00pm:

 Rhino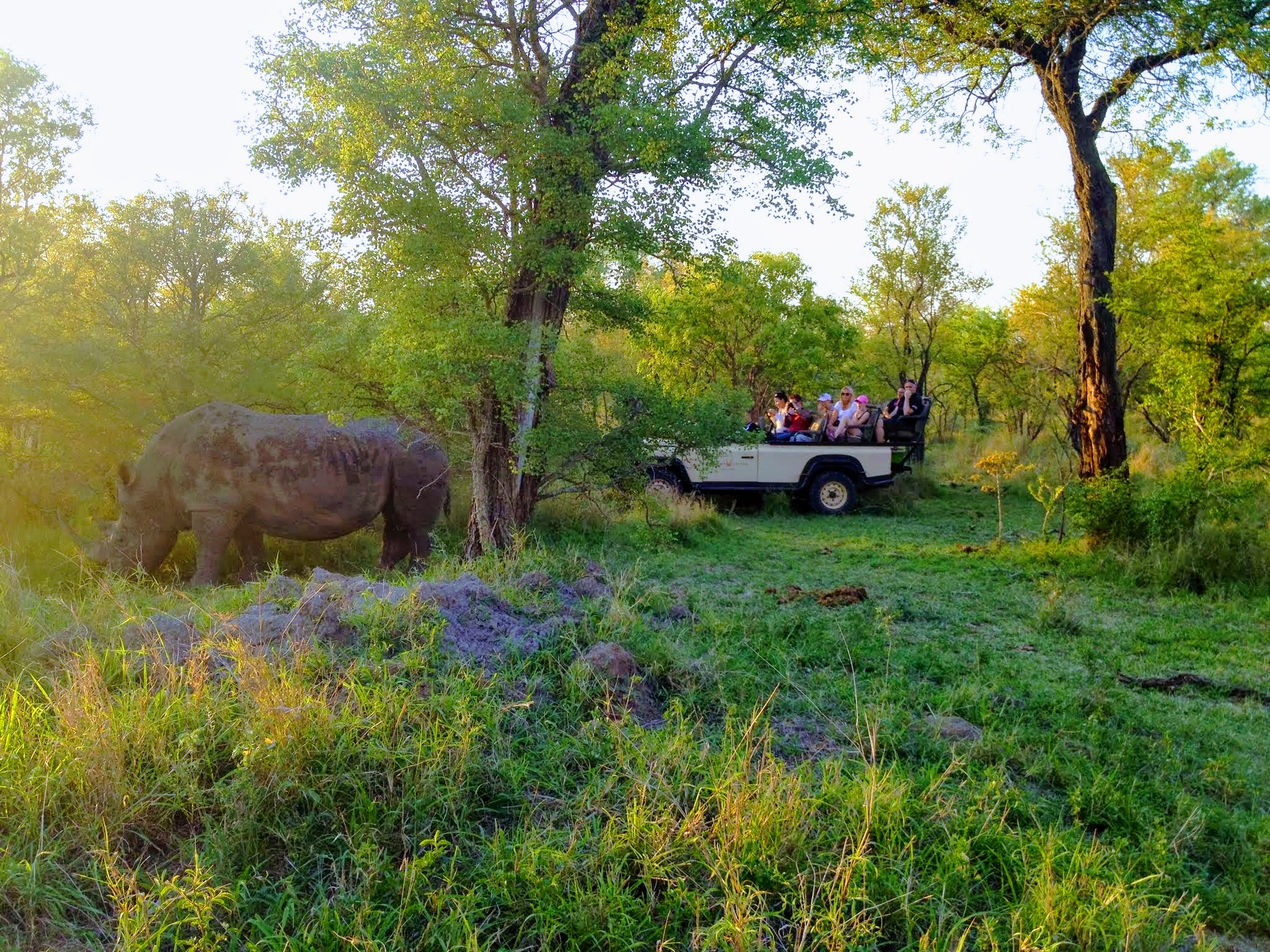 Behold this magnificent giant! Also note its size next to the other 4WD. This is a white rhino and it can get up to 2,400kg in weight. After this we also spot many many of what is so common it's called JAFIs here (Just- another- F-impala).
6.00pm: Sunset Sundowners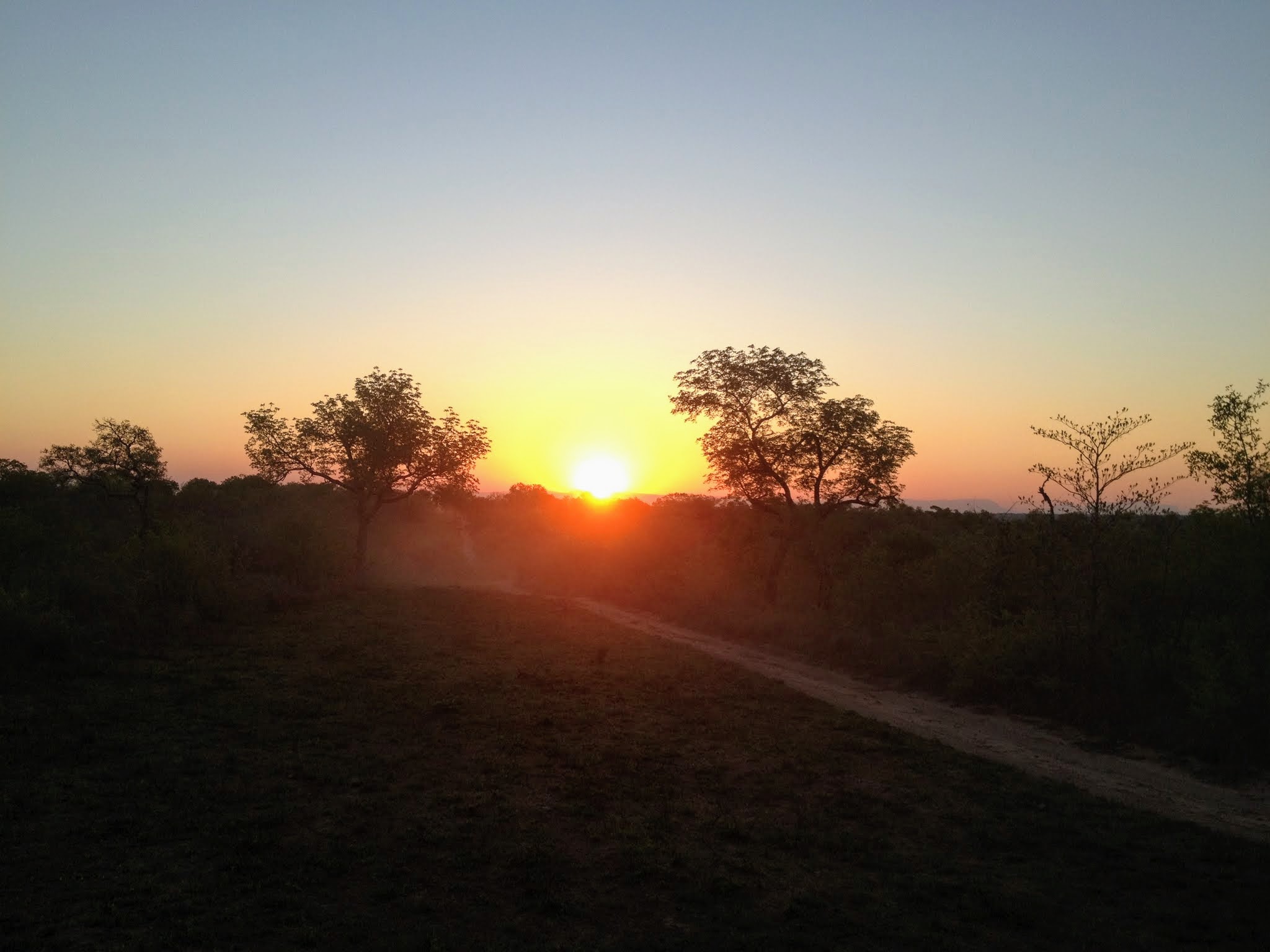 As the sun begins to set, our ranger looks for a safe spot to stop. Then the whip out their case of goodies – there's a selection of tidbits and drinks, beer, wine, spirits. It's hard not to pick an Amarula with ice. The marula trees can be spotted growing in the area, and the elephants also love eating the fruit.
6.30pm:

D

usk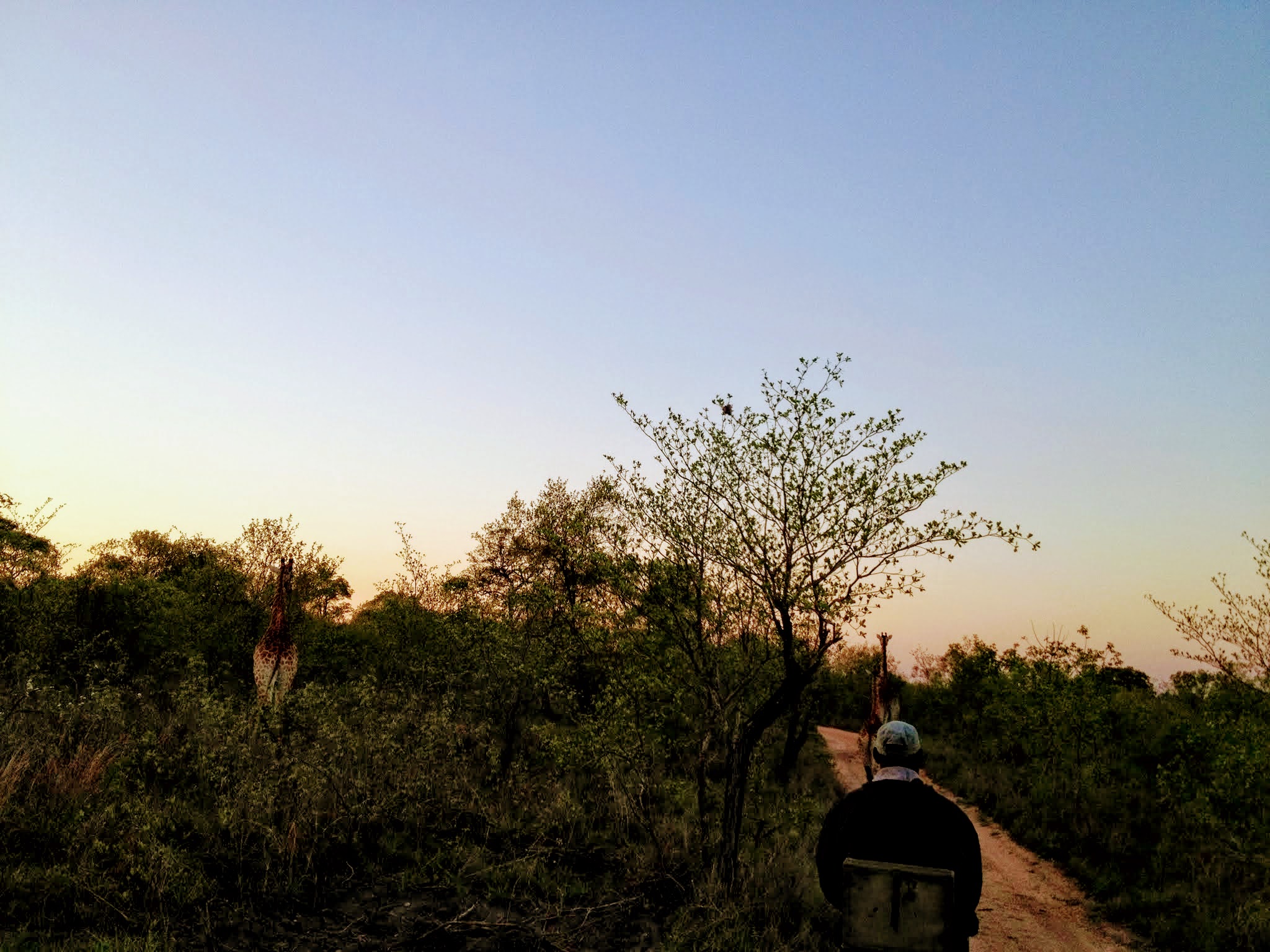 Day turning into night is an interesting time as the diurnal animals head back to their lairs and the nocturnal ones come out. This is prime leopard spotting time and we are lucky to end the day with another leopard spotting, as well as an African Civet and Honey Badger.
8.30pm:

 Dinner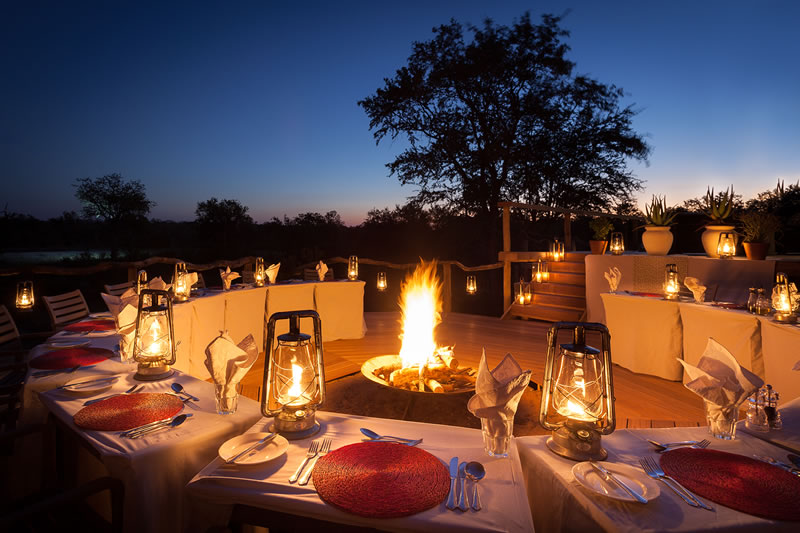 Back at our lodge and we've freshened up for dinner, our guard comes to escort us and we are thrilled to see that an amazing dinner has been set up at the boma — an open-air enclosure. Within it a warm fire burns, and we sit in a circle looking into the fire, feasting on a gourmet barbeque under the stars.
We end the night as strangers who have become new friends come together in a toast, then everyone retires in anticipation of the next morning's drive.