After more than a decade (and 4 billion dollars) the WTC transportation hub – designed by Santiago Calatrava – will open its doors (and rails) today in New York. Never a stranger to controversy – be it leaks, wildly overblown budgets, or forgetting fire escapes and the disabled, the Spanish architect from Valencia is still the undisputed master of elegant, organic minimalism. In honour of the soft opening that will see some 200,000 commuters a day, we take a look back (and forward) at some of our faves that should be on any archi-geeks travel itinerary.
#1 World Trade Centre Oculus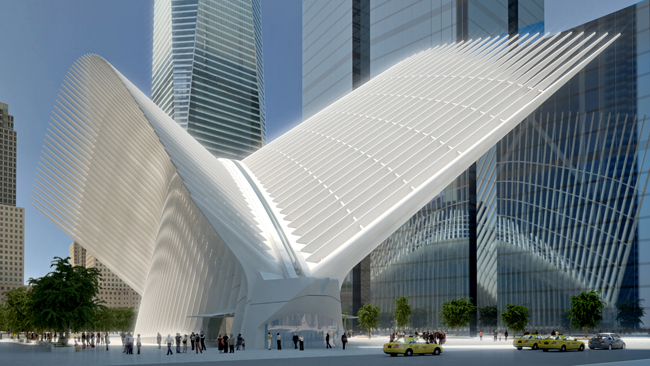 Where: New York, USA
What: The new Oculus station and transit terminal will deliver "unmatched mass transit," connecting 11 subway lines (A, C, E, J, Z, R, 1, 2, 3, 4, 5), the PATH system, several MTA bus routes, ferry service, and parking garages, but give New Yorkers something to complain about and they will. The station has been called a lemon by architectural critics, seen some serious delays, been way over budget, and cast quite a negative shadow on the architect's business model as a whole (he's sued by his clients a lot). We hope all this negativity will be served with a slice of humble pie though, as the Oculus is the most exciting (and functional) piece of architecture to hit New York since Penn Station.
#2 Auditorio de Tenerife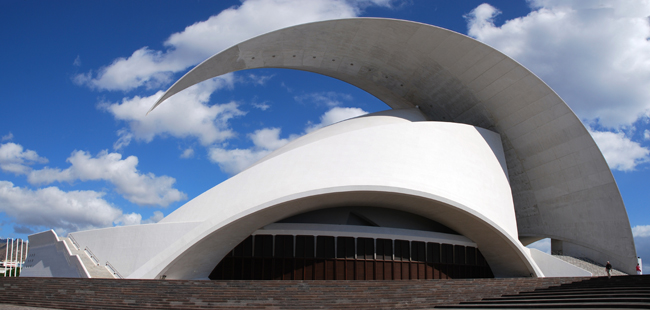 Where: Tenerife, Spain
What: Proving that modern architecture can revamp a city, and done before Frank Gehry's Guggenheim in Bilbao, Calatrava's Auditorio de Tenerife has become one of the main tourist attractions of this idyllic isle off the coast of Africa. An engineering marvel, the auditorium also has incredible acoustics, so if the Canary Islands are on your hit list, don't skip out on the opportunity to take in a magical symphony or local Bolero dance in this curvaceous shell.
#3 Stadelhofen Station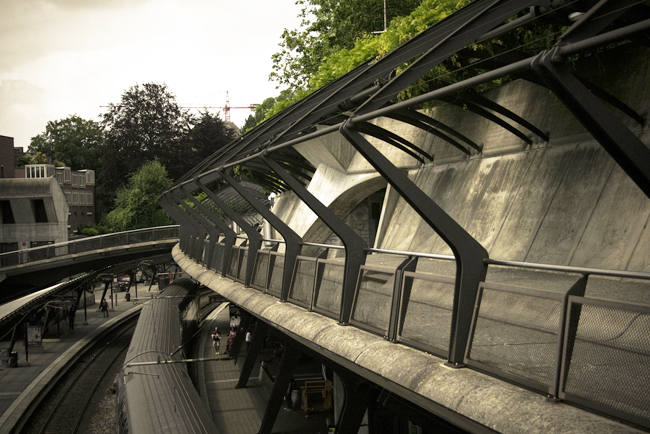 Where: Zurich, Switzerland
What: Known for his white, pristine structures, we love it when Calatrava goes dark. Catch the train from the city-centre to Stadelhof station to experience his Geiger-like execution of black, repetitive steel ribs fused to weathered concrete. If you're an opera or ballet geek, this is your stop – the Zurich Opera House, built in 1891, is walking distance away.
#4 Milwaukee Art Museum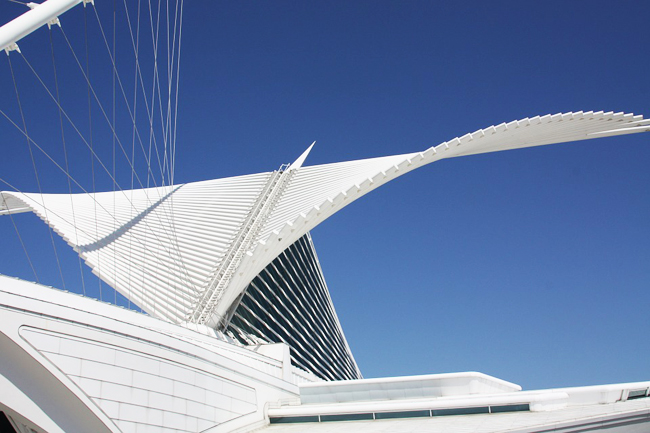 Where: Milwaukee, USA
What: Wisconsin. There we said it. While not a jet-set destination, art buffs should know that Georgia O'Keeffe hails from the Badger State, and this museum houses the largest single collection of her work. Calatrava's building however, is a masterpiece in its own rite. With a wingspan equal to that of a Boeing 747-400, the stingray-esque form is actually a hand-crafted, moveable, brise soleil sunscreen that opens at 10 am, closes and then reopens at lunch, and then closes again at 5 pm – a definite reason to make this an off-the-beaten-path must see.
#5 Museum of Tomorrow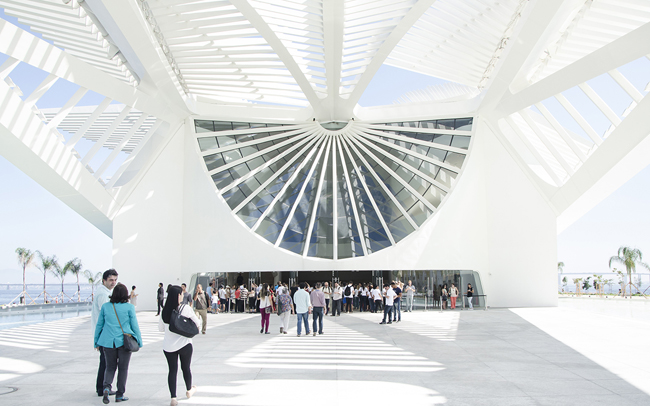 Where: Rio De Janeiro, Brazil
What: One of the most recent projects completed by Calatrava, the Museum of Tomorrow opened at the end of 2015 to mixed fanfare. Social justice groups were highly critical of the government's expenditure on iconic architecture in anticipation of the 2016 Olympic Games with arguments that poverty, crime and infrastructure could all see a better allocation of funds. To keep it light, the Museum of Tomorrow has an incredibly lengthy canopy that defies gravity and a steampunk vibe clad in white that gets us excited.
#6 Bodegas Ysios Winery

Where: Laguardia, Spain
What: If you like your Starchitects like you like your wine, take a road-trip through the Rioja region of Spain. Zaha Hadid, Frank Gehry and Santiago Calatrava all have tasting rooms, hotels, or wineries in the relatively small region, and it makes for the perfect (albeit tipsy) tour of this northern Spanish wine region; Ysisos however, remains the coup-de-grâce. Pixelated, sweepingly organic, and set at the foot of the Montes Vascos, you'll be hard pressed to find a more beautiful place to imbibe the grape than in the central tasting room of this modern winery.
#7 Palau de Les Arts Reina Sofía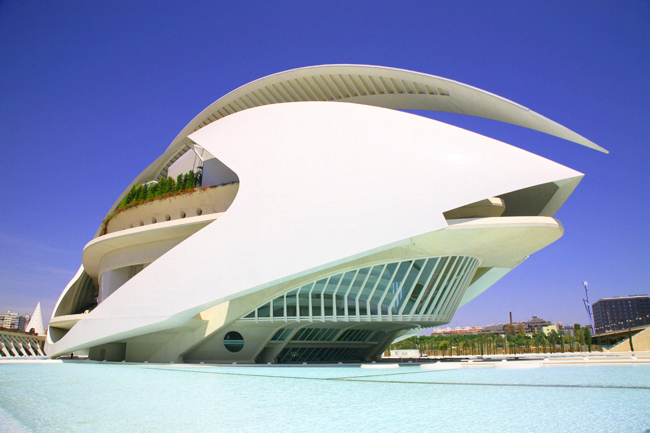 Where: Valencia, Spain
What: Probably our favourite Calatrava building (it's so hard to pick), this opera house is everything! Opened in 2005, it's also seen a fair share of financial controversy with the director Helga Schmidt being forced to step down due to monetary "irregularities" – ahhhh Spain. Don't let that discourage you from buying a ticket for an opera performance here – you won't regret it.
#8 Turning Torso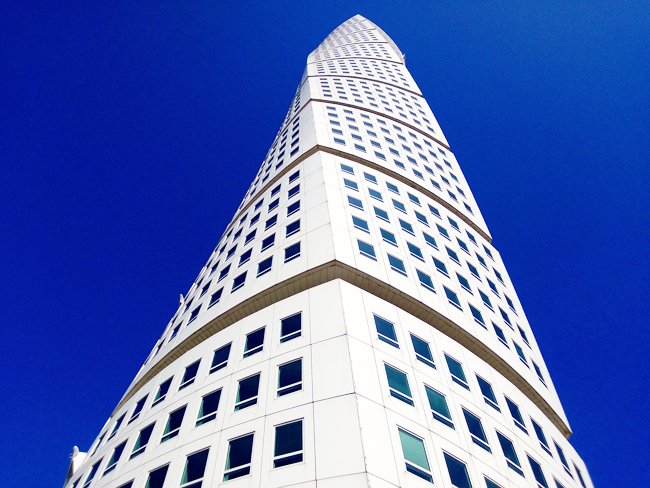 Where: Malmö, Sweden 
What: After ten years of performance, in 2015 the Turning Torso tower has been awarded the Council on Tall Buildings and Urban Habitat award for excellence – proving that Calatrava's work is more than spectacle – it functions, and well. With inspiration from a sketch of a nude man in a gentle turn, Malmö's highest building (at 190 meters) should be the benchmark of beauty and function for cities around the globe aiming to reach higher.
#9 Lyon-Saint Exupéry Airport and Railway Station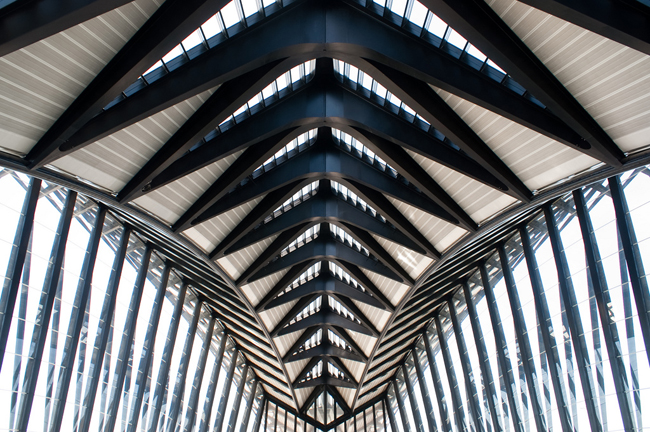 Where: Lyon, France
What: Serving the third largest city of France, the Lyon airport actually remains quite small and intimate (aside from stunning). If you're wanting to visit Annecy and Perouges and sample that famous Côtes du Rhone, Beaujolais & Burgundy wine, you're going to fly or transit through this modern-Gothic hub; But don't skip Lyon, especially Chez Hugon.
#10 Montjuic Communications Tower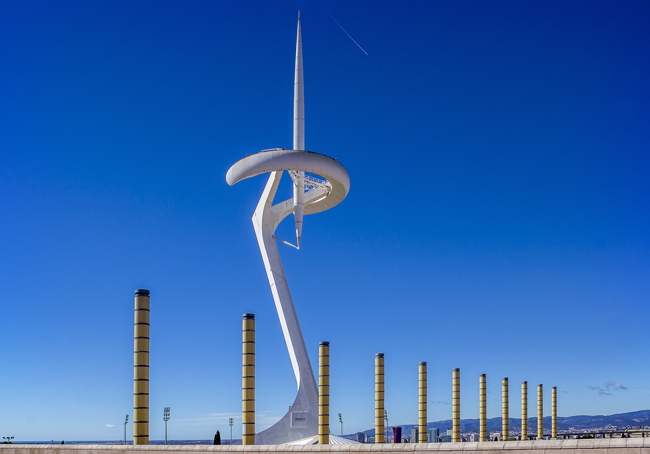 Where: Barcelona, Spain
What: Escape the 1 Euro Estrellas on Las Ramblas and head up the mountain that dominates the city. For a perfect day, don't miss the infamous reconstructed 'Barcelona Pavilion' by Mies van der Rohe at the foot of the mountain, and then half way up reenact Kylie Minogue's Slow video which was filmed at the Olympic diving site pool. Keep trudging on up and you'll finally reach Calatrava's bizarre yet beautiful communications tower. Lazy bones can take the gondola across the entire harbour down.
#11 Yuan Ze University Campus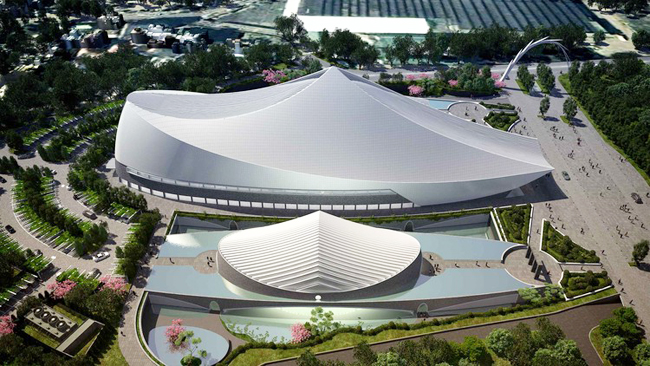 Where: Taipei, Taiwan 
What: If it happens, the Yuan Ze University Campus will be Calatrava's first project in Asia – and long overdue! While we can't tell much from a computer rendering, we just hope this is the beginning of his beautiful touch – making arcs, waves and lines across the world.
See them all!