We don't want to rain on anyone's love parade, but designers and architects are creating some beautiful spaces recognizing death as just one part of the cycle of life. These modern cemeteries and memorials strike a chord in the human psyche, and reflect a thoroughly modern idea that death deserves some design too.
#1 Myoenji Columbarium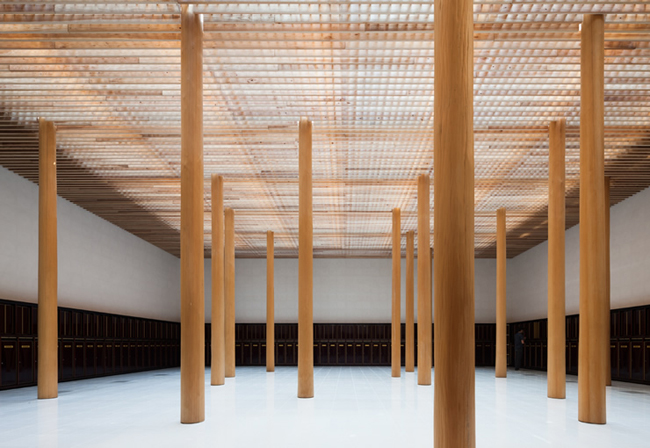 Where: Fukuoka prefecture, Japan 
What: Minimal, modern and definitely Japanese, Furumori Koichi creates an ethereal vault out of concrete, glass and wood as an extension to a traditional temple. As a final resting place for cremation urns, the windowless concrete structure masterfully appears bright and serene, while the wooden lattice ceiling hides a tensile steel and glass roof which allows daylight and ventilation into the space – foregoing the need for electricity. Not a bad place to rest your bones.
#2 Igualada Cemetery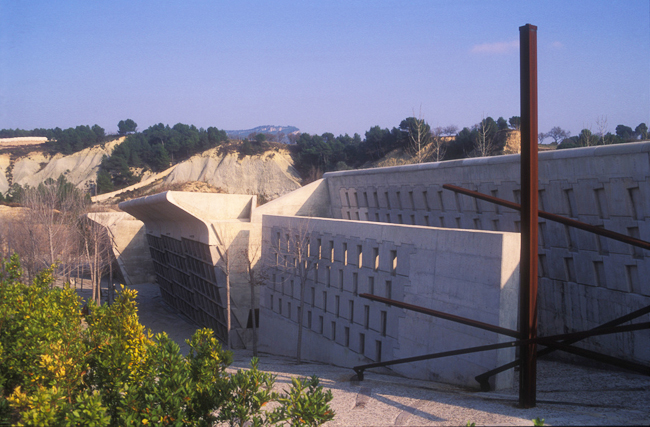 Where: Barcelona 
What: A seminal work by the Catalan architects Enric Miralles and Carme Pinós, Igualada is praised by some as the most poetic piece of Catalan architecture to have ever been constructed (sorry Gaudí). Carved out of the landscape, visitors to the cemetery literally enter the earth; an in-between space where the dead and living are brought closer together. Architecture geeks can also pay homage to the late Mr. Miralles who is buried in one of the tombs.
#3 Banda Aceh Tsunami Museum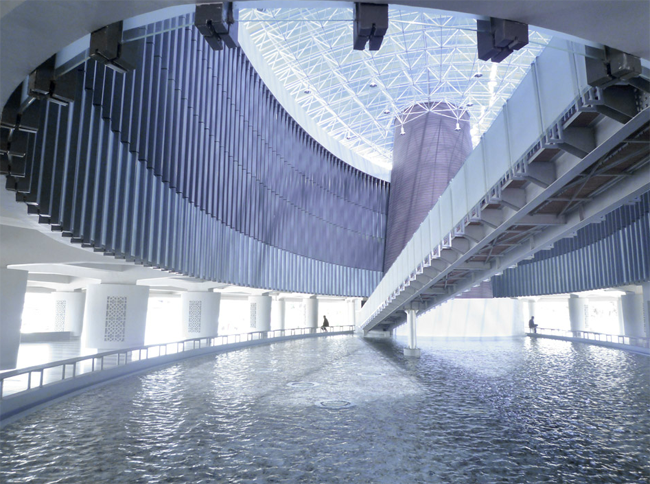 Where: Banda Aceh, Indonesia 
What: On the northern tip of Sumatra, Indonesian architect Ridwan Kamil's design serves as a memorial and education centre in response to the devastating 2004 tsunami. Visitors enter through a dark corridor flanked by two walls of water, designed to reflect the noise and panic of the tsunami itself, before entering the more somber main hall. The museum also acts as an emergency shelter from future tsunamis, including an 'escape hill' to run up should it happen again.
#4 Krematorium Baumschulenweg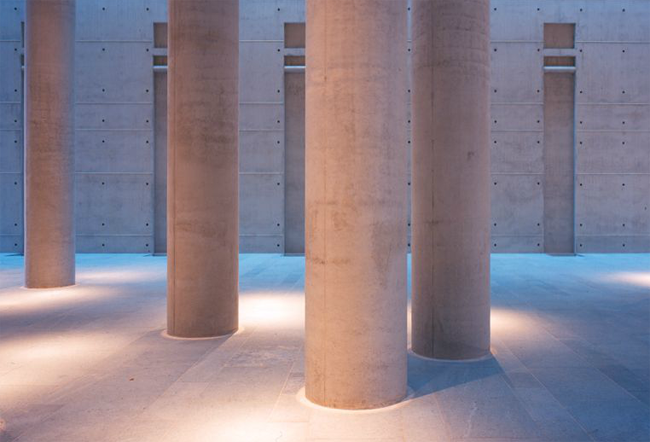 Where: Berlin 
What: Make the trip out to Treptow and visit this box of stone designed by Axel Schultes. Channeling an ancient temple and/or cosmological beliefs about death and grieving, the super stark (and über German) crematorium reminds us of the mythological Oracle of Delphi. It's a definite temple of worship for concrete lovers with enormous columns, lit at their capitals reflecting the constellations above.
#5 Seoul Memorial Park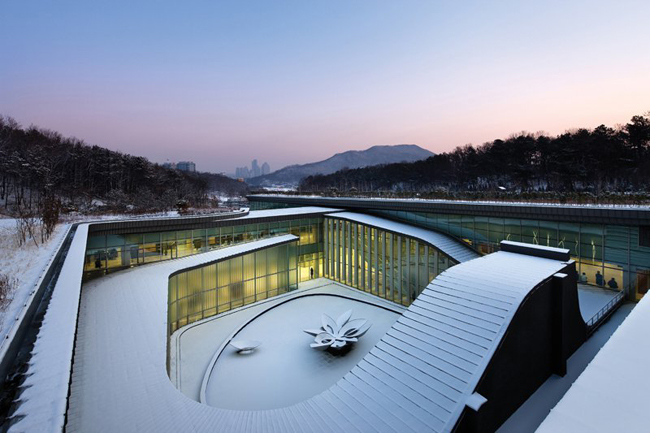 Where: Seoul
What: In a serene valley area of the Woo-Myun Mountain on the outskirts of Seoul, a sanctuary for solemn rituals has been designed by HAEAHN Architecture. With gardens and ponds running throughout the property, the structure folds up from the landscape and wraps around a central courtyard pool. Conceived more as a piece of land-art than a building, the entire site has been designed as one unifying processional path.
#6 Memorial Sørbråten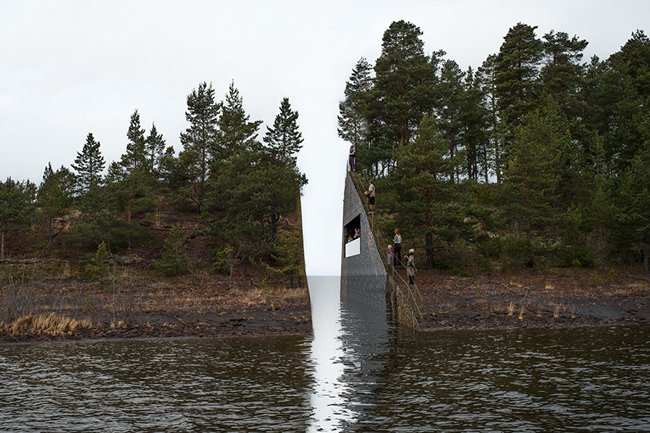 Where: Norway 
What: After winning a closed-design competition, Swedish artist Jonas Dahlberg will see the construction of this memorial (marking the tragic murder of 77 individuals in 2011) completed off the coast of Oslo in July of this year. Absence is a powerful emotion, and incredibly articulated with this subtle yet emotive landscape intervention.
#7 Ashwinikumar Crematorium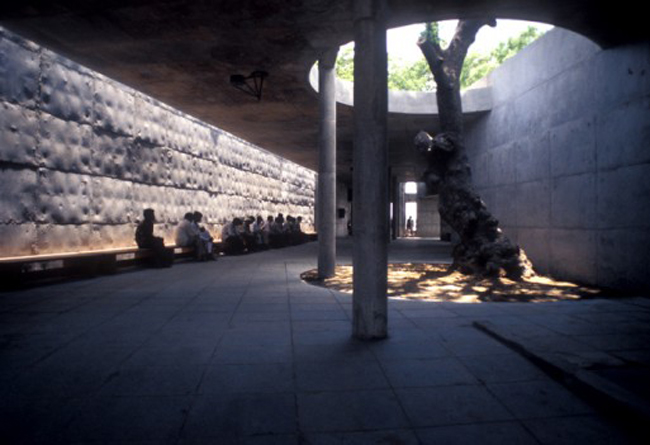 Where: Surat, India 
What: Completed in 2000, the Ashwinikumar Crematorium is actually a renovation of an older crematorium that was severely damaged by flooding in 1994. Symbolically, the concrete structure embraces the idea of rebirth – both physically and metaphysically – along the banks of the River Tapti. Five gas-fired furnaces dominate the central space and are open to mourners as a body is cremated, while traditional wood-pyre cremation is also available. Everything at Ashwinikumar is free of charge, allowing those without the financial means to honour their dead with dignity.
#8 Cemetery in Pardesya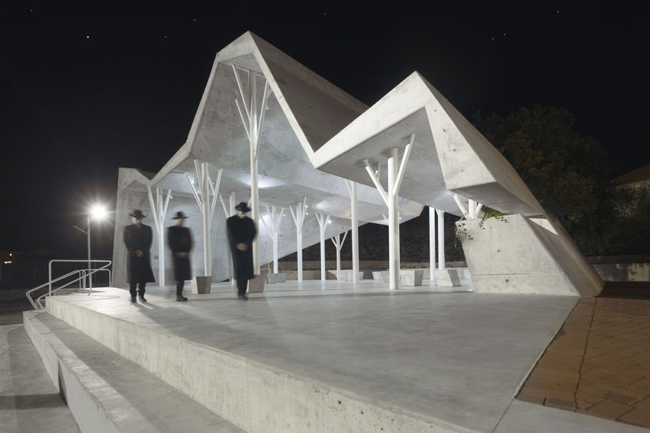 Where: Pardesya, Israel
What: Seasonality, rebirth, and the natural cycle of life are all represented in this simple yet elegant structure designed by Ron Shenkin just North of Tel Aviv. Paying homage to a burnt orchard, the slender, steel, tree-like columns support a concrete canopy and appear bare in reference to the many fruit orchards that once surrounded the site.
#9 Lakewood Mausoleum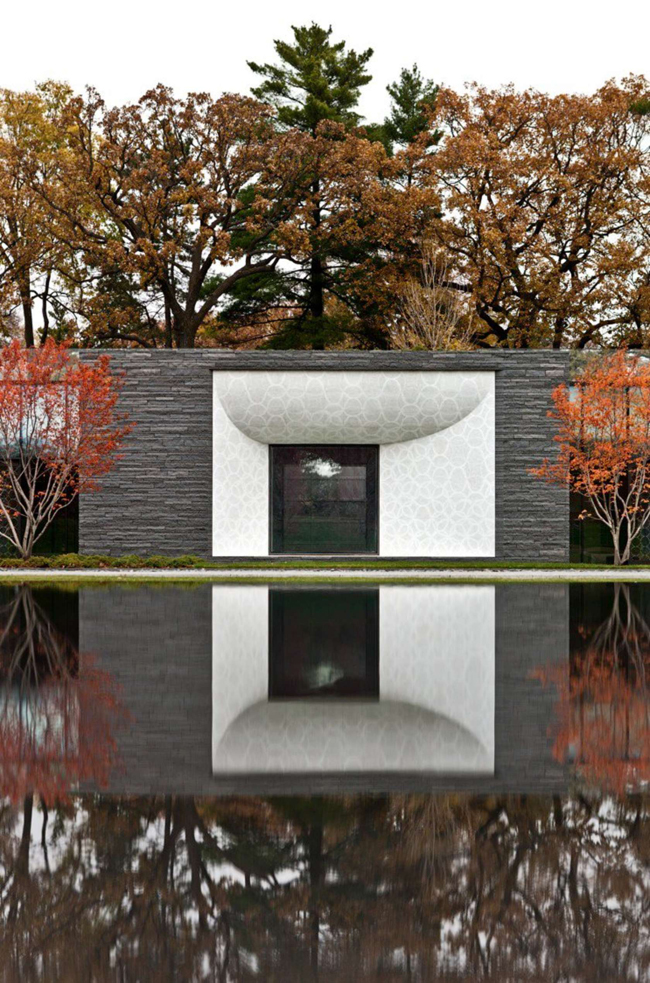 Where: Minneapolis, USA 
What: Design firms HGA architects and Halvorson Design Partnership collaborated on a new mausoleum as an addition to a 143-year-old historic cemetery in Minneapolis, Minnesota. The mausoleum straddles delicately between outside and in, providing stunning interior contemplative spaces while quietly embracing the exterior landscape. While Minnesota may not be on the top of everyone's list, Lakewood certainly brings it up a few notches. You can at least bury us there.
#10 San Cataldo Cemetery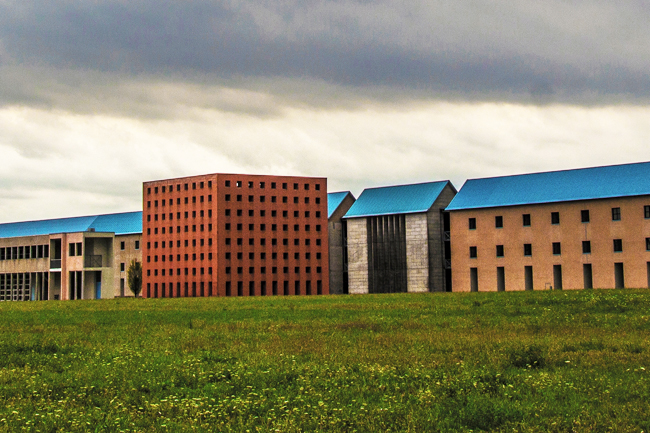 Where: Modena, Italy
What: Aldo Rossi's quintessential post-modernist project (which remains unfinished) was also his first major appointment. It was conceived of as Rossi – recovering from a car accident in Croatia – faced the notion of his own death, and marked a dramatic shift in his earlier design style. Built as an addition to an existing neo-classical cemetery, the pale pastel colours and primitive geometrical shapes would come to define an architectural movement.
#11 21 Grams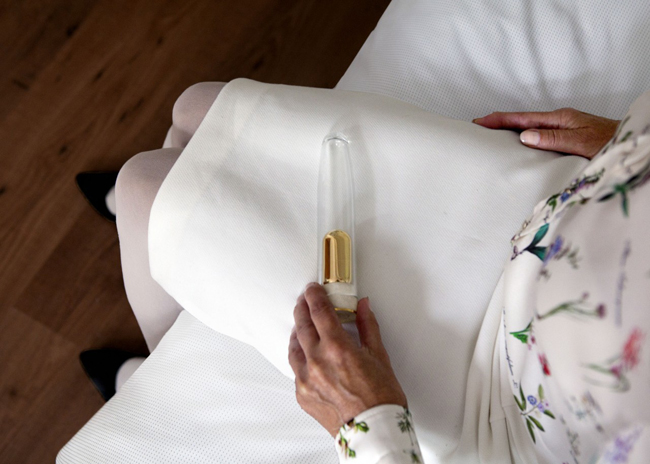 Where: Anywhere
What: Designer Mark Sturkenboom has created a memory box and "urn" that attempts to utilize metaphors rather than shock value about the loss of a loved one. Inside the 'urn', 21 grams of ashes can be stored so that, conceptually, a widow can still spend an intimate night with their beloved. The single-key box also houses an iPhone dock, speakers and a perfume bottle so your favourite song and his lingering scent can be forever remembered.
Life's short, take a break.