Looking to get away with the girls? Rent a villa and spend a weekend in Phuket soaking up sun, sand and surf!
Fly to: Phuket International Airport
Flight time: 3 hours 25 minutes
Best time to go: High tourist season is from November to February when it's cool and dry, remaining hot until May. Monsoon season starts mid-may and continues through to October
There's something about planning a trip away with your girls that is far more exciting than most getaways. Especially when you all rock up to the airport in obnoxiously large sun hats and sink beers at Pizza Express before boarding.
Whether you're on a hen do, birthday bash or 'just because', Phuket is our go-to for sun, surf, ocean and insane villas that will have you pinching yourself as you wake up. So if you're looking to book, we've put together a little guide full of all our favourite spots to check out on your weekend away.
Read also: Why you should book a stay at Baan Banyan Phuket
Where to stay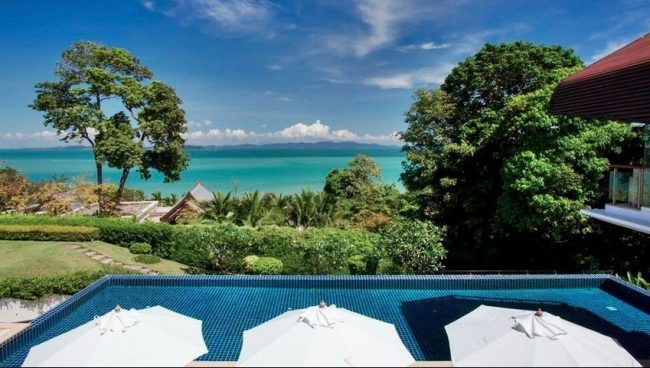 We truly lucked out with our breathtaking accommodation. We chose to stay at Villa Sapna, a 5-bedroom, 5-bathroom villa with a private pool and panoramic views of the ocean (you could see the sea no matter what room you were in). Located in calming Cape Yamu, it was just far out enough to give us that secluded feel, but still convenient enough to leave us with plenty of dinner options. 40-minutes from the airport, 25 minutes to Surin, Bang Tao and Layan beaches, and a 10-minute walk to the pier, the location was absolutely ideal.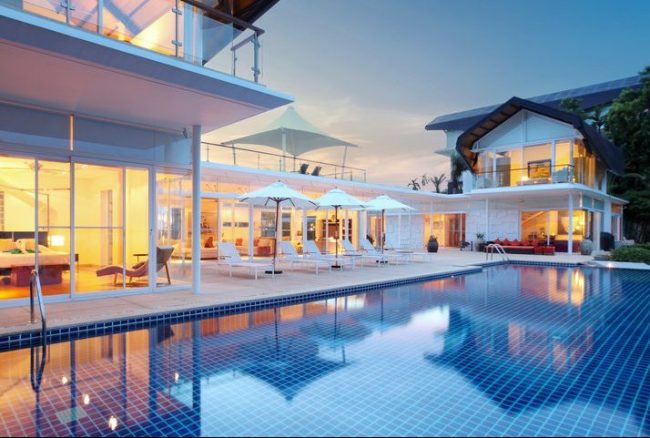 With a spacious, contemporary design, it's the opposite to small Hong Kong apartments. The living and dining areas open up to the 20-metre pool. There's an indoor Jacuzzi (in the master bedroom), a rooftop terrace ideal for morning yoga sessions, a compact private gym, and a living room big enough to host some incredible parties!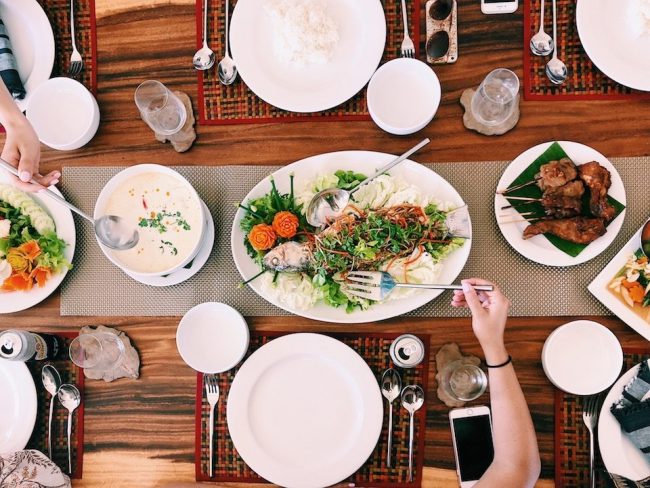 We were welcomed by our friendly Villa Manager, Ning, who helped us organise all the best bits of our trip. Breakfast is included, and it's all set and ready at whatever time suits. The in-house chef whips up everything from fluffy pancakes to seafood congee – so the hardest part is taking your pick. If you choose to dine in for lunch or dinner (we'd recommend it!), you'll get mouth-watering food prepared by one of the best chefs on the island. You can even pre-select what you want in the villa before you get there. Coconuts on arrival? Tick!
After tasting the delicious food that's on offer at the Villa, you will definitely wish you knew how to make it! And the team at Villa Sapna is there to help with this too, offering fun cooking classes for you to learn all about the local ingredients, techniques and cooking methods of Thai Cuisine. After the tutorial on how to cook some of your favorite Thai dishes (we loved the Massaman Curry, Tom Yum soup and Mango Sticky Rice!) you can relax in the villa and spend the evening working your way through the almighty feast!
If you are looking for an extra treat, the team at Villa Sapna can also arrange massage treatments, yoga classes, manicures and other spa services all in the tranquil comfort of the villa.
Getting there: Located 40 minutes from the airport, Villa Sapna can even organise a pick-up and drop-off for you.
Read also: The very best restaurants in Phuket
What to do
Day trips
Our pick: Rang Yai Island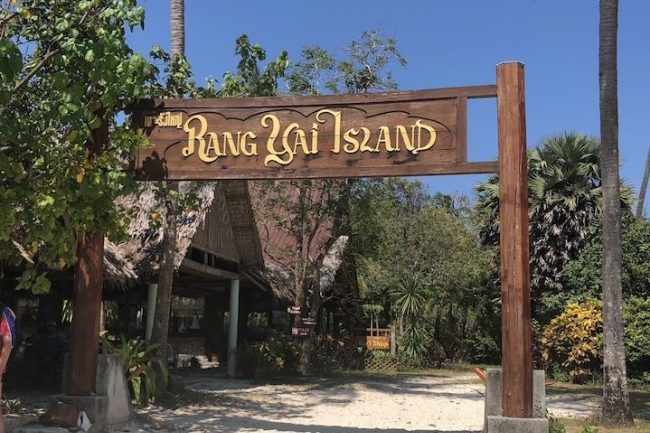 Phuket is well known for its plethora of beautiful islands. Blissful beaches and cooling waters are on the agenda for every holiday-goer, and a girls' holiday is no exception to the rule! Normally we would make a beeline for tourist-laden hotspots such as Phi Phi Island, but upon recommendation from our villa manager, we took a local long boat to Rang Yai Island, just 15 minutes from the pier next to Villa Sapna. Unassuming at first glance, this private island was a no-frills gem covered with coconut trees and white sand beaches. A strategically placed beach bar saw us sipping cocktails and adding shots of rum to fresh coconuts as we soaked up the sun and made ourselves at home for the afternoon. Get there for mid-morning, order some delicious Thai food for lunch and then head back around 3pm, just before the tourist boats arrive for the last leg of their island tour.
Tip: Instead of booking a speedboat or an expensive island hopping package, check with the staff at your accommodation or speak to locals who will be happy to organise a long boat for you. If you're looking for free-flow beers and plush leather seats, this might not be for you, but at just THB 1,000 (approx $250) per person from Villa Sapna (return) we weren't complaining (and bought our own beers for the journey!)
Other recommendations
• Phang Nga Bay: Known for its limestone formations that emerge from its clear waters, this island is a great option for nature-lovers and those who can't sit still in the sun. Spend an afternoon exploring sea caves and kayaking around the bay.
• Rok Islands: Choose from Koh Rok Nai or Koh Rok Nok and spend the day snorkelling and uncovering secret lagoons.
• Coral Island: 10km south of Phuket lies Coral Island, a spot surrounded with multicoloured marine life and reefs that are perfect for snorkelling and away from hoards of tan obsessed sun-seekers. Looking for thrills? You can also hire a banana boat and go sea-walking or paragliding here too.
For a luxurious island hopping experience, the team at Villa Sapna recommend: Isabella Yachts
For something simple (yet good value for money) The Luxe Nomad Concierge recommend: eOasia or Voyagin.
Evening outings
Our pick: Phuket Indy Night Market 
There's nothing we love more than an excuse to try as much food as quickly, efficiently and economically friendly as possible – so to the Night Market! Here we happily devoured some street food and picked up a few knick knacks along the way. We know it can be easy to stick to your tried-and-true phad thais and mango sticky rice, but maybe next time try a few of our local picks as well. Don't worry, we've spared you from crickets and other fried friends this time.
Gai Yang (street grilled skewered chicken thighs) There's something so distinct in an outdoor Thai grill that give this chicken a hyper-flavourful smokey flavour.
Kai Jeow (Thai deep fried omelette) An absolute household comfort staple in any Thai home, and one of the cheapest items you'll find at the market.
Moo Ping (grilled pork skewers) This sweet and savoury dish is the equivalent to a Japanese chicken teriyaki. Order with sticky rice, and devour with hands for full effect.
Som Tum (papaya salad) This isn't your average papaya salad, watch the chef use their home-grown spices in a giant mortar and pestle and customise to your tastes!
Guay Teow Ruea (Thai boat noodles) This noodle soup uses cow or pig's blood to create a thicker, more flavourful broth, served with your choice of noodles and toppings.
There's always room for dessert: 
Khao Lam (sticky rice in bamboo) Sweeter and more custardy than regular sticky rice, served warm and cracked open with a machete!
Khnaom Chun (sticky Thai jello layers) A fun one to peel off layer by layer, let's coin this the "Thai Fruit Roll-Up".
Taptim Grob (water chestnuts in coconut soup) The Thais love their soup and syrup-based desserts, try this colourful one out for the gram!
Itam Kati (coconut ice cream) Okay, fine, we'll let you have this safe staple. Usually served with roasted peanuts in a coconut shell!
Other recommendations
We recommend: Catch Beach Club. Go from day to night at this stunning seafront location on Bangla Beach. Outdoor dining areas, canopy covered bars and a splash pool to get your feet wet, it has it all. House and guest DJs entertain the crowd with great music, turning this spot into night-time bucket list must.
We recommend: Bangla Boxing Stadium. Muay Thai fights are held three nights a week, on Wednesday, Friday & Sunday nights, starting at 9pm. Prices range from an affordable THB 1,700 to THB2,700. Go for the fight, stay for the electric atmosphere.
Read also: The treetop escape of your dreams is in Phuket
Where to eat
Our pick: Kai Jok See
Whether you're in Phuket for a girl's weekend, for a couple's getaway, or even with the whole family, an unmissable evening spot is Kai Jok See. Now, we don't want to give too much away, as the beauty of it lies in the unknown, but if you like amazing Thai food, a cosy atmosphere and plenty of throwback beats, you should think about booking your table now.
Reservations here are essential, as the restaurant is only open for one sitting on Friday and Saturday evenings, from around 8pm (we would even recommended reserving your spot a good few weeks before you fly, or you could be left disappointed). You can expect the party to go on until late, so we wouldn't condone making any early morning plans for the following day. Forget temple hopping on a hangover as you will want to enjoy your Kai Jok See experience to the fullest!
The food here is served family-style, with all plates intended for sharing with your table, and the menu costing a set price of 3,000 Thai Baht (approx. $750). Sure, that may sound a little pricey for Phuket, but most definitely worth it if you're looking to escape the tourist traps and enjoy an unforgettable night.
Tip: Don a small cross body bag, leave your heels at home and wear something you're ready to dance in. Kai Jok See is notorious for encouraging guests to dance on the tables…
Kai Jok See, 26 Takua Pa Road, Phuket Town, Phuket, Thailand, +66 7 621 7903
Other recommendations
We recommend: Raya in Phuket Town for its authentic local cuisine – the crabmeat curry is so famous that it's even flown into Bangkok for special orders! Residents and visitors both rave about the fare, so you know it's the place to be.
48 New Dibuk Road, Phuket Old Town
We recommend: If you've ever wanted fresh seafood sitting atop a raft in the middle of the river, Kruvit Raft is the place for you. Lauded for its spectacular view as well as the mouth watering menu, this is the place to get your perfect Instagram shot of the sun setting over Thai longboats.
We recommend: Not that we could ever get tired of Thai food, but if we did, we'd head right over to Acqua Restaurant for a fine Italian dining fix. In addition to its sophisticated menu, Acqua boasts over 450 wines on its wine list, so if you've got a hankering for the perfect glass of red, this is where to come.
We recommend: Blue Elephant is a Phuket institution, and one that budding chefs shouldn't miss out on – its cooking classes are well known for being some of the best Phuket has to offer. It specialises in Royal Thai cuisine, and you can expect to be treated just like royalty at the old Chinese-colonial style mansion the restaurant is housed in.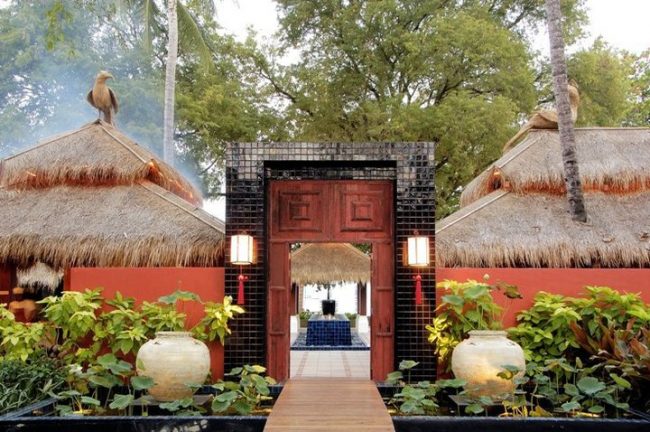 We recommend: Kan Eang@Pier, a long established restaurant specialising in seafood and local delicacies, located on the shore of Chalong Bay, right next to the jetty. The view from the restaurant is stunning, and you can enjoy the breeze right by the water as you dine al fresco under the shade of some magnificent trees.
We recommend: Suay stands for Sassy, Unique, Authentic and Yummy, and that's exactly what you can expect from the much loved Suay Restaurant. You can pick from the Phuket Town location or the Cherngtalay location, but you'll get the same delicious Thai food with a twist and attentive service Suay is known for.
This article originally appeared in Sassy Hong Kong.
Now you know what to do, get booking those villas!